Brassed Off is the latest undertaking of the Centenary Theatre Company and having seen several previous productions from this company I was very much looking forward to how they tackled this emotive story based in the small Yorkshire mining town of Grimley.
It's 1994 and the coal industry is going through difficult times and the threat of closure is having a huge impact on miners and their families who remember all too well the hardships they faced previously during long strikes. With this in mind many of the miners are faced with the dilemma of solidarity or taking redundancy packages. Their wives and children pitch up camp outside the colliery in support of their men.
Danny (Michael Mullan) has dreams of taking the local Grimley Colliery Brass Band to the Royal Albert Hall but sees this falling apart as he struggles to keep the band together as members struggle to find their weekly subscription fees and are losing their fighting spirit.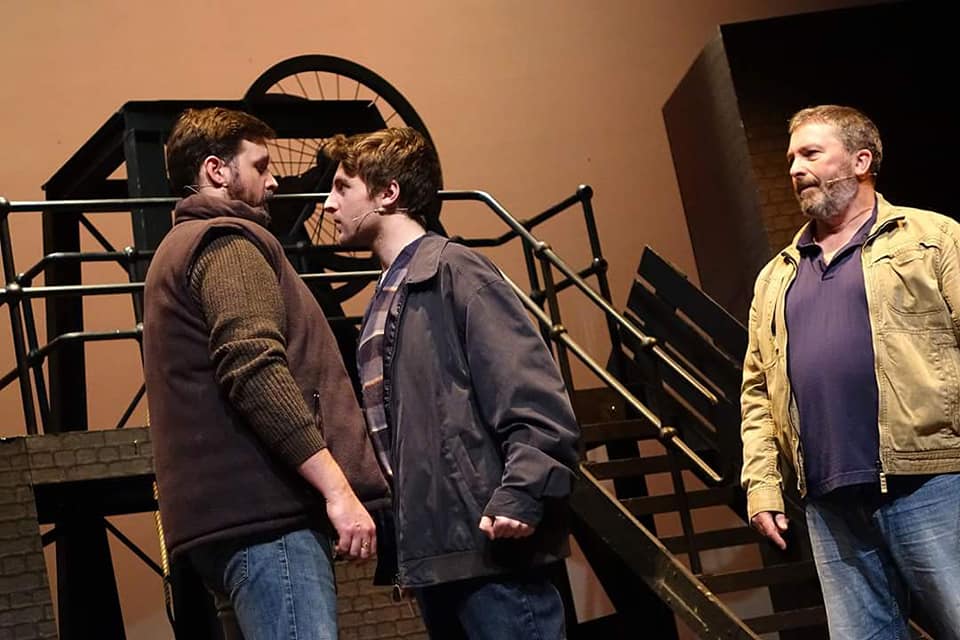 The four main miners are played by Peter Brennan (Phil), Alexander Clare (Jim), Ryan Higgins (Harry), and Matthew Orrillard (Andy) with their better halves performed by Clare Grimes (Sandra), Phillippa Shaw (Vera), Karen Whiteley (Rita), Danielle Segar (Gloria) who without exception give brilliant and convincing portrayals of their characters. They each shared the highs and lows experienced with such emotion that you really begin to understand how difficult the times were. But it's not all dark times, there are plenty of comedy moments delivered with perfect timing which have the audience laughing along. At one point I was thinking how much pain Phil must be in after falling foul of a debt collector and with a face all battered and bruised still able to act so well.....then reminding myself it was make-up so kudos to that department!
Special mention goes to Ewen Schooler (Shane) the 8 year old son of Phil and Sandra who has a special relationship with his grandad Danny. His boyish enthusiasm for life is a ray of sunshine amidst the doom and gloom and appearing throughout the play I was impressed with his fantastic performance.
Gloria is back in town and rekindles a former romance with boyfriend Andy which brings in a whole new set of hurdles. After she joins the band and plays Concierto de Aranjuez on the flugelhorn, Danny is fuelled with renewed hope to achieve his dreams, but are his band committed? Mullan acts with such passion and conviction as do the other lead characters that is hard to accept that these are all amateur actors. It is not only the emotion given vocally but the expressions on their faces that put this group up amongst the best. Not afraid to tackle sensitive issues this talented team are joined for this production by members of the Golborne Brass Band who have the audience clapping along at their every appearance......there is nothing quite like a brass band for lifting the spirits and the finale is truly deserving of the cheers and applause from the audience. For a first night show there was not a sign of first night nerves.
I would also like to mention other members of the cast with lesser roles in this play, you did not go unnoticed and it's with your support that the whole production appears so professional and I look forward to seeing future performances from you all.
Brassed off continues at the Brindley Theatre Runcorn until 10th February 2018 and for more info and tickets: https://tickets.thebrindley.org.uk/en-GB/shows/brassed%20off/info
Reviewer: Lorna Weekes
Reviewed: 6th February 2018