Box of Tricks are on a real roll at the moment picking up gongs for their evocative wartime play Narvik and winning plaudits for productions of Plastic Figurines and SparkPlug.
Now the Manchester based company are staging Daniel Kannaber's Under Three Moons taking a look at what is means to be a man in today's metrosexual world.
"It's the story of decades of a friendship between two boys into adulthood, and into fatherhood, told over three nights they end up sharing a tent, a sofa and a bed," says Daniel.
Daniel won critical acclaim for his last play Shiver staged at Watford Palace Theatre, but this two-hander was inspired by a stag weekend from hell.
"There was a couple of jumping off points which all came together but one of them was definitely that," laughs Daniel. "I've got a lovely mate who has some rather terrifying friends where you are all sat round together, looking at each other and going this is going to be a long weekend.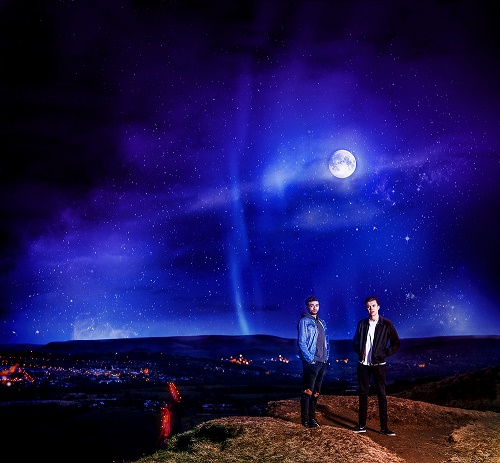 "Over the weekend it's not that their behaviour changed at all, they were still exactly the same, but you could suddenly see they couldn't bring themselves to talk about stuff. It was just quite revealing in what they didn't reveal and what they did."
Part of Under Three Moons is looking at what is not being said when men try to converse about their insecurities, and why in a world where men are being encouraged to talk more they are still unable, or unwilling, to bare their souls.
"It feels like it is just not allowed and part of the play is talking about it comes from. What is innate, what is learnt and what happens when you behave a certain way over time. I definitely know people who have just lost the ability to talk intimately, if they ever had it, or in losing that ability they have sort given up on it. That's damaging and heartbreaking.
"It's not the words, everyone's got the words, but it's about having access to your feelings, and being able to talk about them. For some people being able to take the piss is the only way to broach a painful subject because they are not looking directly at it."
Part of Under The Moon's quest to see what makes clam up when faced with their own feelings is examining where they do feel comfortable opening up. Daniel has a personal experience that informed the work.
"I used to go the football with my Dad, and we have a great relationship, but talking to people either side they went to football with their mates because it was almost an ok place to talk about stuff because you were looking at something else. There's a male way of not allowing yourself not to be vulnerable, not in a macho way, but in just a fragile way."
One of the most boring parts of being in a group of males is the endless and mind-numbing 'bantz', which is often just an excuse for blowhards to insult their friends in the name of 'fun'. If you don't suck up their puerile nonsense then you are somehow the bore not the clown throwing insults.
The irony is the seemingly super confident 'bantz' merchants are all too often the ones who really need to start talking about what is making them act out and being such an arsehole.
"If you look across male culture it is not even just the bantz merchants," notes Daniel. "Some of my friends who are way smarter than me, they just tell you stuff so you sit and ingest as much as possible, but then you realise it's a different form of the same thing.
"It's all stuff but it's still not personal, still not letting anyone in and it's just a barrage of stuff keeping people away. Bantz is really annoying, and quite abrasive, but it is one of many different ways guys have found of not engaging."
Despite the outstanding work being in done in open forums like Andy's Man Club suicide remains the biggest killer of young men in this country. Whilst Daniel is keen to emphasise that Under Three Moons is focusing on a wide range of challenges facing men at different points of their life male mental health is touched on.
"I'd be lying if I said no because it is. But I feel in a weird way that sometimes people who need to talk about that sort of stuff are put off by that kind of label, as it feels heavy, and that's not me. I primarily wanted the play to be fun so that they can relate.
"It's there in the play about male mental health, but if you say that then a lot of the people who'd you want to watch wouldn't want to see it. Rather than talking about how men change over time it's about more how relationships change over time. When someone who you depend on goes away or changes."
A two hander is always a tricky ask for any actor as there is hiding place so Box of Tricks have smartly signed up two bright new talents. Darren Kuppan has just come off a year in the ensemble at Leeds Playhouse where you could see him really developing his craft. His onstage sparring partner Kyle Rowe has pulled off the rare feat of appearing in Eastenders and Coronation Street.
"I'm over the moon with the cast as you don't always as the writer get involved with the casting. Box of Tricks did the initial auditions and I was able to come up for the recalls. Everyone was phenomenal and it was really exciting having written it for so long before handing it over to people, it was nice to just go that's exactly the energy I'm taking about."
TOURING DATES
24th – 28th September at 8pm - The Lowry, Salford
(Matinees: Parent & Baby Performance Weds 25 Sept 11am | Sat 28 Sept 2pm)
Box office: 0343 208 6000 https://thelowry.com
1st – 5th October at 7.30pm - Lawrence Batley Cellar Studio, Huddersfield
(Matinee: Sat 5 October 2:30pm)
Box office: 01484 430528 https://www.thelbt.org
9th – 12th October at 7.30pm - Unity Theatre, Liverpool
Box office: 0151 7094988 https://www.unitytheatreliverpool.co.uk/
15th October at 7:30pm - Crewe Lyceum Studio
Box Office: 01270 368242 https://crewelyceum.co.uk/Online/
16th – 17th October at 8pm - Hull Truck Studio
Box office: 01482 323638 https://www.hulltruck.co.uk/
21st October at 7.30pm The Arts Centre, Ormskirk, Edge Hill University
Box Office: 01695 584480 https://www.edgehill.ac.uk/artscentre/
22nd October at 7.45pm - York Theatre Royal
Box office: 01904 623568 www.yorktheatreroyal.co.uk
25th – 26th October at 7:30pm -Live Theatre, Newcastle
Box office: 0191 2321232 https://www.live.org.uk/
28th – 30th October at 7.45pm - Theatr Clwyd, Mold
Box office: 01352 701521 https://www.theatrclwyd.com
2nd November at 8pm - Rosehill Theatre, Whitehaven
Box office: 01946 692422 https://www.rosehilltheatre.co.uk/