A National Theatre Production, created in collaboration with eight UK arts organisations in association with Cusack Projects Limited - My Country; a work in progress. A new play directed by Rufus Norris in the words of people across the UK and Poet Laureate Carol Ann Duffy.
The National Theatre has collaborated with eight UK arts organisations to create My Country; a work in progress, a new play inspired by the recent EU Referendum. It will be presented at Liverpool Playhouse from 11th – 15th April as part of a UK tour following its current run at the NT's Dorfman Theatre in London.
In the days following the Brexit vote, a team of interviewers spoke to spoke to people around the country – from Leicester to Derry/Londonderry and Merthyr Tydfil to Glasgow, aged 9 to 97, to hear their views. In a series of interviews, they heard opinions that were honest, emotional, funny and sometimes extreme. These testimonials are interwoven with speeches from political leaders to create a new play by Carol Ann Duffy, Poet Laureate, and directed by National Theatre Artistic Director Rufus Norris.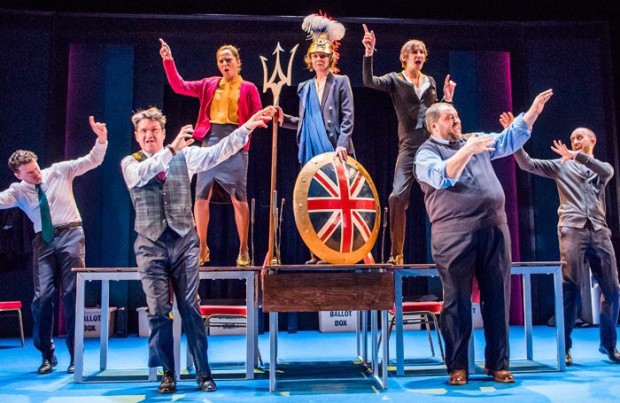 Britannia (played by Penny Layden) calls a meeting to listen to her people: Caledonia (played by Stuart McQuarrie), Cymru (played by Christian Patterson), East Midlands (played by Seema Bowri), North East (played by Laura Elphinstone), Northern Ireland (played by Cavan Clarke), and South West (played by Adam Ewan).
Artistic Director of the National Theatre, Rufus Norris, said, 'One of my ambitions for the National Theatre is to make it truly national and through collaboration, embrace the creativity and opinion around the UK. The Brexit vote unleashed a host of questions about our country, way beyond the issue of Britain's role in Europe. It articulated a deep disaffection. Those elements provoked a need and opportunity to create a piece of theatre that responds to that palpable sense of frustration and disillusionment. Art has always responded to what is happening now and it's what I hope we achieve with My Country.'
My Country: a work in progress is created in collaboration with; Citizens Theatre, Glasgow, Curve, Leicester, Derry Playhouse, Live Theatre, National Theatre Wales, Sage Gateshead, Salisbury Playhouse and Strike A Light Festival in association with Cusack Projects Limited.
https://www.everymanplayhouse.com/
https://www.nationaltheatre.org.uk/
My Country also plays HOME, Manchester. Tue 18th – Sat 22nd April 2017 and Theatr Clwyd, Tue 30th May – Sat 3rd June 2017.