Stags and Hens was originally written in 1978 for television and drama students of the then-Manchester Polytechnic, as an in-house television production. It was first published as a script in 1986 in a collection with Educating Rita and Blood Brothers. Willy Russell adapted it for performance in 2008 as 'Stags and Hens - The Remix' at The Royal Court Theatre, Liverpool.
Russell says that "I wanted the play to move at a kind of pace that was more in keeping with a theatrical tempo that has significantly increased in the thirty years since the play was first seen.",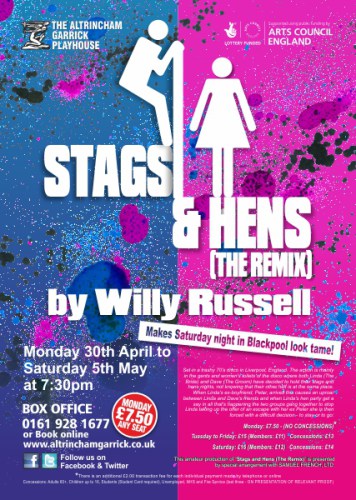 though he "vehemently disagrees" with the suggestion that he was "pandering to the needs of an audience" with a "limited attention span and who must increasingly be spoon-fed".
The play is set in a trashy 70s disco (updated to 2008 for this Garrick production) in Liverpool. The action is mainly in the gents and women's toilets of the disco where both Linda (The Bride) and Dave (The Groom) have decided to hold their stags and hens nights, not knowing that their other half is at the same place. When Linda's ex-boyfriend, Peter, arrives this causes an uproar between Linda and Dave's friends and when Linda's hen party get a say in all what's happening the two groups gang together to stop Linda taking up the offer of an escape with her ex Peter she is then forced with a difficult decision - to stay or to go.
Stags and Hens – The Remix makes Saturday night in Blackpool look tame!
Stags and Hens – The Remix opens tonight (7:30pm) at Altrincham Garrick Playhouse and runs until Saturday 5th May. Tickets can be found at http://www.altrinchamgarrick.co.uk/shows/stags-and-hens-the-remix/