Who better to tell your story, than someone you never met, but is from the same country and is as widely known round the globe as you are? Of course Che Guevara is the right person to tell us the story of Eva Peron, someone he never actually met. But arguably two of the most famous Argentineans in History, especially in the Musical Theatre World, thanks to Tim Rice and Andrew Lloyd Webber.
Evita tells the story of the Argentinean Actress and Politician, Eva Peron, who was the First Lady of Argentina, under the rule of her husband, Juan Peron. Through the use of Che Guevara, as a Narrator, we are shown the life of Eva, from her teenage years, right through to her death, punctuated with many Andrew Lloyd Webber and Tim Rice classics, such as 'Don't Cry For Me Argentina', 'Another Suitcase in Another Hall' and 'Oh What a Circus'.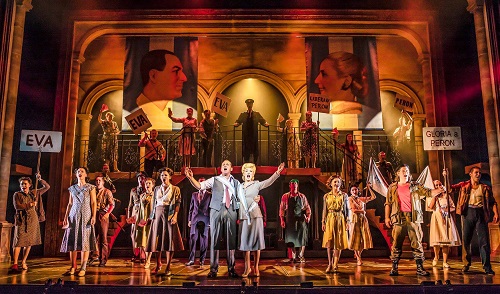 Evita is a show that I know quite well and have seen a few productions over the years, but for various reasons, there has been one major thing I've disliked about the production I had been watching. However, this was not the case with this production. There was not one thing that dulled my enjoyment of this well put together show. Every aspect had been well thought out before being put together on stage.
Lucy O'Byrne was the titular character, was a good fit for the role. Whilst, during her younger years, it comes across slightly weaker, she matures well into her character as the musical evolves. By far, for me the standout character and performance came from Glenn Carter, as Che Guevara. He oozes charisma, and you are waiting for the next time he opens his mouth. Mark Sterling is also a formidable presence as Juan Peron, and you can't help but like him, despite his foreboding character. The ensemble feels as though it was carefully picked, and they all bring the right energy at the right times in scenes. Oscar Balmaseda and Cristina Hoey, as Magaldi and the Mistress are also worth noting, for their outstanding performances.
With choreography from Olivier award winning, Bill Deamer, the simplicity and styles take you back to Argentina in the 1940s with help from the elegant set, designed by Matthew Wright, the show is one that can be enjoyed by anyone of any age! A very enjoyable and entertaining evening. This is definitely a show not to miss!
Reviewer: Jenn McKean
Reviewed: 11th September 2018
North West End Rating: ★★★★