Now in its 16th year, Liverpool Comedy Festival 2017 welcomes top comedians from around the UK for two weeks of world class comedy. Tonight, the Epstein Theatre welcomed audiences for 'Our Rita's Comedy Gala', a night "guaranteed to make you roll in the aisles".
MC for the night was Lou Conran. She gave a brilliant warm-up, a mix of conversational comedy and expert audience reading targeted towards the front row. Let's be fair when you announce to a Comedian that your female companion is an "acquaintance", you can expect nothing less than a night full of gentle mocking.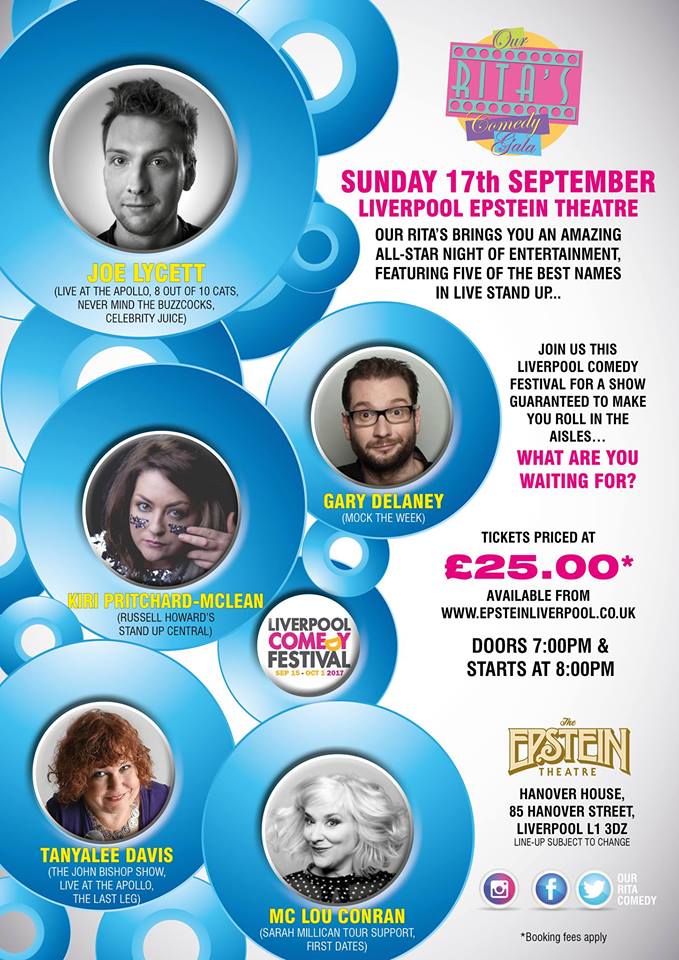 First on the line-up was Danny McLoughlin, a confident; likeable Northern comedian. A strong (but short) set with stories and anecdotes tackling class; age; gender and religion. A very talented comedian who quickly won over the audience.
Gary Delaney was up next with a set full of hilarious material, one-liners and rapid-fire jokes in a style like the greats of yesteryear. Most of Gary's jokes were crude, some edging on the dark side but he kept the audience laughing throughout.
Canadian Tanyalee Davis and Manchester-based Kiri Pritchard-McLean also gave confident performances.
Headliner Joe Lycett closed the show. A complete mish mash of topics from Joe, covering his life in suburban Birmingham; becoming a homeowner for the first time; trolling EDL members on Facebook and pranking jewellery engravers with fake enquiries. Lycett has a mature confidence in his material which shines through in his performance. Whilst his set appeared to be the shortest of the night, his honest and brilliant brand of comedy left audiences buzzing.
Overall, a brilliant night of live comedy with many belly laugh moments from some very talented performers. A great addition to the Festival and a huge success.
Liverpool Comedy Festival continues around Liverpool venues until October 1st: www.liverpoolcomedyfestival.com
Reviewer: Alan Stuart Malin
Reviewed: 17th September 2017
North West End Rating: ★★★★