I think it's important to preface this review with the fact that my friend and I were seemingly the only people in the audience who didn't know any children in the show. Not that this dampened our experience of it, as the children were absolutely the best part, but I'm sure had we been the parents of one of those little super stars, my review may have been a little different.
West End Story was a cabaret show, with a range of different musicals, some universally recognised and others a little more niche. Unfortunately, the show started with almost ten minutes of darkness due to technical issues which was a little awkward, but couldn't be helped. There were a few moments throughout the show when microphones were a little quieter than the audience would have liked, but over all, it was fine and the performers certainly did not let it put them off at all!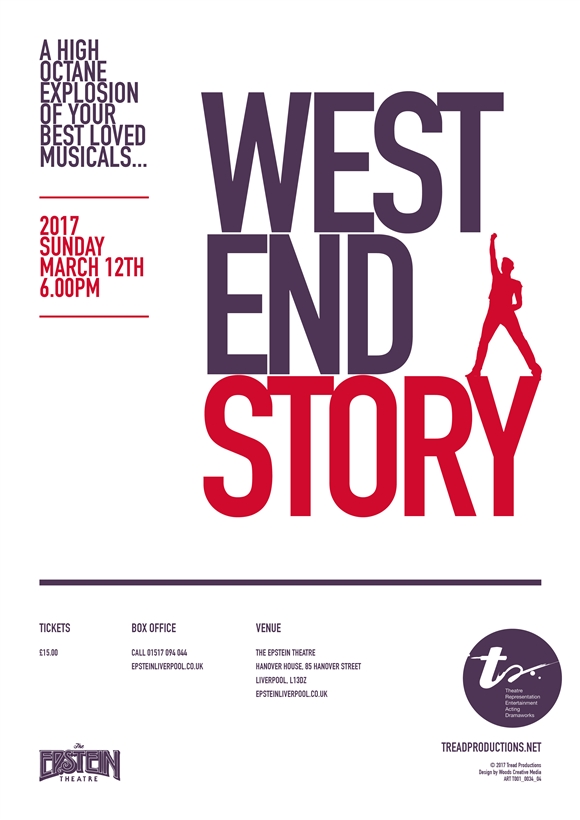 The show starred musical theatre professionals Jessica Anne Ball, James Wolstenholme and owners of the Tread school, Graham Tudor (whose most notable role was as Joseph in Joseph and the Amazing Technicolour Dream coat) and Lancashire's own Helen Noble (who, among other things starred in Hollyoaks for a number of years), as well as the Tread students. It is difficult to know whether this was a collaborative effort; a youth theatre show with the teachers of the children appearing in a few numbers, or a show starring the four adult musical theatre stars that just happened to have a few children appearing in a few songs. Either way, it missed its mark a little and I personally felt that the numbers that involved the children were the best.
Don't get me wrong, all four of our adult stars were talented singers and had great stage presence, but it was the young children with their energy, beautifully choreographed and performed numbers that really stole the show and there are certainly some children in that group that are likely to become future west end stars for sure.
The staging lacked at times as often it was nothing but a lone singer on stage under a spotlight and it was difficult to get a feel of the musical or the context of the song. There was also an awkward moment in Rent's Seasons of Love where only one singer had managed to hit their mark and end up under their spot light, which somewhat ruined the whole effect.
There was a great mix of songs from Grease and Les Misérables to Blood Brothers and Hairspray and even as a musical theatre fan, there were plenty of songs I have heard for the first time tonight.
It was a fun, likeable show, but could have benefitted from the children appearing a little more, if I'm honest.
Reviewer: Codie Louise
Reviewed: 12th March 2017
North West End Rating: ★★★