Described as a production for young folk and their families, Roald Dahl's George's Marvellous Medicine, adapted by David Wood and it really was exactly what it says on the tin. A piece of theatre perfect for children's first experience of live performance.
A marvellous triumph from The Curve and Rose Theatre Kingston. Creative, energetic and fun for all the family. Director Julia Thomas takes us on a visually spectacular journey through this nonsensical story. From the get go the set is imaginative and elaborate. The script works well and has lovely Panto-Esque moments of audience participation. A strong small cast of six actors, each playing an important role and some multi- rolling.
In the title role Preston Nyman as George brings us the youthful mannerisms needed and a boundless energy throughout. Grandma played by Lisa Howard was brilliant, a Julie Walters style portrayal and great comic timing.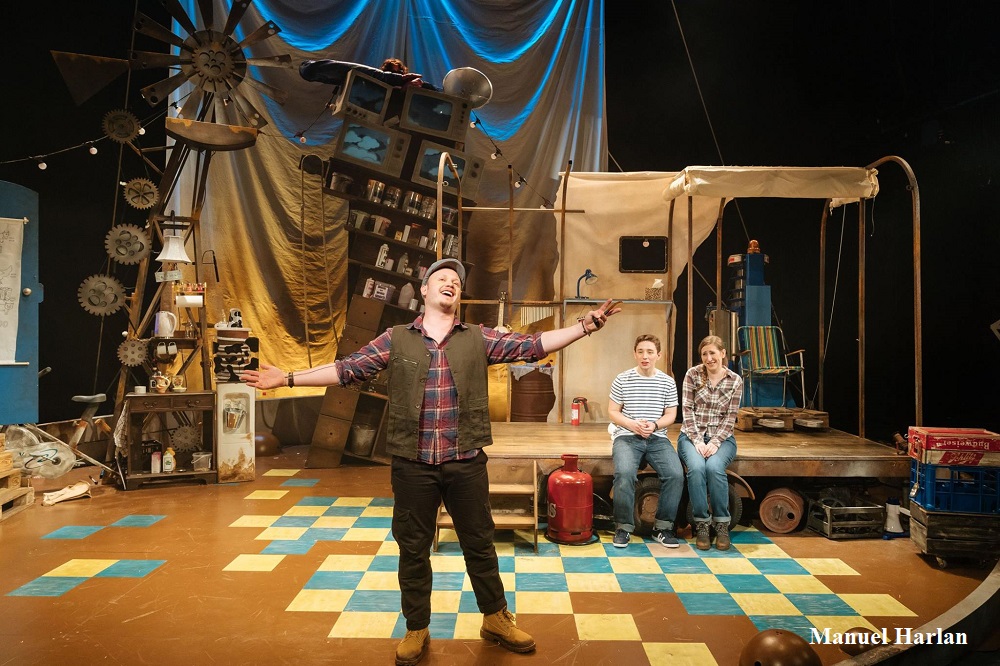 Matthew Coulton was part of the ensemble cast with Chandni Mistry who also gave us a very physical performance as the chicken, without the use of any dialogue she was so animated and facially expressive that the kids were completely engaged.
Catherine Morris as Mum was lovely and gave us a believable onstage rapport with a very talented Justin Wilman as George's Dad. Who also played several instruments throughout the evening, adding a lovely musical underscore to the show.
Music by composer Tasha Taylor-Johnson really brought the performance together and I particularly enjoyed the final song about not trying this at home.
Some great technical moments, and cleverly put together moving props. A highlight being the moving rocket chair.
I brought my six year old nephew along this evening, when asked what he thought he beamed "it was funny, oh and also hilarious" A nice touch from the Playhouse this evening was the pre-show children's science workshop, The Little Laboratory Aimed at age 2-6 years. Very interactive fun and a nice introduction to the show.
In conclusion, I can't think of anything negative to write at all, which is good news all round; no sound gremlins, a well-rounded piece, fantastic creative team and talented group of performers. Well worth a watch and highly recommended for a family with young children; perfectly timed starting at 5.30pm, and ending at 7.15pm with an interval. Well deserving of a successful run, best of luck to the cast.
Performances until Saturday 21st April - https://www.everymanplayhouse.com/whats-on/roald-dahls-georges-marvellous-medicine
Reviewer: Rebecca Casey
Reviewed: 17th April 2018
North West End Rating: ★★★★★