Tall Stories have put together a play based on the popular children's book Room on the Broom by Julia Donaldson. Adapting books is always tricky; in the original book, the tale of the witch who constantly loses items and gives a lift to the animal who finds them until eventually the broom breaks under the strain is told in minutes, so some structure is needed to frame the story and offer more to the audience than simply a dramatized retelling.
Tall Stories manage this expertly with the concept of a group of friends who go camping, see a witch in the sky, who then lands, and the story begins, with two campers transforming into the witch and her cat while the others manage the puppet animals.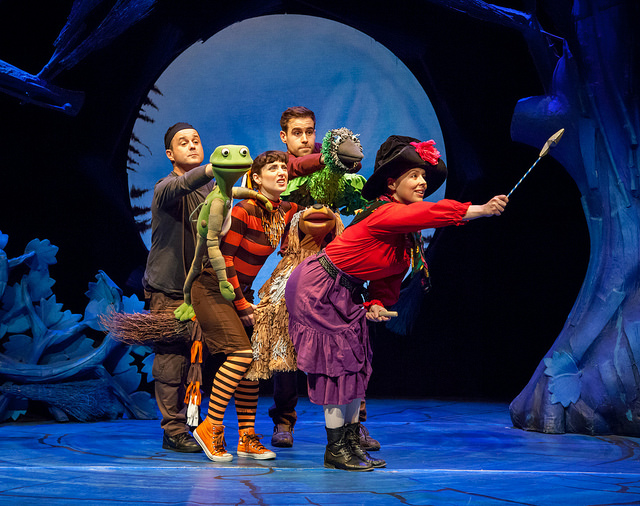 The live characters and the puppets are given more space in the story to have distinct characters. Amy Harris plays the somewhat befuddled and not entirely competent witch, whose generosity is counterbalanced by a significantly grumpy and curmudgeonly cat (Emma Crowley-Bennet). With the other characters (dog/frog – Charlie Guest and bird/dragon – Andrew Mudie), this combination gives rise to plenty of humour and quite a bit of song, but not all of it was grasped by the audience. This was partly due to some of the audience being very young, much younger, in fact, than the recommended age of 3+. This is a tricky one for any theatre group – families with children of 3+ are quite likely to have even younger children: if you pitch it to the very youngest, you risk losing the older members, but if the youngest get bored, then they know how to make their feelings felt. So, the aim has to be to keep the pace up with lots of action and keep everyone on board with endearing puppets combined with some audience interaction to help the spell and the story along. In this instance, the company did very well, but perhaps the sound could have been a tad louder or clearer.
The set by Morgan Large is well thought out with trees (with very broomsticky twigs) to hide behind when necessary, and lighting to distinguish between ground mode and flying mode.
Sixty minutes is just the right length, the lack of an interval meaning there is no break in concentration or pace. It's an ideal way to introduce children to the experience of going to the theatre.*
Reviewer: Johanna Roberts
Reviewed: 30th April 2019
North West End Rating: ★★★★
*Why is it considered acceptable to drop cups, sweet packets and other rubbish at the theatre/cinema for someone else to have to spend time bending under seats to clean the theatre in time for the next performance? Are theatres scared of the backlash if they dare to ask patrons to pick up their rubbish and put it in the bin on the way out?