Tim Rice and Andrew Lloyd Webber released the rock opera concept album of Evita in 1976 and the show made its West End Debut in 1978. Since then there's been a bit of rewriting, a couple of new numbers but it remains essentially the same show it was forty years ago.
It tells the story of actress Eva Duarte, who left her village and the poverty that went with it for the bright lights of Buenos Aires and the adoration of the descamisados (working classes) of Argentina. Sleeping her way up the ranks, she sets her sights on Colonel Juan Domingo Peron and marries him before he is elected President in February 1946. Unfortunately it all comes to an early end when Eva contracts cancer and she loses her life at the age of 33 on the 26th July 1952, less than two months after Peron is sworn in for a second term as President.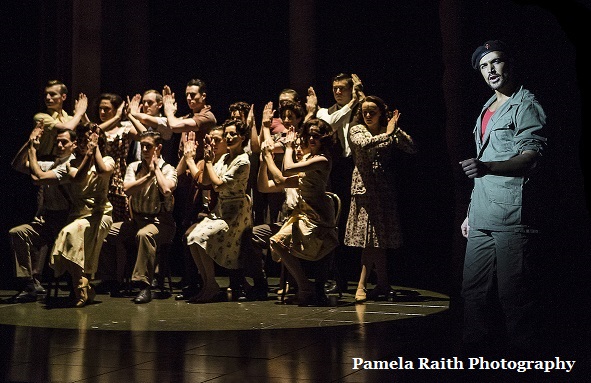 Evita is an often-produced musical and this version has been around on and off for several years, and it's showing its age. It needs to be taken and revamped a bit in the direction and staging as I am sure I saw this exact set over ten years ago. Even the leads are only average in their performance. It is never good to spend the entire first half of a show waiting for the actors to actually convey feeling in their singing. All three leads do warm up in the second half but only to a level which you would expect from the most basic of production.
Madalena Alberta won awards for her portrayal of Eva in the West End, but here despite a good voice, some strange vocal phrasing and intonation lose the emphasis of the lyrics. Her 15 year old Eva was unconvincing and it was only as Eva's illness takes over that real emotion was felt from her. Jeremy Secomb tries hard as Peron. Again he has a great voice but the direction of his role leaves something to be desired until the song You Must Love Me just before Eva dies.
Gian Marco Schiaretti really looks the part of guerrilla fighter Che Guevara, and he has a nice light tenor voice, but it lacks the rock rawness that makes the character of Che more dynamic. He does a good job though and he is better in both High Flying Adored and The Money Kept Rolling In (and Out)
Cristina Hoey has a sweet voice as Peron's Mistress in Another Suitcase Another Hall and special mention must be made of the child soloist in Santa Evita (either Karen or Lindsay Partington) who had the most beautiful voice and a presence which defied her very tender years.
Evita is a huge ensemble piece and the rest of the actors worked hard and well, but failed to raise the production above average.
Rice and Lloyd Webber created a very innovative show when Evita was first produced, unfortunately it now seems to be resting on its aging laurels and needs somebody to toss out the old production and bring in the new.
Reviewer: Helen Jones
Reviewed: 6th December 2017
North West End Rating: ★★★
Picture: Previous Tour