Once again I got the chance to visit the wonderful PADOS Studio Theatre in Prestwich, this time to see the Agatha Christie classic 'And Then There Were None'. And yet again this intimate space has been transformed to look so much bigger with a stunning set which was illuminated by some clever lighting.
For those unfamiliar with the story, a group of people are lured into coming to an island under different pretexts. All have been complicit in the deaths of other human beings, but either escaped justice or committed an act that was not subject to legal sanction. The guests and two servants who are present are "charged" with their respective "crimes" by a gramophone recording after dinner on the first night, and are informed that they have been brought to the island to pay for their actions. They are the only people on the island, and cannot escape due to the distance from the mainland and the inclement weather, and gradually all ten are killed in turn, each in a manner that seems to parallel the deaths in the nursery rhyme. Nobody else seems to be left alive on the island by the time of the apparent last death.
All though a little drawn out in places the story is a compelling one and keeps you guessing until the very end. Sadly, as with all Christie plays to go any further into the night's proceedings would spoil the show for those who have yet to see it for themselves. Suffice to say, it was not until mid-way through the second act when I thought the penny dropped for me just who was the perpetrator of the many crimes occurring. It turned out, and not for the first time, I was wrong!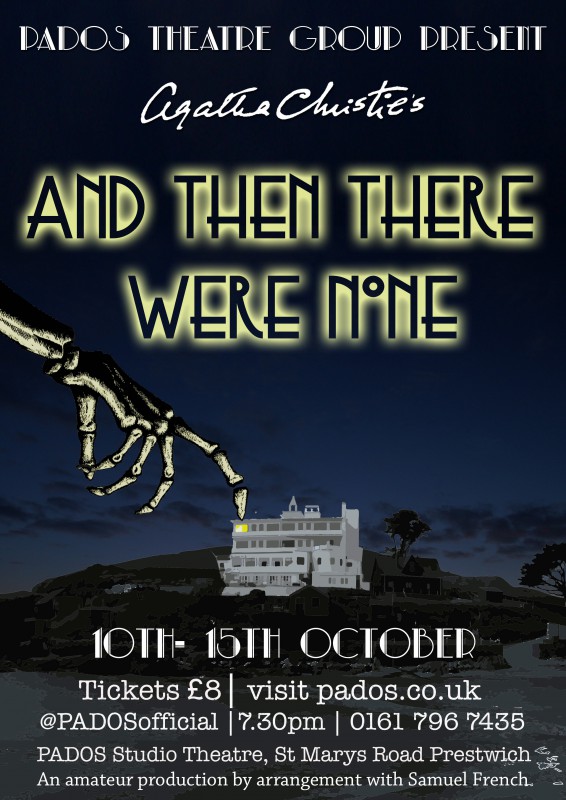 So, unable to divulge the plot I will concentrate on the superb cast. The hotel to which the victims were all lured is staffed by husband and wife Mr and Mrs Rogers played by Shane Giles and Emily Mount, both portraying their roles with a certain air of vulnerability. Andrew Osmond played Fred Naracott appearing only in the first act as the boatman who delivered the guests to the island. Complete with wellies and a strong Cornish accent whilst he is not noted as one of the victims or the perpetrator it is unclear what happened to him.
David Livesey plays Philip Lombard a confident man who admits to his previous crime and comes to the island equipped to deal with trouble. Lombard is accompanied by Vera Claythorne (April Grime) to the island and there is more than a hint at sexual tension between them. I was especially impressed by both these actors such was their confidence on the stage.
Anthony Marston is an irresponsible man played wonderfully by Richard O'Connor. I found myself getting annoyed with this character as the story unfolded for some reason, perhaps it was his immaturity. General Mackenzie is a retired military man who lost his wife some years ago. A wise, if not slightly confused man, Chris Ainsworth plays him in a lovely way and has your sympathy.
Emily Brent played by Justine Boardman is a delight to watch. She knows what she wants and likes and usually gets it. Looking down on some of the guests she was one of many I suspected from early on such was the way Boardman came across. Mr Davis, a retired Policeman whilst played confidently by Rob Thompson I didn't care much for (the role not the actor). I just feel he could have been involved more considering his background.
Simon Fletcher plays Dr Armstrong (there is always a Doctor). Whilst again I wasn't convinced that this character was used to its full potential Fletcher was convincing in his acting. And finally, we have Judge Wargrave. This is probably the biggest role in the whole show and a huge one to take on by Bob Hopkinson and my favourite of the whole production. Hopkinson had the appearance and characteristics of a Judge to perfection as he acted as a calming influence as the night continued.
Brian Seymour's direction is tight throughout and as I eluded to earlier the lighting from Ben Fairhurst was 1st class, especially in the candlelit scene.
PADOS have once again produced a superb show that will have you on the edge of your seat and keep you guessing right until the end.
Reviewer: Paul Downham
Reviewed: 11th October 2016