Following a recent impressive £6 million refurbishment, York Theatre Royal is once again bringing delight and fulfillment to the people of York and beyond, offering a rich and diverse programme of creative activity for some 270 years. After having the privilege of attending a sneak preview ahead of its official reopening earlier this year, I have eagerly awaited my first official visit to sample some of York's finest musical theatre.
Previous regulars at York Theatre Royal – York Lights, proudly present their production of the all-time favourite film and stage musical Seven Brides For Seven Brothers. Bursting with all the rambunctious energy of the original 1954 movie, with book by Lawrence Kasha and David Landay with lyrics by Johnny Mercer, Al Kasha and Joel Hirschhorn, the story, set in 1850s Oregon, tells the story of Adam Pontipee and his new bride Milly as they attempt to find brides for Adam's six unkempt ill-mannered unruly brothers. Milly sets a plan into motion to marry off the brothers, including teaching them how to court ladies properly, but things don't quite go to plan when the brothers, with their over enthusiastic ways, kidnap six women from the neighboring town to be their brides.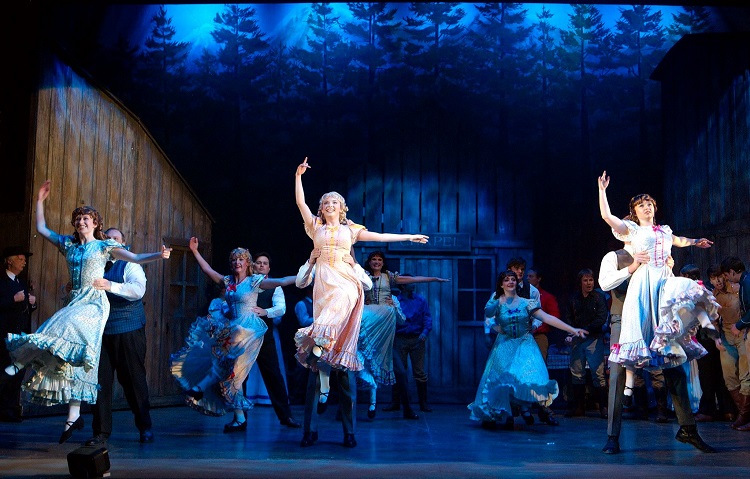 The performance from start to finish was a glorious romp of a musical filled with toe-tapping, thigh slapping favourite songs such as "Bless Your Beautiful Hide", "Goin' Courtin'" (sorry but I always cringe at the word "Courtin'" it just seems so old fashioned and outdated. "Courtin'" for the younger generation like myself, is the old fashioned word for "dating"!) and "Wonderful, Wonderful Day".
I have always felt that this particular musical is somewhat of a slow starter in general, however with such an impressive, and relatively young cast in this particular production, I was soon engrossed and loving every minute.
With an impressive stage set and spectacular choreography, paired with fantastic dancers and vocalists the show is an utter delight from start to finish.
Emma Dickinson gives a spectacular performance as Milly, perfectly paired with Matthew Ainsworth as Adam. Vocally Emma is utter perfection, supported by an equally spectacular ensemble. Ria Williams and Scott Goncalves stole the show slightly with their loveable portrayals of Alice and Gideon, two goofy, yet adorable with it, hopeless lovebirds.
The only slight flaw in this evening's production was several minor delays with lights. At one point Milly, leading the ensemble came on and started singing but the lights did not come on until a few lines into the song. Also at one point, when Adam was carrying Milly over the threshold so to speak, part of the stage set appeared to be loose as it was moving as he stepped through it, so much so that there were slight gasps of fear from the audience. Similar happened during a fast dance routine where one of the brothers lifted his Bride up and hadn't quite got his grip which put fear into everyone once more, however he was very quick to rectify without spoiling the routine, so much so that you could literally see the fear lifting from the audience!
For such a demanding musical with such high energy dance routines, York Light did a spectacular job of bringing this well-loved classic musical to such a large stage. Every minute was an utter joy and I couldn't help but tap my feet along to some of the dances. Forget Wonderful, Wonderful, Day – this was one heck of a Wonderful, Wonderful, Night!
Performances run until Saturday 9th July with tickets from as little as £10.00 (plus a £1.50 transaction fee per booking). Tickets can be booked via the Theatre Royal Box Office on 01904 623568 or securely online at www.yorktheatreroyal.co.uk
With catchy tunes and spectacular dancing and exceptionally talented cast, Seven Brides For Seven Brothers is all boisterous fun and romance that harks back to the glory days of the original movie musical.
Reviewer: Lottie Davis-Browne
Reviewed: 28th June 2016