One of the joys of reviewing is that I get to visit new venues I have never been to before. Tonight, was one of those occasions as I had the pleasure of visiting the Rossendale Players at their delightful New Millennium Theatre. The venue is superbly set out on two levels with a small bar which is incredibly well priced. Couple this with tonight's performance of The Rise and Fall of Little Voice by Jim Cartwright and you have a recipe for a truly great night out.
The play tells the story of a shy, reclusive girl named Little Voice and her larger than life, out of control mother Mari. Desperately missing her dead father, Little Voice (LV) spends her time locked in her bedroom listening to his old record collection and perfecting astonishing impersonations of famous divas including Shirley Bassey, Marilyn Monroe, Judy Garland and Dusty Springfield.
When Mari starts dating small-time club agent Ray Say, she thinks he's her last chance for a better life. When Ray Say hears Little Voice sing, he thinks she's his ticket to the big time. Little Voice just wants a normal life and to be loved. Not everyone is going to get what they want.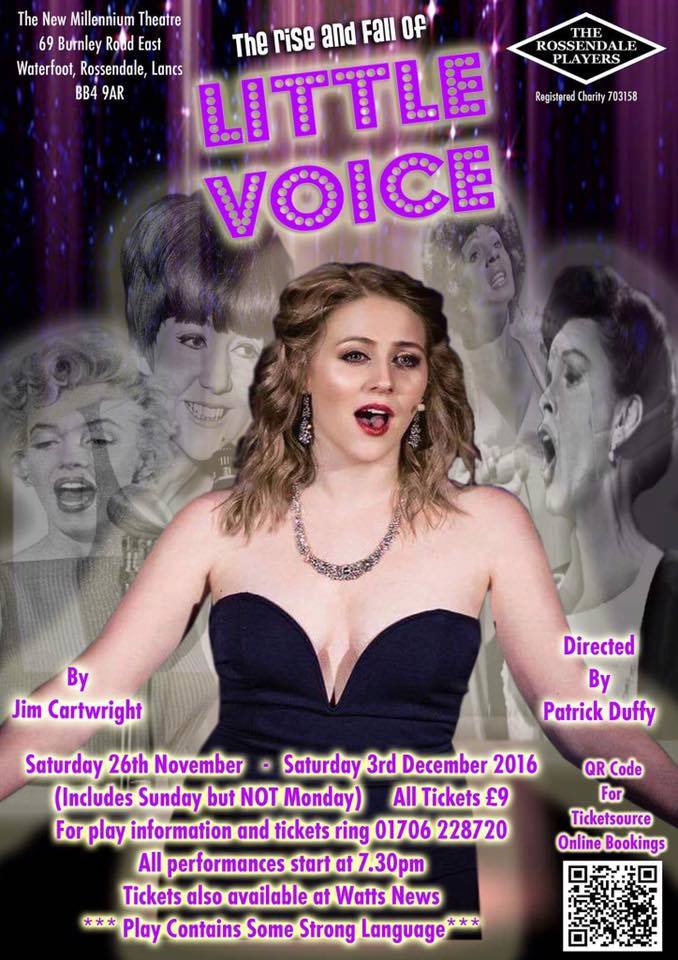 Taking on the lead role of Little Voice (LV) is Sophie Lord, and what a superb job she did! Pitching the shyness and reclusiveness of the character to perfection it made the moment you hear her wonderful voice for the first time all the more special. Her impersonations were also accurate with her Dusty Springfield being the stand out moment.
Club agent Ray Say was played by Martyn Frost. His interactions with LV and her mother were well played as was the light and dark sides of the role. Paul Higgingbottom also impressed as Mr Boo after a brief cameo as the phone man at the beginning of the play. As Boo, he is everything you imagine from a club owner of the time with his dodgy jokes and even dodgier hairstyle!
Kate Carter as neighbour Sadie proves the mistress of facial expressions as she turns in a fantastic performance. Sometimes words are not needed! Ben McCarthy as Billy was great casting. His shyness matched LV's and their scenes together on his nightly visits to her bedroom window were some of the most heart warming of the whole show. Their final scene together when he shows off his light display to LV leaves you wondering where their story goes after the end of the show.
For me the star of the show was Dawn Rowe who delivered a stellar performance as Mari Hoff, selfish and desperate for romance her performance was as good as I have seen this role played. Her comedic timing was spot on and her scenes with Frost as Ray Say were filled with passion (and alcohol)!
Director Patrick Duffy and Rossendale Players has amassed a superb cast for this production, which as the programme states is a bit of a departure from their usual productions of plays without music. With his strong direction and a cast as talented as this I can only hope this proves to be an experiment that is repeated in the future. I'd love to see this group tackle something like One Man, Two Guvnors.
I can't end this review without heaping praise on the technical side of this show. It is rare to go to the theatre these days on opening nights where there are absolutely no issues with lighting or sound, tonight was one of those rare occasions. Add to this some very clever projections to create Mr Boo's nightclub and you have a show that is a joy to both the ear and the eye.
This was my first visit to see Rossendale Players and on the strength of this production it certainly won't be the last!
Little Voice continues at the New Millennium Theatre in Waterfoot until the 3rd December (except Monday) with tickets either limited or sold out. Contact 01706 228720 and secure the last remaining seats, this is a show well worth seeing.
Reviewer: Paul Downham
Reviewed: 26th November 2016