Terry Early's announcement that he and Susan Rickworth plan to marry rouses the fury of the formidable Alice, Terry's mother. Alice's reaction is due to her previous relationship with Reuben Rickworth, Susan's father. Sam Early is caught in the middle of it all. And his peace of mind as that of his old pal Joe is shattered. Alice's sudden demise following her handling of a faulty electric kettle lent her by Mabel, the inquisitive neighbour, promises a peaceful solution. But Alice becomes a vengeful ghost and is even more formidable than as a live wife and mother. Much drama results in which both families and Mabel are involved, before Alice's ashes can be persuaded to lie quiet in her urn.
Dukinfield Methodist Church Social and Entertainment Group have taken on this fun comedy which isn't an easy task. This is quite a long play and jam packed with dialogue and the need for some 'special effects'.
Before the performance began we were informed that due to a technical problem there was no lighting available on stage. Where the majority of productions would have cancelled the show our hosts for the evening thought of no such thing. With the help of a trio of floodlights erected in front of the stage, the old adage of 'the show must go on' was well and truly evident, and I for one was pleased it did and each and every cast member dealt with the situation like true professionals.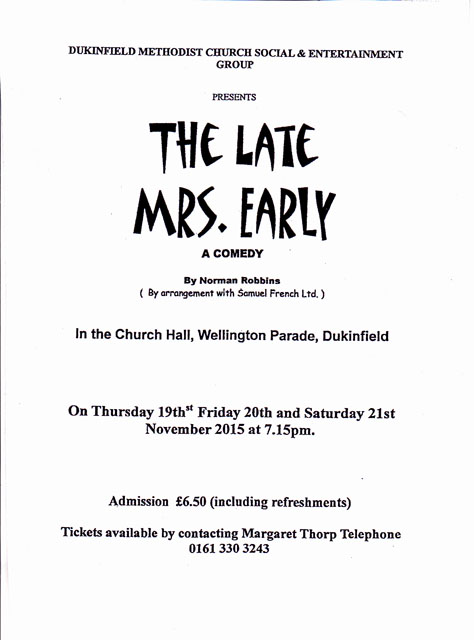 Terry (David Bevins) and Susan (Katie Dearnaley) play the lovers intent on marrying. First impressions make them seem awkward in each other's company however as we learn they have the house to themselves for a rare moment the awkwardness it is really nerves we are seeing. Neighbour Mabel (Ann Hill) gate crashes the planned moment of passion as she arrives in the house unannounced (not for the last time during the night) looking for Terry's mother. Hill plays Mabel with gusto and is instantly annoying and never happy unless she knows exactly what is going on and every detail associated with it.
Next Terry's Dad, Sam (Paul Whitworth) disturbs the evening. Swiftly joined by wife Alice (Sandra Birchall) these two make a superb on stage couple. Birchall is in charge, make no mistake. Within seconds we witness what her husband has lived with during their marriage, and Whitworth plays his role superbly with his mannerisms communicating his feelings before the words were spoken.
Joe Gittins (Ken Jones) is Sam's oldest friend and drinking partner, after Alice's demise the need for sneaking out on a Saturday is no longer required, nor the peppermints! Along with Whitworth, Jones has some good scenes and their chemistry together is evident. The scene after the pub at the mid-point of the first act is particularly funny as they staggered home disturbing just about everyone en route.
In the second half we meet Susan's parents Reuben and Lucy (Chris Morris and Jean Whitworth) as they call round to discuss the engagement, however the ghost of Alice takes matters into her own hands and chaos ensues.
There is no denying that the earlier mentioned technical difficulties tonight hindered the production slightly, ironically a scene where a power cut happens raised a laugh from the audience. In saying that this company proved you don't need all the bells and whistles technology brings with it in order to produce an enjoyable performance. Yes I am certain it would have added to the suspense and enjoyment of the piece, but this is live theatre and these things happen.
This is an enjoyable production from the outset and I didn't guess the ending, in fact I was way off in my assumption of what was going to happen. The appearance of Alice's ghost on stage was well thought out and try as I might I couldn't see where she appeared from. A hard working cast are a joy to watch led by Paul Whitworth who worked harder than anyone, on stage for the majority of the performance and with a lot of dialogue to have learnt he shone brightly.
Sadly the performance tonight was the last in the run, however I am already looking forward to returning to the next production from this highly talented company.
Reviewer: Paul Downham
Reviewed: 21st November 2015