One night on a tough inner city estate six friends become the Crongton Knights setting off on a dangerous quest to help their friend retrieve a phone with revenge porn on it.
The new stage adaption by Pilot Theatre and Belgrade Theatre of Alex Wheatle's award winning novel takes a brutally honest, but balanced, look at life for this diverse group of friends, including their reluctant leader McKay Tambo who is still coming to terms with the loss of his mother in a hit and run. Performance poet and playwright Emteaz Hussain is adapting this best-selling novel aimed at young adults for the stage.
"The Crongton Knights come across some really difficult situations and challenges, it's quite nail-biting stuff so they really have to learn about each other along the way to overcome differences and various obstacles," says Emteaz.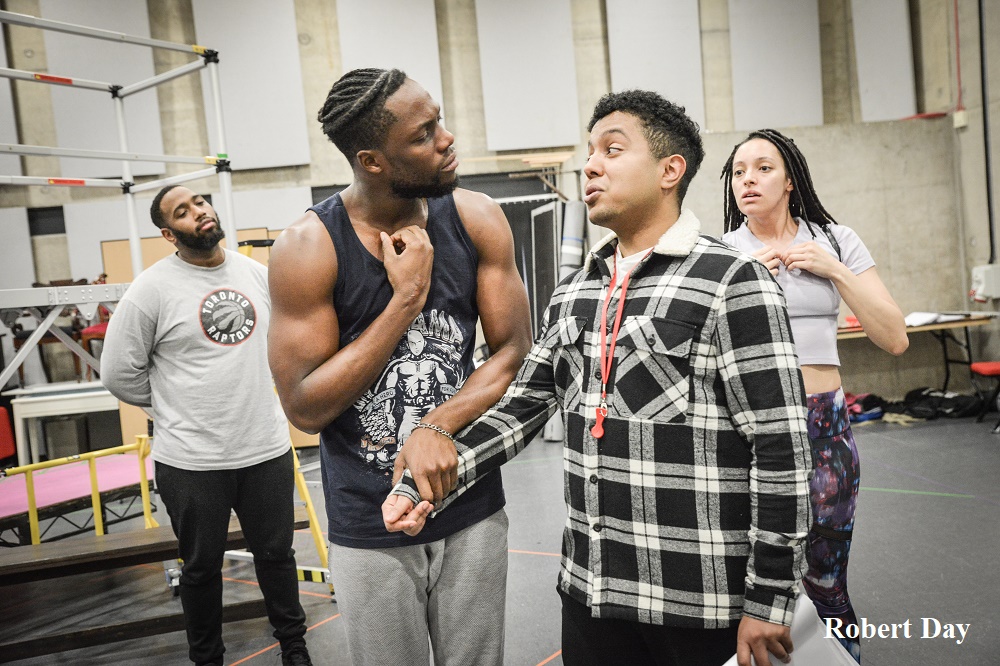 "It's a story about grief and loss really which happens to everybody, McKay has lost his mother, and one of the other characters has lost her best friend. That could happen anywhere, but what makes it difficult for these young people is they don't really have much, they're not privileged young people.
"What is really good is how they try to support each other in that very difficult situation, it's kind of like tough teens, but I think life is tough enough for everyone, It's how we overcome that and how we really need each, that's the message of the book, and I think that's universal."
Wheatle's novel doesn't just paint a rose-tinted picture of inner city life as the Knights face gangs and the results of their own mistakes. He refuses to portray his characters as merely selfless saints, but people with the same insecurities and hidden strengths as anyone else, which Hussain has tapped into
"Things are incredibly on the edge, but the thing is do or don't they overcome that edge, and the obstacles that are in their way. There is a lot of tenderness, a lot of grace, and why I love it is because it shows a 360 degree perspective of an inner city deprived place, and about young people that I would think are misunderstood at times. It really humanises them.
"I'm nowhere the edge like these young people, but I related to their humour, banter, the way they have each other's backs, the way they then squabble, fight and get really hurt and suspicious of each other. It is nice to see something that's three dimensional about young people in an inner city rather than 'oh, there's knife crime or there are gangs.'"
Another challenge for the young cast has been learning how to beatbox, which is a motif throughout the adaptation, but working with a master of that urban genre has really got their creative juices flowing.
"There's an element in the story where they end up at a rave so there's some of that beatboxing and rapping there, but it's the rhythm and pulse of the inner city, I think the beatboxing epitomises that,"" notes Hussain
"It's the pulse in the language and beat of the people, so it fuses really well, and we have an award winning beatboxer called Conrad Murray working on it. The script is interspersed with some of the lyrics that the cast have come up with to tell the story."
Crongton Knights is co-directed by Strictly Arts Theatre Company Artistic Director Corey Campbell and Pilot Theatre Artistic Director Esther Richardson who have working closely with Hussain to make sure it stays true to the warts and all world that Wheatle created for his Knights.
"I couldn't do it if wasn't balanced and I think it very brave of Pilot doing that. Esther knows I want to do it balanced and right because I live in an inner city, multi-cultural, working class inner city culture, and know it. We have to be able to tell our stories bravely, unflinchingly, with grace and tenderness because that is who we are as people."
Crongton Knights tours from the 8th February until the 9th May https://www.pilot-theatre.com/performance/crongton-knights