A top quality cast has been announced for Octagon Theatre Bolton's new production of Ayub Khan Din's award winning culture clash comedy drama East is East.
Based on the classic BAFTA award winning film, it's the tale of George Khan, proud Pakistani and chip shop owner, and his uphill battle to get his seven children to conform to traditional Pakistani values.
When the Khan kids begin to oppose their father, their English mother is forced to make a choice between her love for her husband and the right of her children to make their own way in the world.
Returning to the Octagon as George Khan, is Goodness Gracious Me and Still Open All Hours star Kulvinder Ghir battling it out with Casualty's Jane Hazlegrove as Ella, George's Irish Catholic second wife and partner in running their local fish and chip shop.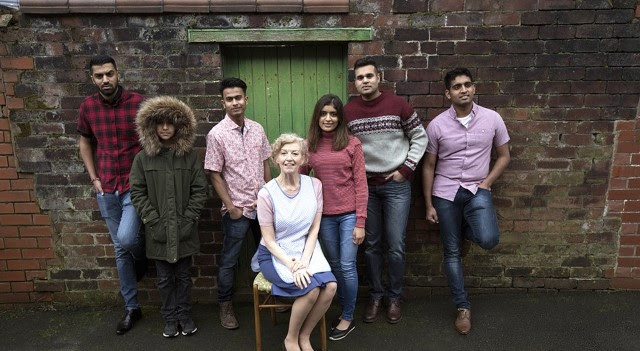 Making their debut at the Octagon Theatre are Uzair Bhatti playing middle son Maneer, Jatinder Chera playing art student Saleem and Citizen Khan's Shila Iqbal playing Meenah. Ralph Birtwell will reprise his role as the doctor from the East is East feature film, as well as taking on the role of Mr. Shah.
Also returning to the Octagon is Akshay Gulati as Tariq, the frustrated focus of his father's arranged marriage plans, and Mitesh Soni fresh from A Christmas Carol at Hull Truck as Abdul. Completing the cast is Corrie's Claire Hackett playing Auntie Annie.
The role of the youngest sibling Sajit Khan will be played in alternate shows by Young Company members Daniel Zahir and Rohan Macleod.
"East is East is a classic drama filled with comedy and great heart," says Director Ben Occhipinti.
"Ayub Khan Din's brilliant writing captures in intimate detail the very real tensions, and joys, of life growing up in an Anglo-Pakistani family in 1970's Salford. It cleverly explores important questions of culture and identity but through a large and diverse family of characters we can all relate to."
East is East will be playing at the Octagon Theatre, Bolton between Thursday 15th March – Saturday 14th April. To book go to www.octagonbolton.co.uk