In 1948 a party of 492 Jamaicans embarked on the MV Empire Windrush to make the long trip to England and images of those pioneers filing down the gangplank have come to symbolise the start of post war Britain's multiculturalism.
They were the first immigrants from the West Indies who came to be called the 'WindRush Generation', and their descendants now sit in our parliament, form the backbone of the national football teams, have become Olympic champions, written best-selling novels, act in Hollywood blockbusters and are at heart of Britain's worldwide musical success.
Now Leeds based Phoenix Dance Theatre has created a new work, Windrush: Movement of the People, celebrating the courage and fortitude of those who risked everything for a new life. Prentice Whitlow will be one of the company when the work has its world premiere at West Yorkshire Playhouse next month.
"Windrush is our Artistic Director Sharon Watson's interpretation of what those last few moments, and those first few moments, would have been like for Jamaicans coming to the UK," says Prentice. "A sense of what kind of culture they left behind, what kind of culture they encountered once they got here and how they dealt with those challenges and new experiences.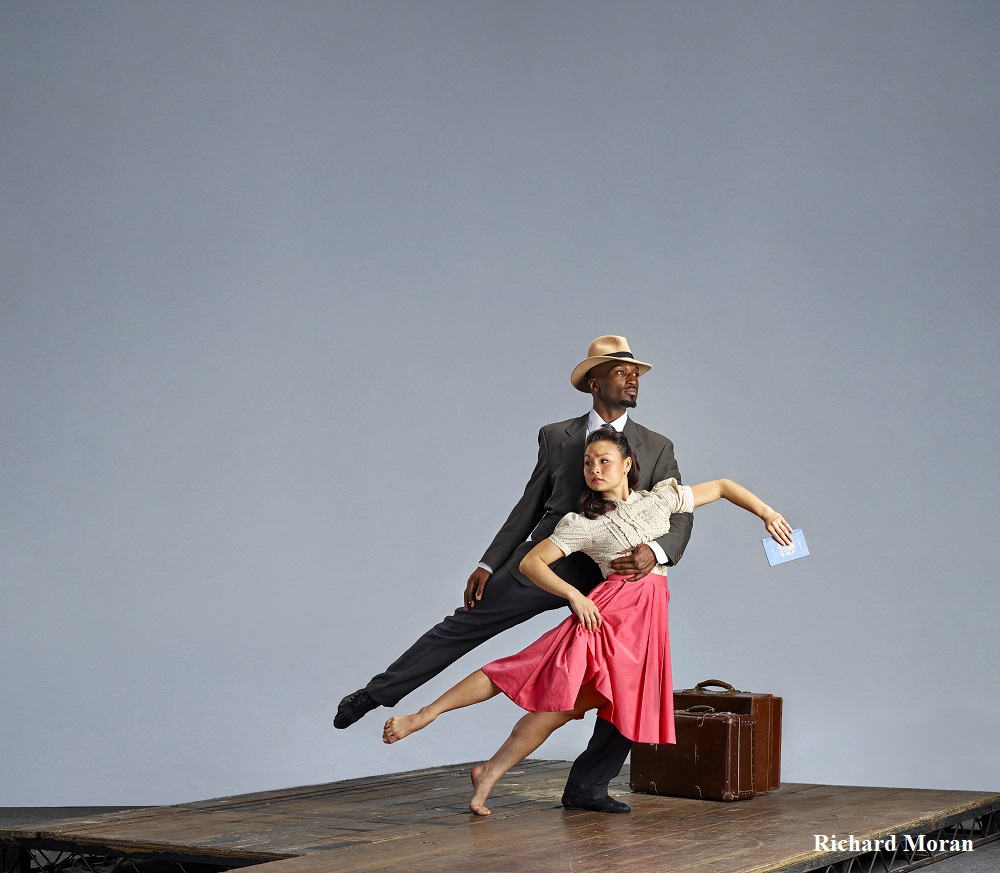 "It's interesting because the people who left Jamaica for the UK, a good chunk of them had relatively good lives as you're taking about people who were professionals, and who had skills that they were already using in the country they lived in.
"They were bringing them to a place that was seemingly in need of those skills so for me there is an overwhelming sense that these people were motivated, they were already accomplished in their own right and they were ambitious. They were also fearless in a way, ready for almost anything, what was to come and prepared with a resilience."
But it wasn't an easy journey the Windrush Generation took as when they arrived here full of hope they were met resistance and intolerance at the highest levels, and in their day to day lives. In a modern multicultural Britain it's scarcely believable that pub landlords were able to hang up openly racist signs banning black people that today would not only be illegal, but speak mass protests.
"There is reference within the piece that at a systemic and parliamentary level there was opposition to people coming and where would they go, how would they would be received. There's the famous phrase 'No blacks, no dogs, no Irish', and that is just a small bit of the opposition and challenges some of these people faced, As well as the phrases, once those people were put in professional situations there is also a kind of reticence to accept them there.
"So the piece touches on, for instance, nurses who came into the NHS where it took a while for people to see them anything thing other than 'the other', and to accept these people have expertise, they have knowledge and abilities that deserves a bit of respect.
"We touch on eventually people did integrate and found their way. It touches on how the British public eventually found a way to make peace with what was happening so it touches on it from both sides. What the Caribbean folks had to do in order to feel at home, and what the British public had to do in order to feel at peace."
Phoenix was formed in 1981 by three dancers who had started dancing at the city's Harehills Middle School, and since then it has developed an international reputation as a company prepared to create challenging new work. Sharon Watson had a long career as a dancer with Phoenix before becoming artistic director in 2009, but this piece is her most intensely personal choreography as her parents were part of the Windrush Generation.
"She's telling her mother's story in some part, her family's story and it's close, it's personal because it is her heritage," notes Whitlow. "We could all tell she really brought that responsibility to us with a real sense of pride and a real sense of integrity. She took it very seriously, this mantle of telling this story."
In a troubled world when a demagogue wants to build a wall across a border, and xenophobia is sweeping across Europe in a post Brexit world, there really couldn't be a better time for a piece that considers what we can learn from our own history. That's a point not lost on Whitlow who trained in America before bringing his skills to Leeds.
"The stories of displacement, immigration, of otherness, xenophobia and triumphing in face of those things are incredibly timely.
"It's that resilience of the Windrush people, and also to this country's credit there had to be space made for these people, Whether they had to fight tooth and mail to open those spaces is definitely worth a conversation. It's a testament to the strength of character and of culture that those people brought with them."
The company decided to test out their work with the toughest possible audience so they invited Leeds Elder Group down to rehearsals. This group included one man who was actually on the Windrush, and everyone else had personal experiences of the Windrush Generation, so if Phoenix had got it wrong they would very soon have found out from people who had lived through all the highs and lows of building new lives.
"The one thing I really remember hearing is people just pointing at things and saying 'yes, it was exactly like that' or 'we had exactly those cases'. People saw their own experiences in the work, and saw stories they had heard in the work.
"We showed the work in December to a small audience that didn't include very many people who had direct connection to those events in the way of some of the elders, but people who are as almost removed from the period of time as I am said to me I see myself and my family in this work, which is really profound. To hear from the elders that the piece feels familiar was really heartening."
The World Premiere of Windrush: Movement of the People is at West Yorkshire Playhouse 7th – 10th February 2018 at 7.30pm. Book online at www.wyp.org.uk or call Box Office on 0113 213 77 00.