This play claims to be for 'real' women about 'real' women, and I don't think anybody could argue with that. It takes place at a pole dancing exercise class, and is about the lives of six very different women, and the hardships they are each personally facing.
All of the actresses brought something different to the stage, and this was key in creating representations of not only individual women, but types of women too.
There were certainly some stand out performances, and the one that instantly springs to mind is the character Tricia, played by Faye Tozer. Tozer is best known for being a member of the band 'STEPS' and so I was dubious as to what she might bring to the play. So often, performers who have had successful careers in the music industry cannot easily adapt to the stage as an actor/actress as it requires a very different skill set, therefore when I see that sort of person in such a play I have to admit I'm always sceptical. However, I needn't have been. Tozer knew exactly what she was doing, and she did it with ease. You could easily have watched her all night, and I for one found myself looking forward to her being back on stage whenever she was off, which really was a pleasant surprise.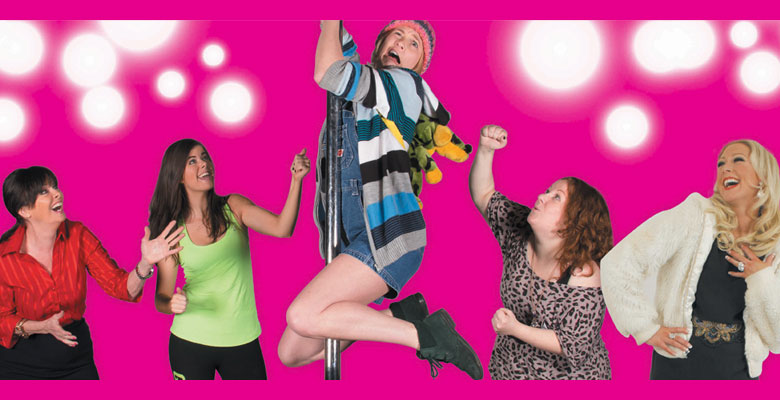 I also have to mention the characters of Bev, played by Amy Drake, and Faith, played by Eve Burley. These two came as a sort of double act, providing most of the comedy aspects, both in different ways. Drake gave us a no inhibitions, bare all kind of comedy, even exposing various body parts (belly and bum) as she played the overweight character, and the audience lapped it up both in laughter and dismay. You couldn't help but admire this character because she had a real warmth to her despite the crudeness and foul mouth. Burley brought her comedic element through doziness and naivety. Her character's physicality was commendable throughout, and even though her dialogue was often predictable you didn't mind because she delivered it so well.
Both my theatre companion and I thought this play could have been tighter and this is where the show dipped a bit for us. Various scenes seemed to drag out a bit unnecessarily and sometimes it seemed repetitive. This was a shame as you felt yourself becoming a bit disinterested as you felt you already knew what they were saying and that it didn't really need to be said again.
Furthermore, scene changes could have been slicker. There were times were the blackout seemed to last a long time, and the audience were left looking at a black stage. I feel these things aren't too difficult to fix either, and perhaps Lisa Riley's direction should have managed these things a bit better.
As a whole, this play does celebrate the empowerment of women, and what they can do in the face of adversity. The issues raised are handled delicately, but without creating a morbid atmosphere either. It's not one I would rave about, but an enjoyable evening of theatre nonetheless.
Reviewer: Sara Woodruff
Reviewed: 13th June 2016
North West End Rating: ★★★