The 39 Steps is a fast paced spoof spy thriller based on the novel by John Buchan and the classic 1935 Hitchcock film, brought to life by four very talented actors, imaginative sound, lighting and costume, shadow puppets and naff special effects. Combined, these elements make for a top class night of entertainment as we follow the story of our hero Richard Hannay (Richard Ede) from London to Scotland and back again as he falls into a world of spies, double agents, damsels in distress, villains, detectives, newspaper sellers, hotel owners and outrageous Scottish stereotypes.
The wonder of the production is at times its simplicity and the near perfect execution of the 139 characters played by the small company of four. Olivia Greene brings to life the female roles of Pamela, Annabella and Margaret with excellent comic timing and you could be forgiven for thinking 3 different women played each role. Her German accent for Pamela was probably her finest comic moment for me and the early scenes with Hannay set the tone beautifully for the rest of the show in capturing the playful and silly style throughout. Andrew Hodges and Rob Witcomb do a wonderful job at playing all the other roles and the train scene stands out as one of the most memorable moments in this production which is packed full of hilarious comedy set pieces. Richard Ede plays Hannay to perfection, complete with stiff upper lip and pencil moustache, his connection with the audience is faultless, as is his own comic timing.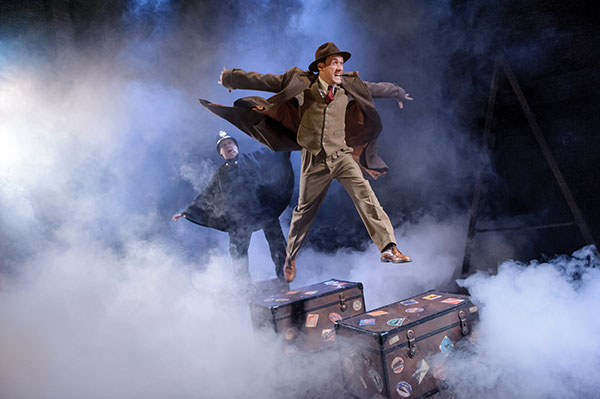 The four actors are accompanied throughout with perfectly timed sound effects which capture the right tone, mood and humour, as does the lighting which enables us to travel the length of the country and through the twists and turns in the narrative. Costumes are used effectively to display stock character types and fans of Monty Python style, good old-fashioned Brit humour will not be disappointed with men dressed as women, slapstick and misunderstandings alongside the stereotypes of Scotsmen in Kilts / tartan hats, brown raincoat wearing detectives and velvet clad villains. The minimal set is used with hilarious consequences, shadow theatre (including a nod to Hitchcock himself) and the not so convincing special effects / stunts (such as Hannay falling from the Forth Bridge) are all part of the fun in this show.
This touring production is every bit as good as the West End production and certainly had the audience laughing along with it throughout. There were a few grumblings in the audience that parts were difficult to hear, this was something I didn't experience myself but certainly there were times early on when diction could have been improved. Overall however, this didn't distract from a thoroughly British, hilarious and enjoyable night's entertainment.
Reviewer: Ashley Price
Reviewed: 16th February 2016
Picture: Dan Tsantilis