Ultra glamorous, full of garters and girdles and glitter; feed your fascination with feathers and the fabulous with a night at Le Bouge Neon.
The entire cast of this alluring burlesque collective have wowed audiences the world over, with their impressive performances that mix traditional vintage burlesque with a modern neon twist.
The historic Epstein Theatre was descended on last night by hordes people, seemingly from all over the UK, each waving Liverpool's hottest ticket of the weekend. Le Bouge Neon comprises some of the biggest names in Burlesque and variety, including Miss Fallon Dee, best known for her career as a showgirl for the famed Moulin Rouge.
I hardly know where to start with this review; Le Bouge Neon throws so much at you, it's barely containable. Hosted by comedy queen Chris Fitchew (The Imagination Emporium), right from the introduction we're subjected to loud and proud laughs and debauchery with just enough dazzle to keep it classy. No one was safe; the burlesque virgin's were sought out, Chris indulged in a spot of matchmaking, even my friend and I were forced to do show and tell with the contents of a bag of (very belated) Christmas gifts (all of which I loved; all of which were diabolically scoffed at)! But it didn't matter, because the diabolical host was dressed as a sequinned alien, the audience loved it and it gave me writing material!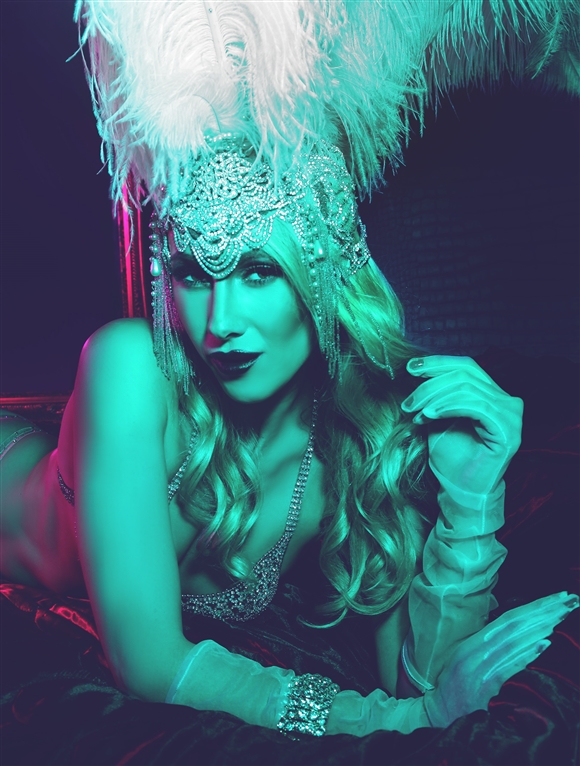 The first performer of the night was Miss Betsy Rose, possibly one of the most beautiful women ever, with a show of classic vintage burlesque. She emerges draped in 1920's finery and sheds layers of lace with an infectious smile and zest for performance. With each item of clothing dropped, a shadowy figure emerges from the depths of the stage to pick up the fallen finery and then mysteriously disappear again. Betsy later treats us to a military inspired show that fans of the 1940's will go wild for.
It's funny how tantalising the slow removal of a glove can be, or even after the clothes have come off and one item only shields the talented tease in her luxurious lingerie, how never quite seeing the full picture can drive such a frenzied reaction from the audience bellow.
Kitty Bang Bang, certainly lives up to her name! When a wheelie bin appears on stage, we wonder what on earth could be about to happen. When a set of crystal claws creep out from under the lid, we know we're in for a treat. This pint-sized performer purrs into action and is immediately so much fun to watch. Full of surprises, and obviously not one to be messed with, she even breathes fire!
Valerie Murzak is stunning in her mirror ball routine, performing super human acts of contortion and balance. Possibly the pinnacle performance, this routine has become famous around the world and has even been enjoyed by Sir Richard Branson on his private island. Truly, a showstopper.
Phil InGud, a god of a figure, surprises us in disguise as another female performer, but reveals himself to the delight of the crowd as the mysterious clothes collector only glimpsed earlier. He thoroughly takes over the theatre with his own incomparable brand of boylesque. On stage and off into the audience (submerging my friend in his fabulous feather fans along the way), he is an unstoppable force.
It wouldn't be right not to mention the sultry, sexy and scintillating voice talents of Acantha Lang. Le Bouge Neon would be incomplete without this New Orleans born songstress, full of sass and a delicious bluesy tone comparable to Tina Turner.
Finally, Miss Fallon Dee, Moulin Rouge showgirl, star of the West End Hurly Burly Show (where many of Le Bouge Neon cast first met) treats the crowd to a modern twist of burlesque, full of sequins and shimmer and an amazing giant birdcage! A superstar in a halo of gold, her feather fan dances are in a class of their own.
The entire cast were kind enough to let me backstage for a quick chat after the show: on and off stage, I can personally attest that this is a band of true professionals who have poured their all into this one of a kind performance!
Hear Natalie's post show interview with the cast of Le Bourge Neon HERE!
Reviewer: Natalie Romero
Reviewed: 19th February 2016