There's probably very few people who remember the Olympic Games in London in 1948. However, it is remarkable how similar the political situation was very similar then, to when London hosted the Games again in 2012.
Set just after the end of World War II, The Austerity Games tells the story of Martha Britt, an elderly woman who has become stubborn and impatient. She becomes increasingly annoyed about how she is suffering because of the Games.
1948 was also a key year for Britain as it was when the NHS was launched. This is mentioned in the script as we see the characters debating about whether it is a good idea and how it will be funded.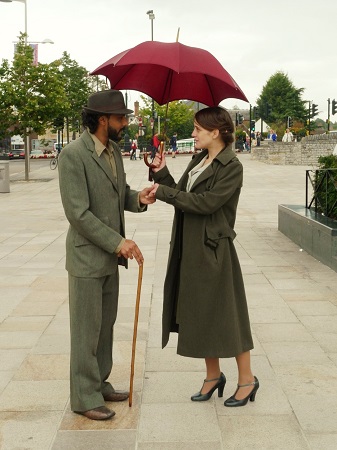 There are only two actors in the production; Emma Sian Cooper and Taresh Solanki. Both play a number of characters in the play. The audience always know when they are changing character by changing of clothes. The strength of the acting can be seen in the actors imagination. As it is a fringe production, it is no surprise that there wasn't a massive budget for props. However, the actors see everything they are describing, and that's what makes it work. For example, in one scene Cooper plays a man cleaning a window, but the way she is cleaning the window you can tell she can see it in her imagination.
Written by Cooper, the script is fantastic. The audience go on a journey with Martha as she is visited by ghosts from the past, present and future. The script has clearly been influenced by A Christmas Carol.
Upon hearing that this production has won awards, I am not surprised at all. The creativity of this show is breath-taking. The only downside is that the script could have taken advantage of the current political situation to enhance it.
Reviewer: Francis McKevitt
Reviewed: 16th July 2016
North West End Rating: ★★★★