Following from the worldwide adoration of 'Slumdog Millionaire,' and the music of A. R. Rahman, in flies Taj Express, stopping off at the Guild Hall in Preston on its UK tour. Promising to give us a chance to be immersed in Bollywood in a way never been done before. Choreographers, Vaibhavi and Shruti Merchant have a wealth of experience in the industry basing the story on their own lives, themselves descending from Bollywood royalty.
Narrator Shankar a young composer introduces the show, setting the tone for the evening. He mocks the typical Bollywood, 'wafer thin,' story line and if we are here for Shakespeare we had better leave. The audience warms up safe in the knowledge they won't be intellectually challenged this evening but reassured they can expect good fun and oodles of entertainment. The script is very funny and witty, and is relevant throughout with pokes at Jeremy Corbyn, and The Queen.
Next we get the impact of a stage filled with dancers dressed in the most sparkling elaborate beautiful costumes you can imagine with bounds of endless energy, the music throbs, bodies whirl and twist and we are in for a spectacular like no other. The popular 'Jai Ho, ' belts out from the film Slumdog Millionaire, and the wonderful choreography and perfect timed dance moves are totally captivating.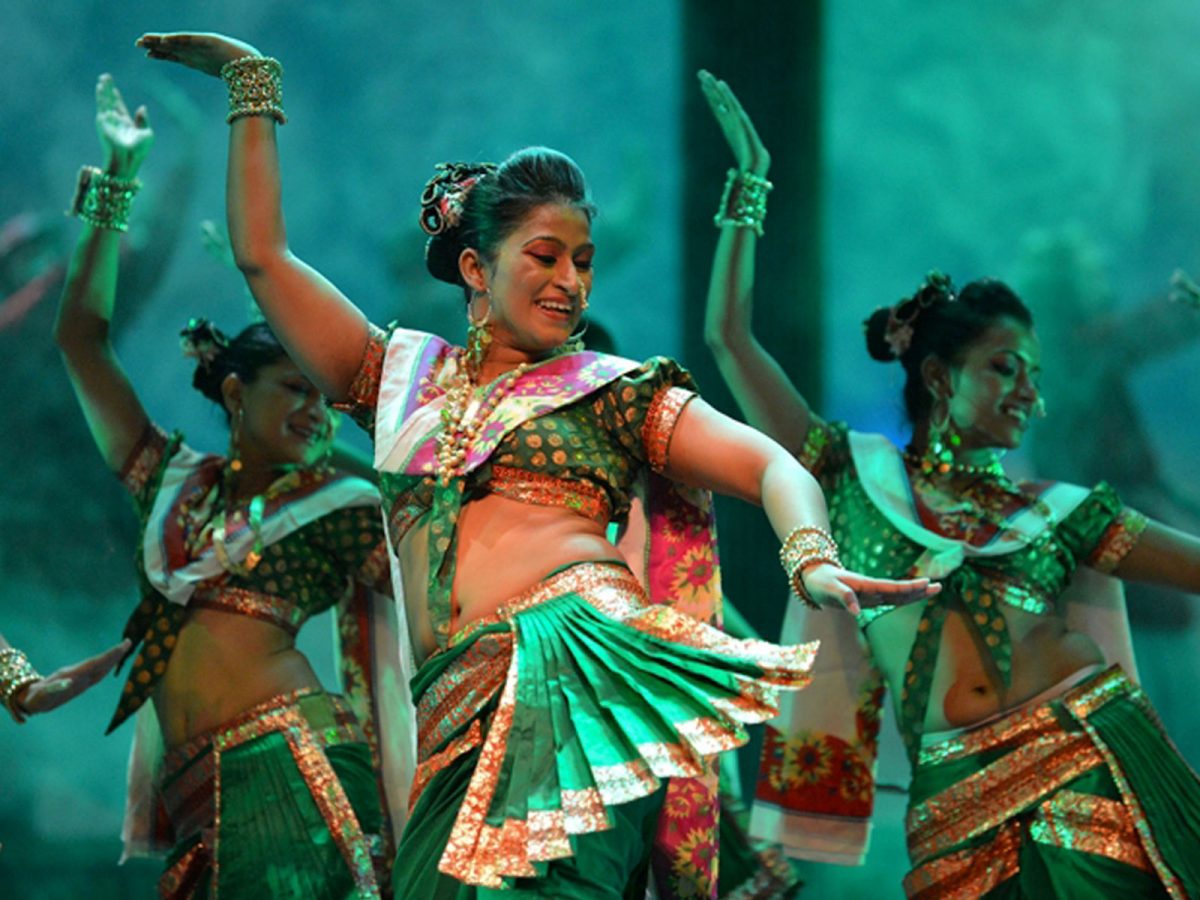 The backdrop is an elaborately coloured banner emboldened with the words 'Love, Dance, Sing, ' and for a few hours tonight that all we need to get by. The costumes designed by Bippin Tanna are 'out of this world,' red, purple, green, yellow, gold, silver, the amount of changes is phenomenal. Not only was it a journey through Indian music, but a journey through Indian textiles and boy do they shine and sparkle.
Routines were very imaginative; the 'King of the Streets,' with drums, flags and scarves waving all the dancing has this frenetic urgent quality with perfect timing. The movements, little hand flicks, head shakes and bounciness keep you riveted throughout. Some featured all male troupe members which was just as enrapturing; the dancing style was very masculine, very enjoyable for the female audience.
Interspersed were some beautiful romantic numbers, party dream sequence, accompanied with lilting flute (live on stage). There was a dollop of audience participation too, and the narrator was great at encouraging the loss of inhibitions. At the end everyone was dancing.
The whole spectacle from start to finish was a flawless, burst of colour, vibrant energy and performance never seen before. Will Shankar ever 'hit the big time, ' in this crazy industry? The ending is a happy kaleidoscope of flame orange costumes, chiffon, flowing and dancers going for it like their life depended on it.
The production tonight had everything, audience on their feet, love, romance, comedy, good wins through/don't give up your dreams message, bright dazzling costumes and stunning dancers. The atmosphere was electric on stage and off, if it wasn't so cold I could have been in Mumbai. Every second was thrilling.
Reviewer: Rachel Foster
Reviewed: 28th September 2018
North West End Rating: ★★★★