I have had the pleasure of seeing the final year students at LMA from their first production – Arthur Miller's 'The Crucible' – through Stephen Berkoff's 'Dahling You Were Marvellous', and so it was with some delight, and emotion, that I came to see The Seven Acts of Mercy, their final production, and I was not to be disappointed in what will hopefully prove to be the end of the beginning for so many of this talented crew.
Anders Lustgarten's play has only been performed once before so it appeared to be a little bit of a coup that LMA landed the rights to it as it juxtaposes Caravaggio's 17th Century Naples against modern-day Liverpool contrasting the biblical morality of an Italian masterpiece, from which the play takes its title, and the cruelty of housing policies interspersed with some dark humour.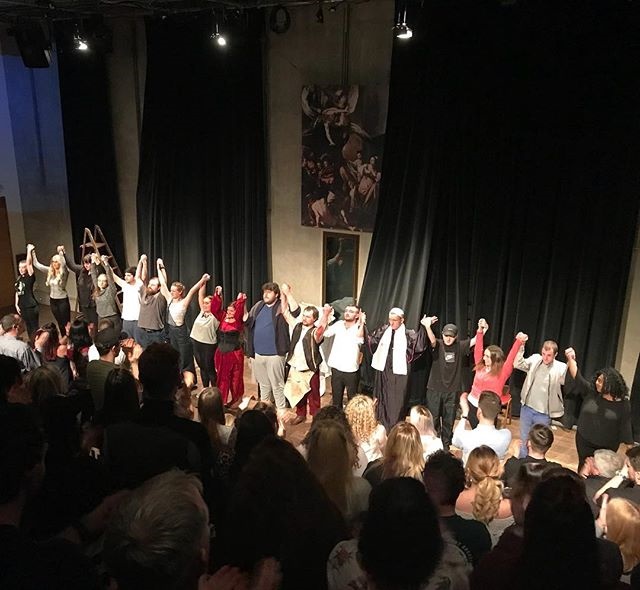 While Caravaggio paints his famous altarpiece, we alternate with Nicky seeking to prove to her dying grandfather that the biblical precepts the painting embodies can still be enacted in the modern day, and the premise of food banks and eviction certainly allows the seven acts – visit the imprisoned, feed the hungry, bury the dead, shelter the homeless, clothe the naked, visit the sick, and refresh the thirsty – to be explored. When Nicky's absentee father turns out to be part of the wider property development programme, you can really sense her frustration and anger that go deep to her core.
Alternating scenes with Caravaggio see the masterpiece develop – although not revealed until the end – whilst highlighting his renowned intemperate rage with authority in contrast to his reverence for ordinary people including his use of a prostitute as a model which allows some suggested feminist ideals to be explored.
Whilst a programme was not available for this free-entry production, all the cast provided competent and accomplished performances. The trilogy of grandfather (Anthony Devine), son Lee (Harvey Fitzpatrick), and daughter Nicky (Samantha Westwell) in particular excelled in capturing some tender moments as well as the travails of broken down family dreams. Kaylee Meredith's social worker perfectly highlighted the challenges facing anyone trying to do something good in a system clearly corrupted and gone wrong. The smartphone camera recording each act contrasted cleverly to the original painter's brush and easel, with an assured performance from Marni Stanley as Caravaggio's muse yet another highlight of an entertaining evening.
But – and there has to be one sadly – I don't think this was the best choice of play to showcase the talent on offer. It is very bitty as we rapidly alternate between scenes of 17th Century Naples and modern-day Liverpool and the somewhat excessive shouting and swearing that the play wears as some kind of authenticity detracts in my opinion from its heartfelt message and plea. That might be one for the LMA management to consider ahead of next year's offering.
LMA is a specialist College and University Centre based in the heart of Liverpool. Further details at https://www.lma.ac.uk/
Liverpool's centre for the contemporary arts, Bluecoat showcases talent across visual art, music, dance, live art, and literature. Further information is available www.thebluecoat.org.uk/
Reviewer: Mark Davoren
Reviewed: 11th May 2018
North West End Rating: ★★★★