Being from Liverpool, I've always felt a strong connection to the Titanic; from my house I can see the docks where the White Star Line building still stands – now converted into a plush hotel and spa – and I've been to the Maritime Museum more times than I can count, poring over photos and artefacts related to this remarkable story.
And so, to see Titanic: The Musical, right here in Liverpool, was always going to be pretty special. The show has been capturing hearts and imaginations since it opened on Broadway in 1997, and with this UK tour setting sail from Southampton, like Titanic herself did in April 1912, it almost feels like a homecoming of sorts. Arriving at the Empire Theatre on a drizzly Monday evening, there was definitely a sense of excitement – and pride – in the air.
The show, developed by Maury Yeston and Peter Stone, opens with an overture, a low and rumbling tune that didn't quite feel like the opening of a musical – to me at least. And while the songs did get better as the show progressed, there were none that stood out; there are none that now, 12 hours later, are still in my head. But it's a musical with a serious and fairly macabre theme, so it makes sense that the songs aren't the upbeat and catchy ditties that you might associate with musicals. Put it this way, there weren't any jazz hands. The band was small but well formed, and they did a great job of portraying the sadness and fear of the story through the music.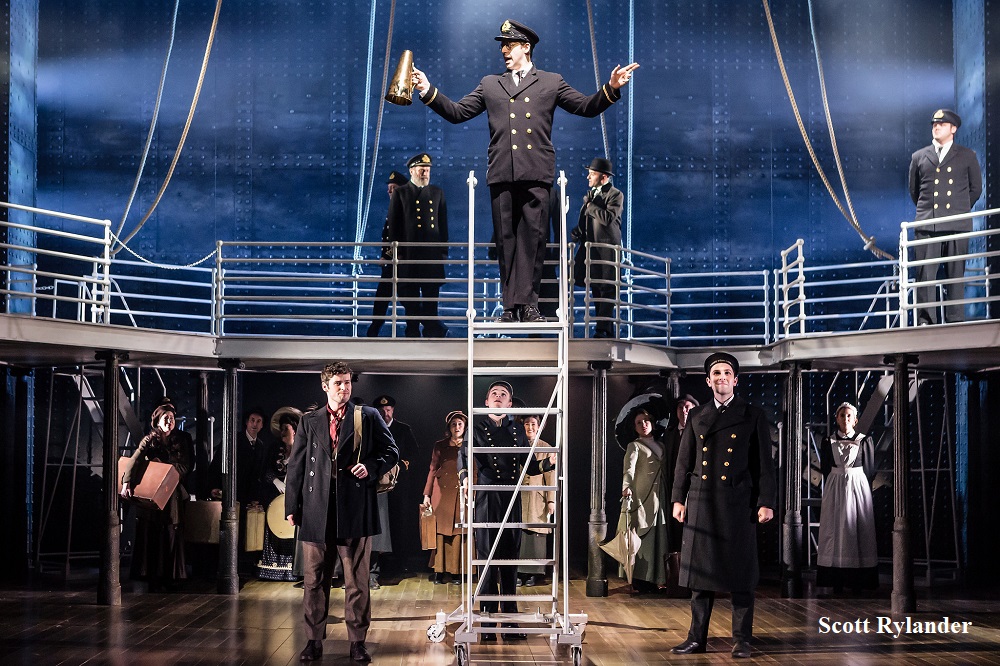 The story is exactly what you'd expect: the story of The Titanic, from how it was built right through to that fateful day when 1500 people lost their lives. It follows couples from each class, and as an audience we learn about their hopes and dreams, their lives and their fears and their states of mind at various points throughout the journey. Lady's Maid, sang by the third-class passengers, does an amazing job of showing us exactly why people so desperately wanted to get to America and lays out a recurring theme: there's a brand-new world out there. The second-class passengers have their own troubles, never quite satisfied with what they've got; The 1st Class Roster, sang by Alice Beane of second class – who is played brilliantly by Claire Machin – portrays just how much these well-off people want more. And the first-class passengers themselves, the debutantes and celebrities, the millionaires and the well-to-do, drink their champagne and have Sunday service and have an all-round grand time, right to the end. The show, of course, also closely follows the three main men: Captain EJ Smith, J Bruce Ismay, and Mr Thomas Andrews. A notable moment for the three of them is The Blame, an angry and emotive song that they perform while the ship is sinking.
Cast highlights for me include Simon Green as Mr Ismay, who is funny and nasty and scared in all the right places, and Victoria Serra as third-class Kate Mcgowan, who is brash and loud and full of Irish charm. Honourable mentions, too, to Matthew McKenna who was brilliant as the camp, no-nonsense Mr Etches, and also to young Lewis Cornay who absolutely shone as the bellboy. The cast as a whole were great, though, and fit together seamlessly to act as important parts of a very well-oiled machine. In terms of the set and production, it's obviously very difficult to fit a ship of that size into a theatre – but somehow, the lay out makes you feel as though you're on the ship too, as the cast use the aisles as an extension of the stage. A moveable staircase gave the illusion of characters being on different parts of the ship, and the lighting and sound engineers did an amazing job of creating something that did (probably) vaguely resemble a ship crashing into an iceberg.
All in all, if you're interested in The Titanic and the varying classes that sailed on board the ship, and you're not looking for a musical to sing and dance along to, then it's definitely worth trying to catch the show if it sails near you.
Reviewer: Katy Gilroy
Reviewed: 30th July 2018
North West End Rating: ★★★★