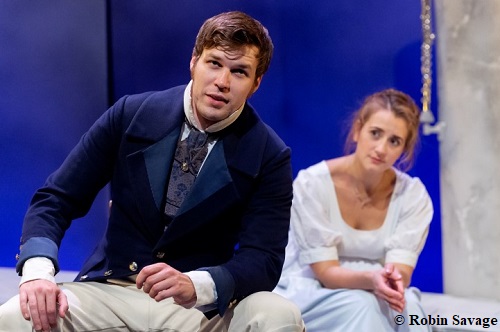 You may well be familiar with the story, yet this doubly impressive production (the creative team are nearly all women) keeps you on the edge of your seat: will Anne Elliot ever find true love with Frederick Wentworth, the happy ending she truly deserves? It's been eight long years since her family dissuaded her from accepting his proposal: no means; no standing. And now Fate conspires to bring them back into the same orbit, not least the dizzying social whirl which is Bath.
The staging, if you know the book, is something of a smoking gun, because the raised curving platform immediately put you in mind of Lyme Cobb where Anne's putative rival, Lydia Musgrove, discovers the hard way that pride comes before a fall. Flanked by columns, suggesting outdoors, which also provide a handy repository for musical instruments, as does the platform for props. Chairs and table are handily arranged in front, but I'm not so sure about the piano parked at one end. It looks better when pulled out to face the other way, in one of the most moving scenes when Anne pours out her heart with poignant melody. Ceri-Lyn Cissone is a completely irresistible heroine.
Music and musicians are both wonderful, although sometimes the dialogue is drowned out, and occasionally difficult to make out, such as the echoing asides. However, the cast are remarkable in every way, and every role, although since the two men in their time play many parts, that gets a little confusing (in the same way as past and present, with a couple of the flashbacks; Anne's memories and thoughts).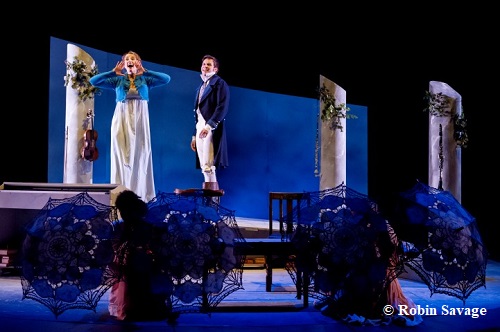 Jason Ryall as Wentworth is every bit as tall, dark and handsome, and moody, as you could yearn for, upper lip so stiff it's a wonder he can breathe. By contrast, he makes the devious Mr Elliot somewhat foppish, while Matthew Atkin's Benwick is far more sympathetic than the pretentious fellow in the book.
Miss Austen's sense of irony is in a class of its own in the way it subtly pays tribute to your intelligence, particularly the utterances from people who remain sublimely unaware of how much they are revealing about themselves. With Mr Elliot and his snobbishness, Matthew Atkins is a master of both double take and volte face, finely matched by his imperious daughter, Elizabeth (Indigo Griffiths, who equally goes to the other end of the scale as the impetuous Louisa). And Sister Mary, a monster of indulgent valetudinarianism and selfishness is depicted so well by Lucinda Turner, if occasionally mistaken for the skittish and conniving Mrs Clay. She also gives us an excellent autocratic well-meaning family friend/interfering old bag, Lady Russell more so than the somewhat clumsy costume change, which is the device indicating the various characters. But Siobhan Gerrard makes excellent use of it, from young Henrietta and poor but dignified Mrs Smith, to sensible, elderly Mrs Musgrove and terminally bored Lady Dalrymple.
It is all quite delightfully put together with some delicious touches: parasols serving as carriage wheels, waves, etc. And once Anne has reasons to be cheerful, you feel like cheering right alongside her. But you cannot help wondering how much is autobiographical, even if Jane Austen is said to have had a happy family life, and not taken for granted by father and siblings, as oblivious to her feelings as to her finer qualities. One always hopes the writer was something like her heroines, Elizabeth Bennett or Anne Elliot. And one is of the persuasion Austen would be charmed by this adaptation – and dead chuffed it is on at the Playhouse.
Reviewer: Carole Baldock
Reviewed: 11th October 2018
North West End Rating: ★★★★