Marilyn is a one woman show exploring the story behind the iconic Marilyn Monroe. Remembered for her glamourous on-screen persona and troubled off-screen lifestyle affected by numerous mental health issues, Marilyn is a woman everyone thinks they know and Breakthrough Theatre have promised to deliver a show uncovering the secrets behind all of her masks.
Written and performed by Danielle J Gearing, under the direction of James Williams, the show presents an interesting look at the life of Marilyn Monroe and how she might have felt behind the glamour.
This is a short play, and according to information provided in the programme by both Gearing and Williams, it was important for it not to become a lecture about Marilyn Monroe and remain an entertaining piece that remained true to the story. However, there are some events of Monroe's life which are not mentioned or glossed over and it is interesting to see which elements did not make the cut. Particularly conspicuous in their absence are her first marriage, her poetry and the formation of her own production company.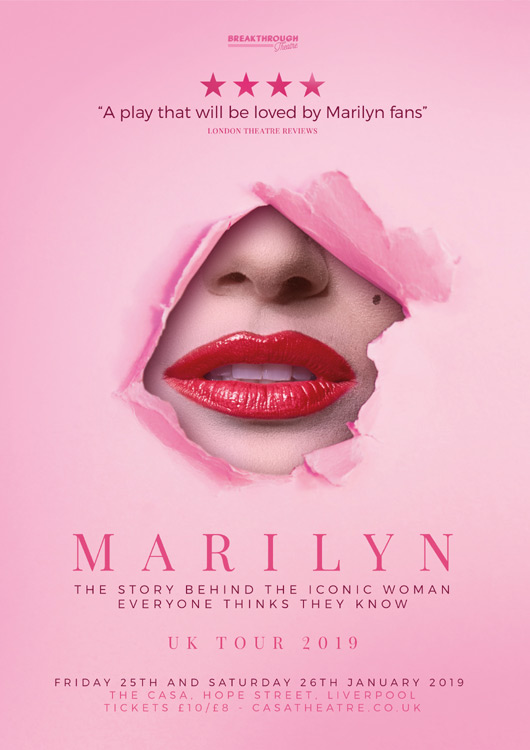 The set was a cosy intimate reproduction of a dressing room, and it is here that Gearing announces Monroe has found herself living after premature death. This interesting interpretation of the afterlife seems particularly relevant for Monroe. In her death, as in her life, she is preparing for a performance, and is never quite completely ready for it. Pills and alcohol are heavily relied on props throughout the show, creating a ever present reference to Monroe's difficult relationship with both.
Lights are cleverly used to represent change in the mood, which this being about Marilyn Monroe, are often and drastic.
Gearing narrates Monroe's childhood in a tender quiet manner which defines her performance as the Hollywood icon. It quickly becomes clear that Norma Jeane Baker and Marilyn Monroe are two very separate people.
It is not easy being alone on a stage and there was some stumbling over lines. As the pace of the show is generally quite slow and gentle, these slips unfortunately sapped the energy at times which could take some time to recover.
Gearing often paused in the monologue to pose for photographs or answer questions from the press provided by a disembodied voiceover, representing the faceless public who always wanted more. These short glimpses into the public's "Marilyn" are jarring and create an uncomfortable feeling of the multi facets of Monroe's life.
As the only actor on stage, Gearing often voices the men around Monroe, using subtle changes in tone and accent, often to comical effect. While the women in her life are briefly mentioned, the narrative does generally focus on the men in Marilyn Monroe's life. Allusions to the "casting couch" method of obtaining work are painfully relevant in today's world as the myths surrounding the industry are being torn down. It would have been interesting for more time to have been given to her relationships with women, particularly her mother who was plagued by her own severe mental health issues and her acting coach, Paula Strasberg.
There were some technical issues with sound which can be put down to opening night teething problems. Gearing is to be praised for maintaining character during moments of silence.
The play is a nice look at the highs and lows of Monroe's life, and a good introduction to the woman behind the mask, that would be particularly popular with vintage lifestyle enthusiasts and fans of the lady herself.
Marilyn is being performed at various venues around the UK until 14th June 2019. Tickets are available here https://breakthroughtheatre.org/marilyn-tour-2019/
Reviewer: Donna M Day
Reviewed: 25th January 2019
North West End Rating: ★★★