Opera was slow to catch on in England during 17th C and Rinaldo, composed by George Frideric Handel with libretto prepared by Giacomo Rossi, was the first Italian language opera written specifically for the London stage in 1711.
Based on a somewhat fanciful epic poem about the First Crusade, staging a 12th C battle between Christians and Muslims in Jerusalem in the current political climate is not best advised and so director Robert Carsen wisely re-interpreted the piece to shift its setting to the overactive imagination of a lovelorn schoolboy whilst embracing the fantasy and fantasia of Harry Potter.
After being beaten up by classmates, Rinaldo (Jake Arditti) transforms from schoolboy to first knight of choice for Goffredo (James Hall) who leads the crusader army with assistance from Eustazio (Tom Scott-Cowell). Goffredo's daughter, Almirena (Anna Devin) is Rinaldo's love interest and their bike shed school romance is sensitively portrayed.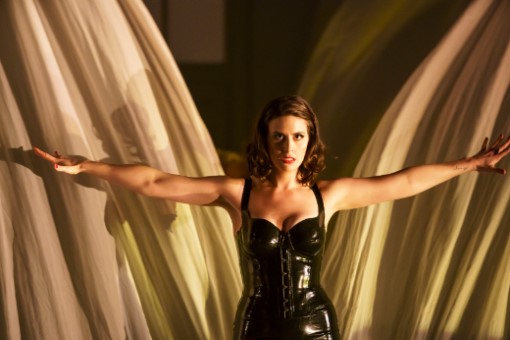 A Herald (David Shaw) announces the arrival of Argante (Aubrey Allicock), the enemy Saracen king who is requesting a truce which is agreed to. When his mistress, Armida (Jacquelyn Stucker), arrives she confirms his worst fears: the only chance of victory is to take out Rinaldo, and so when she chances upon the romantic couple, she abducts Almirena.
Whilst Goffredo, Eustazio, and Rinaldo search by the lake for a magician (William Towers) to help their cause, Rinaldo is lured by Armida's Furies and imprisoned. So now the questions: can Argante guard the beautiful Almirena without falling for her obvious charms? Can Rinaldo resist the risqué delights that Armida offers? Or, will it require something magical to resolve everything?
The falsetto crusaders took a little getting used to but once they got going they delivered in droves with delightful solos from Hall's grandiose Goffredo and Scott-Cowell's exuberant Eustazio. Arditti captured the innocent yet knowing charm of our heroic schoolboy and sung with great heart and expressiveness. Lower down the range, Allicock offered something deeper in response, with his Argante philosophical and reflective of the wearisomeness of war.
But this was a night for the ladies who represented the extremes of heaven and hell – although it is open to question as to which you'd prefer – as the latex-clad sinister and sultry Stucker, complete with swishing cane, impressed as a sorceress with every one of us eating out of her hand during her powerful solos; Devin's Almirena initially appeared 'plain Jane' but quickly became the princess to die for with her singing simply breath-taking.
And let us not forget the support: the Goth-like Furies and the bicycling knights were both inspired and delivered the perfect balance between moving and amusing and were received with much applause.
This accomplished revival of Carsen's and movement director Philippe Giraudeau's work by Francesca Gilpin and Colm Seery is a sheer delight to watch and become absorbed in with the choreography – which was superb throughout – of the final battle scene at once a homage to St Trinian's as well as a delightful parody of it. The design by Gideon Davey is clever and intricate and one can safely assume that the spectacular visual effects of the original have been matched and exceeded on every level through this perfectly staged exposé of light and dark and shadow. And pulling all of this together is the Glyndebourne Orchestra conducted by David Bates whose fine playing brings us some of Handel's most glorious music.
Brave interpretations are to be commended but are rarely well-received: traditionalists would I'm sure hate this piece. I loved it: it symbolises the future of opera by engaging with and being relevant to a new audience. Encore!
Reviewer: Mark Davoren
Reviewed: 22nd November 2019
North West End UK Rating: ★★★★★