Park Theatre premiers Jesse Briton's latest play 'A Pupil' this November. Developed as a collaboration between Bear Trap and Kosky Productions, this four-woman show is a thrilling drama with a fascinating narrative.
Set in a neglected bedsit in London, renowned violinist Ye is determined to take her own life after reaching rock bottom. Her intentions are soon interrupted by Mary, her prying and no-nonsense landlady, whose resolute on getting her to work for Costa. Suddenly, uninvited, a prospective pupil and aspiring professional violinist arrives. She has been advocated to have lessons here by local Conservatoire representative Phyllida, under the condition that she take their entrance exam.
Simona, played by Flora Spencer-Longhurst is an obstinate and spiteful girl whose rumoured to be highly gifted. Ye, performed by Lucy Sheen, is a stubborn and frank perfectionist whose deeply passionate about upholding the standards of the profession. Conflict quickly arises as both contend for ultimate authority.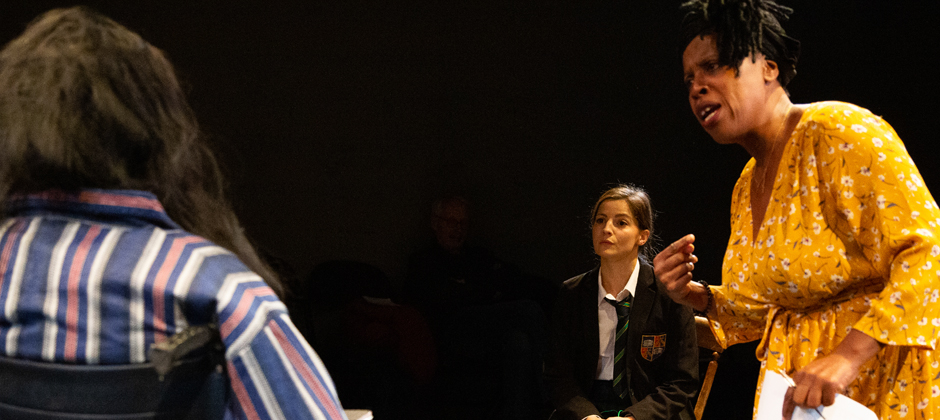 Spencer-Longhurst successfully presents a feisty teenager whose vicious exterior conceals a deep loneliness. She's swift to make the audience laugh with her shocking attitude and well delivered jibes. As a violinist, she plays exceptionally beautifully. Later on, when Simona begins to open up, she exposes a raw venerability. Sheen as Ye, conveys a bitter woman whose lust for preserving musical greatness is fanatical. Sheen powerfully declares profound statements about being uncompromising in performance. She's unwavering in her intention to discipline which makes her a fine match for Simona. Though, as the story progresses, the audience begin to question who is teaching who.
Briton's writing is punchy and humorous. Some characters feel less developed than others. Melanie Marshall portrays Mary as a haughty but well-meaning Christian. At times the extent of her naivety is unbelievable. Lines concerning mistaken identity or observations feel contrived solely to create humour, perhaps due to the written role leaning on a broad stereotype.
Jessica Stanton's design gives an instant impression. The space is gloomy and bare, with music carelessly scattered on the floor. From the ceiling hang marred violins by their own strings. When Ye frantically enters looking like a vagrant we see that the space effectively reflects her depression.
Director Jessica Daniels has placed the performance in the round, which intensifies the situation for spectators, who are fully immersed in the action. At times, transitions are a bit lengthy, perhaps a challenge with being limited to one room. Daniels has created distinct moments of striking imagery. At one point, a violin is violently smashed, at another, terror is induced at the sound of a kettle boiling. These pictures pierce into the minds of spectators. Daniels has ensured that great anticipation is built to hear the first time Simona plays. However, this magic is somewhat taken away by the sheer amount of times the violin is played for the rest of the production, which subsequently have less of an impact.
Overall, an exciting and innovative production addressing the challenges of greatness and ambition as a performer. Highly refreshing to see four talented women contending together on stage. A moving piece which is well worth a watch.
Reviewer: Isla Robinson
Reviewed: 5th November 2018
North West End Rating: ★★★