"I'm what you call a careful person, organised, I know what I'm after, I know what I want, and I get it"… Meet George Love, the protagonist in Karoline Leach's play 'Tryst'. He is charming, he is suave and we know from his opening narrative that he is a cold and calculating con man that likes to get what he wants from the ladies before abandoning them and moving on to the next victim…
Set in 1910, 'Trust' tells the thrilling and suspenseful true story of a "chance encounter" between George and back room shop girl, Adelaide. George is dapper and confident, Adelaide naïve and vulnerable but love quickly blossoms and both characters have their hearts set on a quick marriage. ]
Adelaide never imagining that she would attract the attention of George, but it soon becomes clear to her that everything is not as it seems. As the storyline progresses, Adelaide proves herself to be more streetwise and aware of what is really going on than George believes her to be, adding further suspense to how the plot might progress.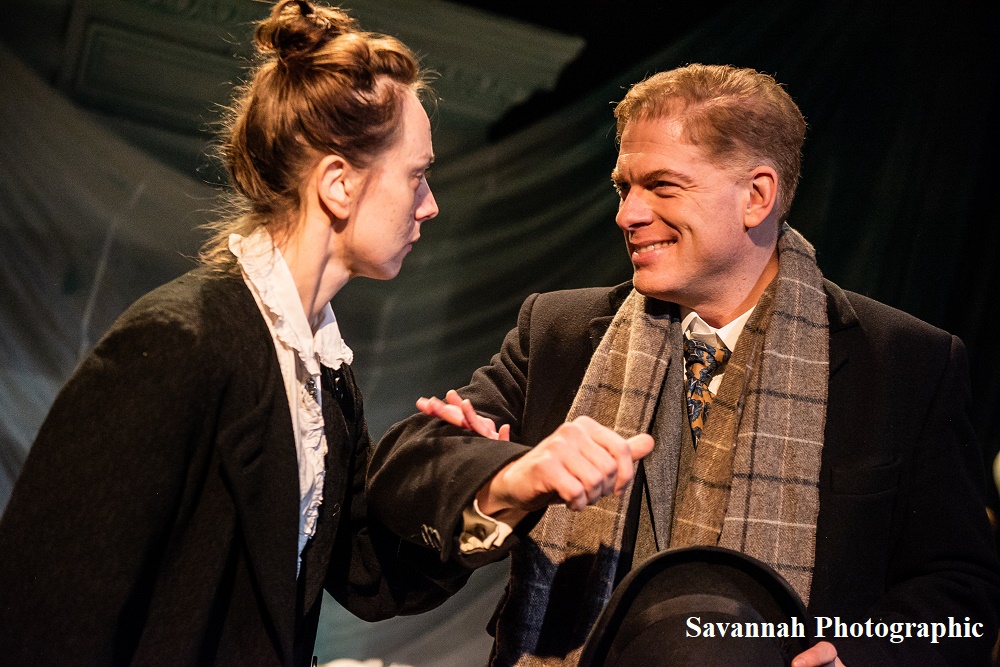 Debuted in the West End in 1997 and revived in Chiswick in 2017, this updated version of 'Tryst' is once again presented by Chiswick Playhouse. The script is beautifully crafted, written as part monologue and narration, part dialogue. It runs without an interval for 90 minutes and is completely gripping from the outset, moving at a rhythmic and hypnotic pace.
Director, Phoebe Barran holds the audience on tenterhooks, ripping away layer after layer of plotline that entirely compliments the passing of time. The design (Jessica Staton), lighting design (Chris McDonnell) and sound design (David McSeveney) are stark and contrasting but juxtapose perfectly with the writing to enhance the story telling. All elements working in tandem with each other to build an intense storyline that ends with an explosive and shocking final scene.
Scarlett Brookes gives a strong yet tender performance as desperate Adelaide and Fred Perry is equally as convincing in the role of George. In a two-character play, the audience needs to totally believe in both characters and without doubt Brookes and Perry are able to pull this off with ease. They are ideally cast in looks, vulnerability and talent. Both onstage for the full 90 minutes, they are simply perfect together in every sense.
In short, there is no doubt that you will be left loving this version of 'Tryst'. It is a refreshing, completely engaging piece of drama, which is sure to make you reach for the nearest web browser as soon as you leave the theatre to check on the facts behind this jaw dropping tale of lies and deceit. It works perfectly on all levels and one that should not be missed and absolutely deserves a long, successful shelf life.
'Tryst' is currently presented by Chiswick Playhouse Productions and runs until 29th February 2020. https://www.chiswickplayhouse.co.uk/whats-on/tryst
Reviewer: Alan Stuart Malin
Reviewed: 10th February 2020
North West End UK Rating: ★★★★★