Candoco Dance Company is a contemporary dance company formed of disabled and non – disabled dancers. The evening consisted of their 'Double Bill', two separate pieces, 'Set and Reset/Reset' and 'Let's Talk About Dis' both of which were very different to each other. Both pieces were danced by Megan Armishaw, Joel Brown, Tanja Erhart, Adam Gain, Jason Mabana, Laura Patay and Toke Broni Strandby.
The first piece, 'Set and Reset/Reset' feels and looks like a contemporary dance set we can recognise. Based on an iconic piece of choreography by Trisha Brown the ensemble have taken the movements and re-worked them for an inclusive company. Each member of the company learnt the phrases created by Brown, then played with them and reacted to the other members of the company. Through this process, using their favourite motifs, they were able to create a dance that was unique to them as an individual and as a company. As an audience member you could really feel the bond this company has, snatched moments of eye contact, the creeping in of a smile, the constant awareness of each other and the care that was taken around each member, especially during lifts and falls. The sense of enjoyment whilst dancing, from the whole group, was infectious, though my eye was especially drawn to Laura Patay, a vibrant dancer who just radiated joy.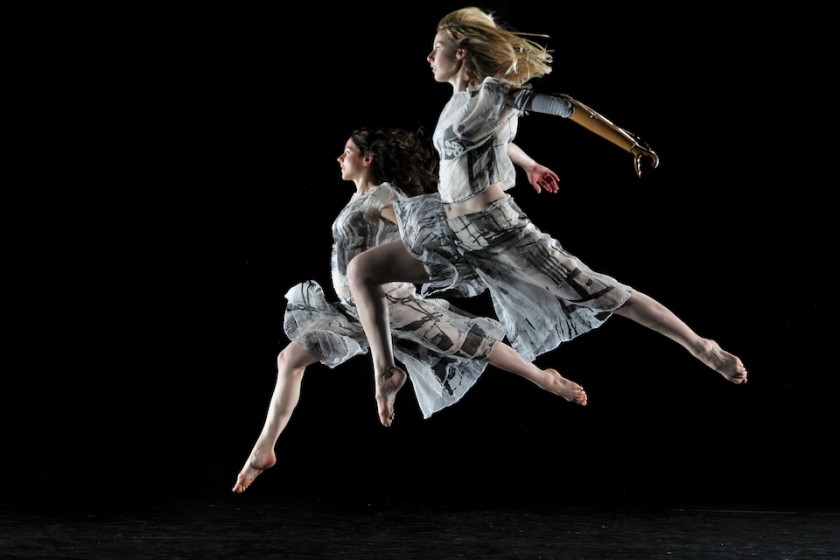 The pedestrian feeling of 'Set and Reset/Reset' translated to the score by Laurie Anderson as voices were used, along with ringing and percussion. The score was constant which translated straight back to the choreography. The endless fluidity of the piece was outstanding, every day movements combined with beautiful lines and lifts. The most enjoyable thing about this piece was to simply watch the dancers move. In addition to this, how they moved – later in the programme, in 'Let's Talk About Dis', we are told we should be curious and not ashamed to look at the dancers bodies –but the differences in these dancer's bodies were barely visible at times. The wheelchair and crutches used by two separate dancers, are something that, in our society, are seen to make someone disabled were actually making these people very able. Joel Brown especially, was magnetic, his grace and strength combined to create stunning fluid movements and his complete control over his body and wheelchair was mesmerising.
In the world of dance we are generally confronted with a certain body shape and often, especially in more classical forms, the dancers' height, weight, gender and skin colour are basically identical. This is definitely not the case in Candoco. It is wonderful to see such a diverse group of dancers perform together and be completely cohesive. To watch seven separate dancers complete the same movement in the way their individual body performs it is so beautiful. Each dancer carrying out the same movement, completely differently and yet, they were all the same. Indescribable in the written form, it needs to be seen.
The second piece of the evening 'Let's Talk About Dis' was vastly different from the first. To create the piece the dancers worked individually and as a company with Hetain Patel, a visual artist known for his often autobiographical work. Each dancer was interviewed and some of their personal stories were incorporated into the piece. This piece was about not making assumptions about people and miscommunication. This clearly came across as Laura Patay, speaking in French was very obviously talking about her disability, however Toke Broni Strandby, who was meant to be translating for her, was evidently telling the audience something completely different. Although this was very thought provoking I would have relished more information about these dancers. This piece was described as an 'interrogation of Candoco and the dancers' identities' but it felt as though it was just scratching the surface. In addition to communicating their story 'Let's Talk About Dis' displayed how we communicate, which was very interesting. From dance, to sign language, to speaking in different languages, to body language; it was delightful to be communicated with on many different levels simultaneously.
It is wonderful to see this company, celebrating its twenty fifth year, promoting all body types, genders and nationalities in dance. An important company to watch out for, for its expressive and exquisite art form and for the important inclusive nature of its work.
Reviewer: Charlotte Green
Reviewed: 16th November 2016
North West End Rating: ★★★★
Photo: Hugo Glendinning