MancMade at 53two is a new three day festival showing the best new talent emerging in Manchester. A mixture of music, poetry and plays there really is something for everyone to enjoy.
On Thursday 15th the evening began with wonderful music from Jess Kemp playing both her own songs and some well known covers done in her own style. The evening continued in the theatre and had spoken word from Aargh Kid and Dave Viney. These were both was brilliantly performed and highly entertaining - with great northern humour and relatable stories from a local guys growing up in Manchester.
The first play Sewage in Milwaukee by Nick Maynard was a wonderful simple concept of two actors discussing social issues and why they were performing a play set in 1950's Milwaukee when there were more important things to be highlighted. Brilliantly performed by Marcus Christpherson and Kat Pearson this piece of theatre really was a great addition to the evening,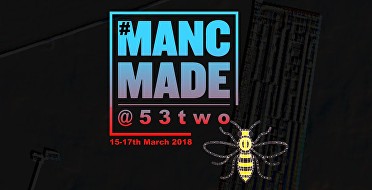 The second play Easy Mind by Aileen Quinn for me was the highlight of the evening. It wonderfully explored mental health and the hoops people have to jump through the get the help required. For anyone who has experienced this the writing and performances were incredibly relatable. Not being afraid with her words Aileen has told in a completely realistic and hilarious representation of someone seeking treatment for anxiety and depression. Angela Hazeldine who played the health worker was simply superb and her performance was the most memorable of the night. Her comic timing was perfect and she had the audience in stitches throughout.
The final play Top of the Chops by Dave Griffiths told to the story of two like minded people meeting for a first date - only to realise they were in the same school year. Another nice little story with three brilliant actors that seemed to entertain the audience.
The evening overall was absolutely fantastic and cannot be faulted. It is a wonderful addition to the Manchester scene and one that I'm sure will continue for years to come.
MancMade is on Friday the 16th and Saturday 17th at 53two with more new plays and fantastic entertainment to enjoy. http://53two.com/mancmade/4593469618
Reviewer: Ellie Close
Reviewed: 15th March 2018
North West End Rating: ★★★★★