Whilst The World Cup is on the television at home with England trying to lose without looking like they want to, there was a good turnout at 53Two were we were treated tonight to a more comical performance than the tele could produce.
Tracy Gabbitas and Jennifer Banks (who wrote this piece) performed Strife In A Northern Town at a breakneck pace. With countless costumes and characters it is clear many hours of rehearsal with director Rhonwen McCormack have gone into getting this play to the point it is today.
As we enter the main auditorium at 53Two Gabbitas and Banks are stood on stage in the guises of supermarket workers from "Cheap and Cheerful", both are surveying the audience and giving disapproving looks to those who make too much noise or scrape a seat on the floor. As a result you are already chuckling before the lights go down.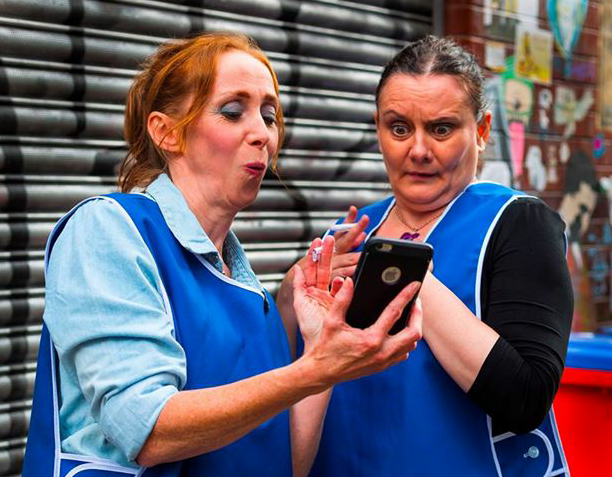 In total we meet 10 (if I counted correctly) characters during the evening including the aforementioned supermarket workers miserable Donna and nymphomaniac Tracey. We also meet Lulu and Pepsi, two District Council call centre workers who always seem to be in competition with each other. We also meet Kay and Val who meet at a female only speed dating night and embark on a relationship fraught with danger, mainly cheese!
We also get to join the Campaigner's Revolutionary Anarchist Party and watch a spiritual healer in action! Yes all this can happen in any northern town. The scenes during the CRAP rally were by far my favourites of the evening with our two leading ladies continually switching personas and costumes at unbelievable speeds.
Despite all the sketches in this 75 minute comedy feast there is a storyline which runs underneath, one you'll have to find out for yourself by seeing the show. For me, it ran a little longer than I think it should have and with a bit of trimming here and there this has the making of a great show.
Strife In A Northern Town is a good fun night out and is performed fantastically by Gabbitas and Banks and supported by a superb sound department which fills the gaps between sketches with music which has its origins in the north. Gritty, honest northern humour!
Reviewer: Paul Downham
Reviewed: 28th June 2018
North West End Rating: ★★★★