The Effect, produced by Play With Fire Productions, supported by and residing at Oldham Coliseum Theatre, is a play that revolves around a four-week clinical drug trial, investigating the effects on both the participants and clinicians involved.
Written by Lucy Prebble, the story follows two young volunteers, Tristan (Daniel Bradford) and Connie (Elaine McNicol). The pair meet whilst taking part in the drug trial and struggle to determine their feelings of attraction from the side effects of the drug; their developing relationship begins to throw the experiment off course. There was also a secondary story between Lorna (Karren Winchester) and Doctor Toby (Robin Kingsland) which principally explores depression and the limitations of medicine.
Louis Price's design was extremely efficient; the set created a hospital atmosphere from the moment the audience entered the theatre, with two beds placed on either side of the stage and heart monitor screens next to them. A clever addition was the use of a projector screen positioned on the wall at the back of the stage, which displayed information on the dosage of medicine as the volunteers were being given the drugs. It also served effectively as a backdrop for a scene outside of the clinic.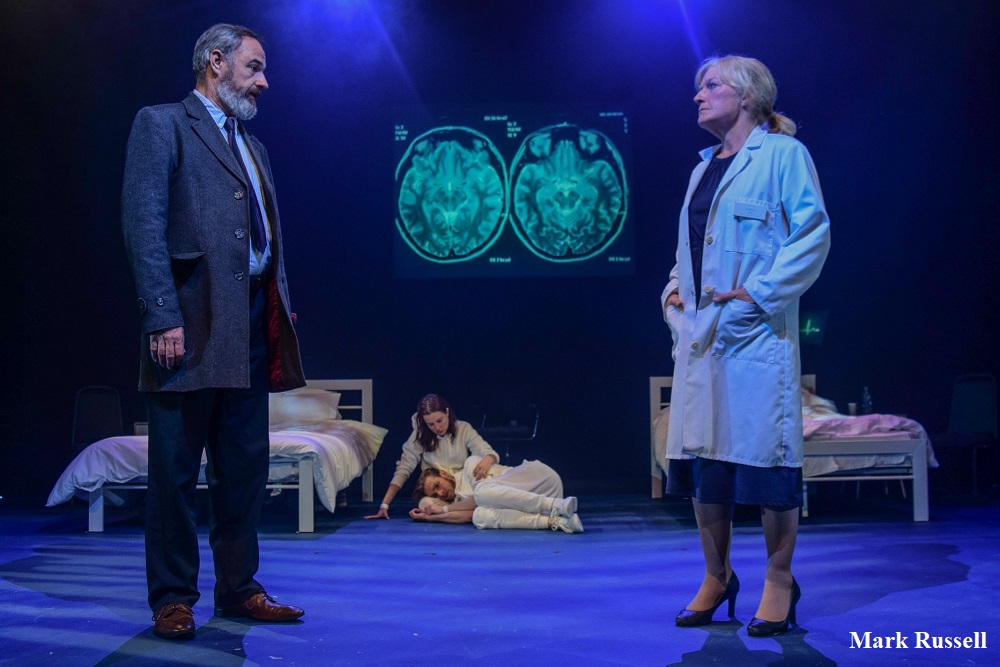 The scene changes were incredibly slick aided by the background artists Steve Connolly and Chloe Beale, making for a polished production. A mention must also be made to the ingenious lighting design by Adam Murdoch. The dominant colour of blue sustained the clinical ambiance, however the lighting adapted well to complement the scenes wonderfully, particularly when Tristan and Connie were taking the "colour word" test.
McNicol's portrayal of Connie was intelligent and assured, and Bradford provided an energetic and loveable, yet complex Tristan. McNicol and Bradford worked incredibly well together and created a believable relationship that the audience rooted for. Winchester had an extraordinary presence on stage, and both hers and Kingsland's performances were skilled and credible.
It has to be said that the script, particularly in the second half, proved slightly too hectic which made for somewhat confusing viewing. However, this does not detract from the solid and sophisticated performances all round from the cast.
The topic of mental health was at the forefront of The Effect and the entire cast coped sensitively with an extremely difficult topic. It is sadly exceptionally relevant in today's society, and hopefully this play has the capacity to start discussions about stereotypes and question if there is a "normal" when it comes to mental health.
The play was fast-paced, with plenty of unexpected turns. There were some sexual references throughout so an age guideline would have been appropriate. This aside, The Effect is an incredibly powerful, compelling and thought-provoking piece of theatre. It was also an extra treat to watch youth theatre company WildThings Drama perform their piece 'The Price' (inspired by The Effect) as pre-performance entertainment. The young actors performed admirably, and it was refreshing to see them given this type of platform.
Reviewer: Becky Mottershead
Reviewed: 25th September 2018
North West End Rating: ★★★★