Every so often a play comes along that stays with you. It makes you think, question and wonder why. The Glasshouse is that play.
53Two have taken an excellent script written by Max Saunders-Singer and produced a heartfelt, faithful narrative of how soldiers of the First World War were treated by their own side, if they were unwilling or unable to fight.
The play is set in a makeshift prison. It begins with Moon (Sam Adamson) being accused of desertion and is tied up as a form of torture. He is unable to speak without a stammer and is clearly petrified. The soldiers sent to guard him treat him with distain and cruelty. Why should he not fight? How cowardly to run away!
Corporal Harper (Simon Naylor) puts him in chains and we learn that Moon is to face a court martial where the penalty is likely to be death if he is found guilty. Private Blythe (Corin Silva) then brings in their 'present' from Captain Miller, a Conchie (conscientious objector). Pip (Max Saunders-Singer) does not want to fight, he is a Christian Pacifist and believes in talking not fighting. Moon and Pip soon strike up a friendship, Pip being a stronger spirit helps to calm Moon. They share caring for their injured pigeon and playing a whistle that Pip has managed to sneak into the prison. Never have we wanted a pigeon to survive more than this pigeon called Olive!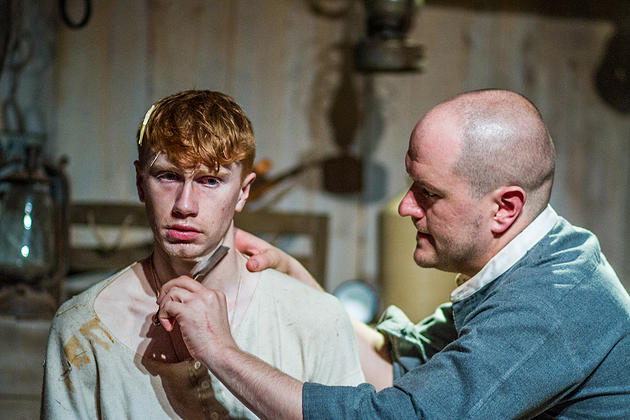 As the play moves on we see the effect of Pip's presence and reasoning. The war hardened soldiers Harper and Blythe began with hatred for these men, but we see a softening and greater understanding of the prisoners' predicament and to a degree, an empathy for their plight.
Everything about the production works! The thought that went into the details of the set design which made this powerful play affect your senses making you feel, smell, see and hear the terrible experiences that these prisoners suffered. The technical team provide the icing on the cake with their lighting and sound. The theatre has transported itself to the Somme and we are witnesses to the injustice that occurs.
Simon Naylor as Corporal Harper leads the cast with a strong but not overplayed performance. He ably injects some northern humour with glib remarks and lightens the atmosphere whilst communicating his despair. Sam Adamson as Moon has the difficult task of convincing the audience he is suffering from shell shock. He accomplishes this and more, he must go home battered and bruised each night! The sheer terror is felt by the audience and we hope that this young lad will get some justice. Max Saunders-Singer as Pip throws a metaphorical grenade into the thoughts of Harper and Blythe, they have never thought to question why they are fighting or why they are persecuting these men. Corin Silva plays Blythe with a hatred of men he believes are cowards. His own experiences have made him unfeeling and he carries a resentment for those who are trying to dodge their duty.
At a time when the country is commemorating the Centenary of the end of World War 1, 53Two turn our thoughts to the men that go unmentioned. The men who died branded cowards due to their unwillingness to fight; due to their beliefs or their mental state. Being so disturbed by what they had seen, they would prefer to take a bullet from their own army, than to continue experiencing any further hell.
I urge you to see this play. It's an emotional and physical assault on the senses. It reminds us of a past our country would rather we forgot.
To buy tickets go to http://53two.com/the-glasshouse/4593003914
Reviewer: Caroline Worswick
Reviewed: 1st November 2018
North West End Rating: ★★★★★