At this time of year we spend a lot of time thinking about those who lost their lives in WWI and II, and remembering with thanks, appreciation and sadness the soldiers who gave their today for our tomorrow. However, in addition to this, it's important to think of the war veterans still with us today, many of whom are struggling physically and mentally with the after-effects of war. With this in mind, what better time than Remembrance weekend for Plaster Cast Theatre's production of Action Man to be shown at 53Two as part of the NEWvember series.
The story follows Corporal Liam Drury through his 8-year career in the army, and the subsequent years of Post Traumatic Stress Disorder (PTSD) that follow. The sudden and debilitating flashbacks to his time in combat take their toll on his ability to cope from day to day, and soon he finds his marriage disintegrating and himself moving from sofa to sofa on the brink of homelessness. We meet Liam whilst he is living in the playroom of his ex-girlfriend's son.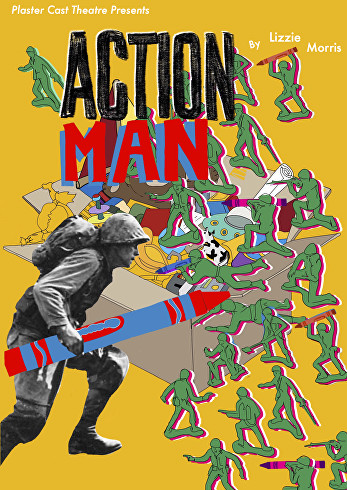 The play begins with a bare stage apart from two chairs and a screen positioned towards the back of the space. Old "war time" tunes play as the audience enter which sets the atmosphere, and the piece itself begins from off stage with the cast singing a round of an army song that echoes around the space in an almost haunting fashion. This continues throughout as when Liam is alone on stage talking to the audience, the cast provide sound effects off stage to support the monologue such as laughter, which is effective in fully providing a glimpse into Liam's mind. Another clever story-telling aid was the use of light projected on the screen to create shadows and silhouettes. Also, the sound and lighting complimented the action throughout.
Plaster Cast Theatre combined Lizzie Morris' script with physical theatre elements which worked incredibly well. The physical theatre scenes were extremely powerful and emotional at times. It would perhaps benefit the play to further incorporate physical theatre into the speech, particularly the longer passages, as this is when the narrative was the most compelling.
Although Action Man follows one man's story, and credit must be given to Liam for his ability to lead the cast; the piece was truly a team effort and the ensemble worked together brilliantly. A special mention must be made to Cox who gave an extremely strong performance.
Altogether, a poignant piece of theatre. The exploration of PTSD was handled sensitively and with great care and respect. Action Man highlighted the failing system currently in place for surviving soldiers, particularly with the current mental health cuts. The first step towards better facilities is through awareness, and through theatre such as Action Man.
Reviewer: Becky Mottershead
Reviewed: 10th November 2018
North West End Rating: ★★★★