This is a show about life and death but more importantly love. It is a love story between a daughter and her father.
Fram & Dunt are father and daughter Joe and Francesca Hyde. Francesca (aka Fram) has enticed 60-year-old father Joe (aka Dunt) away from a career in IT so he can learn circus skills instead. It is an offer that Dunt readily accepts.
Dunt, in his youth, wanted to be a rock star. Yet whilst studying at the Leeds School of Music he found himself with a baby. Realising that he now had to get a 'proper' job he went into IT security.
Yet within him were the twin desires to perform and also to float in zero gravity. His daughter with this show provides him with the ability, in a way, to do both.
His urge to perform resulted in an ill-fated appearance on Britain's Got Talent where he was buzzed out by all four judges while singing a song about chickens. A chance to fly at zero gravity was lost when illness struck.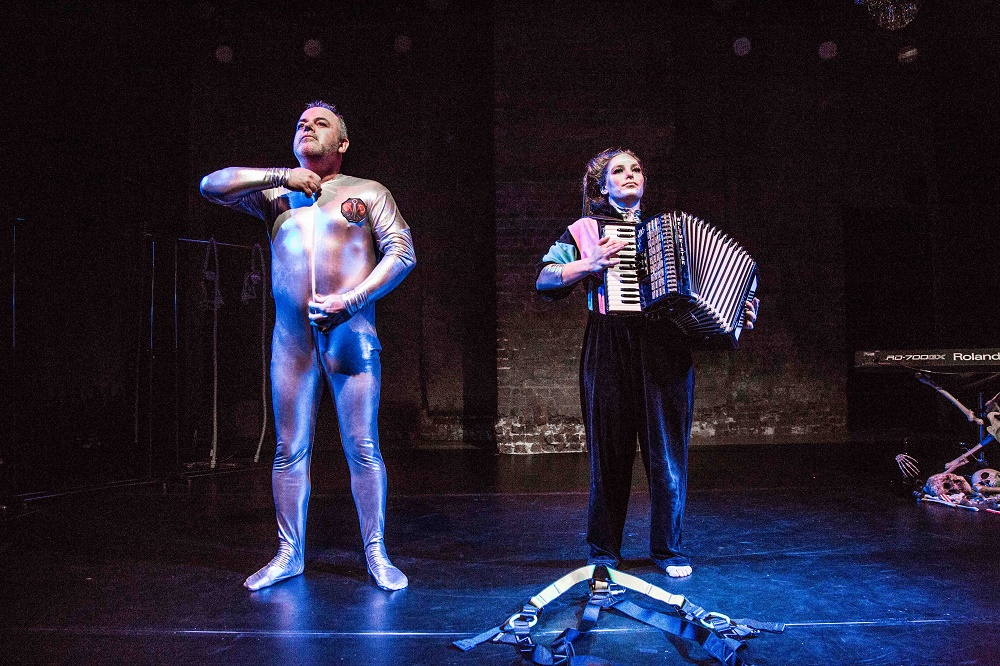 After suffering what he thought was a heart attack he wrote to his daughter. This near death experience was the spark for the show.
What made this show special was the warmth of the two performers. The relationship between parents and their offspring is often rocky and over the years Fram & Dunt have not always seen eye to eye.
Yet the love between father and daughter was what the show was about. You could feel the bond between them and how proud they were of each other. Circus performer and IT professional found a way to understand each other's world.
On every seat were whoopee cushions. Pre-show people enjoyed deflating them. A lady behind me managed to get a loud noise out of her cushion. Her husband was not so successful, much to her amusement. This was a nice touch.
Special mention must be made of BSL interpreter Charmaine Wombwell who not only provided sign language but was a funny and charming presence on stage.
The show started with a meditation style voice asking if parts of the body were relaxed. Then Relax by Frankie Goes To Hollywood started to play and Fram preformed a hair hanging routine.
This entails Fram being hung by her hair on a rig with a weight on the other side. It is a circus skill that requires acrobatic skill, strength and dexterity. As she flew through the air her movements were balletic and graceful.
Dunt finally gets his chance to float, if not in zero gravity, when he is attached to the rig via a harness (he is not as hirsute as his daughter).
Their separate worlds of IT Internet Security and the circus are brought together when he talks of risks during a mock lecture about IT security.
A circus performer faces obvious risks but family relationships can also be problematic. What this entertaining and amusing show successfully demonstrates is that given that life is short we should just try and understand each other's worlds.
Reviewer: Adam Williams
Reviewed: 12th January 2019
North West End Rating: ★★★★