There was a party atmosphere tonight at the Epstein Theatre as the audience awaited The Beach Boyz Band but instead of the sun, sea and surf there was a distinct whiff of lager - this audience was ready to party. The majority of the crowd were of the white-, grey- or no-haired variety, but there were younger faces too.
The band entered and we were greeted by our amiable host who told us that we would be going on a journey with The Beach Boys, from their early days to their rise to global stardom up to this very night, when they would be performing in the Royal Albert Hall, London - a fact that was reiterated throughout the evening.
What ensued was a tribute concert to the music of Brian Wilson and the band, with little anecdotes and recounts of the events in their careers. We also heard of the inspirations for The Beach Boys, especially Phil Spector, a hero of Brian's; as well as bands they had influence on. As a result we were treated to songs by the Ronnettes, The Mamas and Papas, Jan & Dean and The Beatles.
Throughout tonight's performances we were treated to great musical arrangements and fantastic vocals - with the classic Beach Boys close part harmonies. The light design was also very impressive and really helped create the party mood.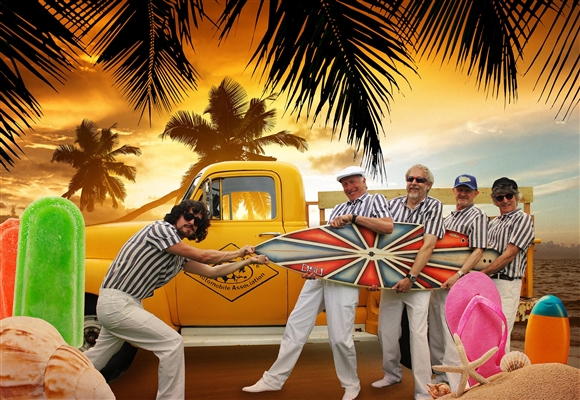 For me, the show took a while to get up to speed. Our host worked the crowd, pouring flattery on the 'Epstein Theatre girls' as well as building anticipation for the second act.
We were not disappointed, after the interval the band differently shifted into fifth gear. It started by focusing on the 'Pet Sounds' album. This pivotal album pioneered new sounds and recording techniques, inspiring the likes of Lennon and McCartney to experiment and get creative too.
Then came my goosebumps moment, the beautiful and poignant 'God Only Knows'. I remember this being used in a BBC Music promotional as well as featuring in the film 'Love Actually'. The Beach Boyz Band did an amazing tribute, it really did move and excite me, in equal measure.
Liverpool audiences aren't shy at joining in and with a little encouragement the final segment included a great sing-a-long; some audience members were quite literally dancing in the aisles - or were they surfing!
I came tonight with no expectations, a little tired after a very busy working week. I left with good vibrations, a smile on my face, a positive mood and I felt energised. I highly recommend you see The Beach Boyz Band, if you get the chance, they're good for body and soul.
Reviewer: Alan Harbottle
Reviewed: 19th May 2017
North West End Rating: ★★★★