This Easter weekend at the Lowry Theatre, The Nearly There Yet Theatre Company performed The Party to a very excited young audience. Great preparations for Cameron's (Kaveh Rahnama) birthday party had been made with fantastically wrapped gifts and a spectacular birthday cake. Excitement was high as Cameron began his party with music and dancing. Soon after unexpected guests started popping out of presents with Wonder Woman (Alice Allart) the first to attend the party as she steamed her way out of a beautifully wrapped box.
Wonder Woman thrilled the audience with her magnificent cycling tricks as she mixed movement and balancing skills to create an original and fresh contemporary circus cycling performance. Next to arrive was a guy (Ed Stephen) dressed in a chicken outfit; initially wowing the party guests with his break-dancing moves and later showing off his incredible juggling talents. Last to arrive was (Silvia Fratelli) the quieter shy guest whose gymnastic and acrobatic abilities were absolutely faultless, later confessing to have never been to a party before.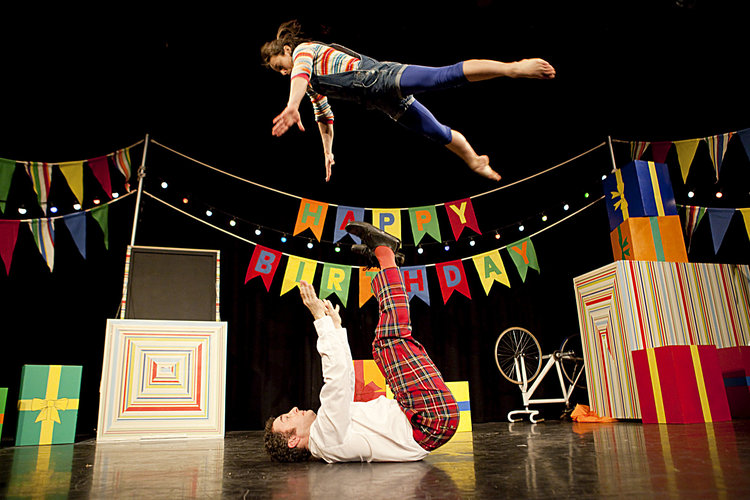 Needless to say a party wouldn't be a party without the occasional bumped nose, a few temper tantrums and friend fall outs but with some important life lessons to be learnt as Cameron had to adapt to sharing and not always getting his own way. However The Party had just the right amount of fun and silliness and with the biggest game of pass the parcel I've ever witnessed as the whole audience was invited to join in, to make this a wonderful 50 minutes of pure indulgent entertainment.
Artistic Director of Nearly There Yet Kaveh Rahnama, who played Cameron, lead and stole the show for me as he is most definitely an endearing and charismatic performer who is as confident in his acting abilities as his circus skills.
It was a wise move to programme a play about a party in the Easter holidays, as the audience was already in a jubilant mood and the sizeable turnout today created the perfect party atmosphere. The audience of The Party was large and with the young children happy to join in and eager for a good time, this created the perfect recipe for a successful piece of children's entertainment. Combining the joy, energy and physicality of circus, dance and theatre todays performance was truly fantastic. My little companion (and certain to be a theatre critic one day) summed up todays show with "wow that was so cool, I may try some of those moves at my party", high praise from a hard to please four year old.
The Party is definitely a show to take the kids to for a great opportunity to see stunning circus skills that are integrated beautifully into a very entertaining and fast paced show, aimed at 3-7 years old but equally as entertaining for all ages.
To find out tour dates and further information visit www.nearlythereyet.com
Reviewed by Victoria Wilmot
Reviewed: 15th April 2017
North West End Rating: ★★★