This evening, myself and the audience were captured by a piece of theatrical storytelling, twenty years since its debut, a play by Conor McPherson - The Weir.
The play is set in the snug reality of a rural Irish pub where the locals share stories that blur from fact and fiction. The substance and resonance of the script lies within ghost stories. Jack opens the show, a garage owner who is played by Sean Murray who was effortless from the beginning. Brendan, a publican joins the pub soon after and also Finbar, a local businessman enters the stage with a female and the play then begins with reminiscences and a supernatural essence. The way in which Jack interacted with his fellow actors and his naturalism from each monologue was outstanding and the efforts from all cast members was superb.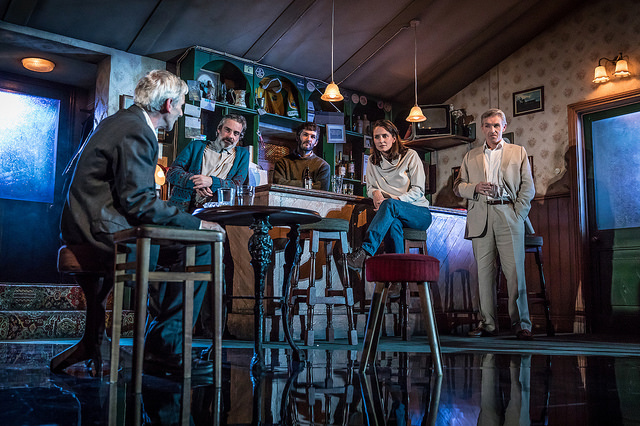 Tonight the lonely males who gather here every night have an incomer, a female presence - Valerie. The male stories all have a basis of fiction and fairy logic however Valerie's story is one of melancholy and personal tragedy. The play highlights the absence of female interaction massively and her story unleashes depths of empathy to the characters it seems they have not felt before.
McPherson's narrative has an unexpected banter with it, from a sad moment comes with it an Irish craic that lightens the mood instantly. The lighting and simplicity of the music also allowed us to feel cold and isolated within the story yet somewhat a part of the world they live in.
The play evokes social cohesion, loneliness and superstition. McPherson's writing is powerful and although the characters talk of the outside world, the pub is a confinement where they escape into the enclosed world of the pub walls and escape isolation.
This show is delicately crafted and poignantly moving and is not to be missed if you enjoy sitting around the fire telling ghost stories however it may leave you questioning the meaning behind it all. The production is a slow burner however it will leave you with moments of both laughter and sadness through the narrative.
Reviewer: Heather Errington
Reviewed: 23rd January 2018
North West End Rating: ★★★★