No sooner had my theatre buddy sister, Chrissy, and I, taken our seats in the circle at Hull New Theatre on Monday night, then we were having our hands shaken by none other than the director of The Play That Goes Wrong – Mr Chris Bean.
We felt quite special until we realised he was shaking everyone's hand while thanking them for coming. We should have known then we were in for a most unusual night.
Escaping the crowds downstairs, we'd taken our seats early. Any later and we would have missed the lighting and sound man, Trevor Watson, coming round asking anybody if they had a dog to lend the production, as an important prop - Winston the bulldog - had gone missing.
Audience members joined in his shenanigans with good humour. Meanwhile, Mr Bean the director was shouting - from the circle - at crew members on the stage, to "GET OFF"!!
By this time we weren't in the least surprised when we became aware that the stage set wasn't quite complete. In true panto form, a good-natured gent seated near the stage was coerced into helping to, literally, prop up the props.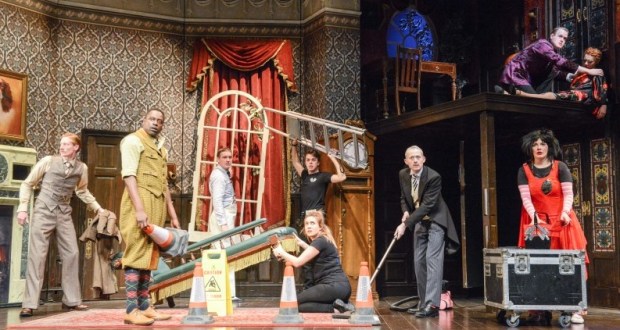 We were already laughing before the lights dimmed and then it was time for the "Cornley Polytechnic Drama Society" members to bring us their 1920s murder/mystery, Murder At Haversham Manor.
The action takes place in a shabby chic room in Haversham Manor, home to Charles Haversham (Jonathan Harris), who is found dead on his chaise longue on the night of his engagement to Florence Colleymoore (Sandra Wilkinson).
So, immediately we were plunged into a "whodunnit?".
Perkins the butler (an hilariously stiff-legged Dennis Tyde) is summoned to call the police, and up pops the aforementioned Mr Bean, as Inspector Carter, followed by Thomas Colleymoore (Robert Grove) and Charles' brother, Cecil (Max Bennett).
The stage manager (Annie Twilloil) did her best to keep things together – but failed miserably.
It's not giving the game away to reveal more than one person has to die before the murdering culprit is found. But we nearly died laughing before he or she was named.
I'm not usually a fan of slapstick, but this energetic, brave bunch were so amusing, not only were they actors, they were acrobats (well, I certainly couldn't leap from a few feet up; neither could I tipple tail) and comedians all rolled into one.
As the night, and the investigation, progressed we were treated to big events - explosions, fire, walls, furniture, windows and stage floors collapsing - as well as the "baby" things such as doors not closing properly, pictures falling off the wall etc etc – all this while trying to work out who the killer was.
The timing had to be absolutely perfect, because at times many of us in the packed audience – me included - actually screamed at certain, dangerous-looking, on-stage calamities. And there were plenty of them.
Just one of the laugh-out-loud moments was when Florence was being thrown out of the window – Sandra Wilkinson was so floppy, I swear she'd been replaced by a rag doll.
It's the little things that count, too, as in one scene when the inspector collapses against a wall (I won't tell you why), there's a long lull, then something falls off the wall on to his noggin. And when, having failed to secure a spare dog to replace the missing Winston (and by this time, well into the production, so we'd forgotten about it), the gardener (Max Bennett, again) walks on stage with just a dog lead.
The same before curtain up, when Trevor the engineer asks if anyone in the audience finds his double Duran Duran CD, to please hand it in – then much later he "mistakenly" plays snippets of their songs, much to director Bean's disgust.
The whole thing was so cleverly done, sometimes I wondered if such and such was meant to happen; what was real and what was scripted. Of course, with such split-second timing, everything had to have been thoroughly rehearsed.
After two hours of hilarity, we found out who the murderer was and we could all go home happy, not sparing a thought for those left behind to clean up the carnage on the stage which looked like a bomb had hit it!
Reviewer: Jackie Foottit
Reviewed: 21st May 2018
North West End Rating: ★★★★