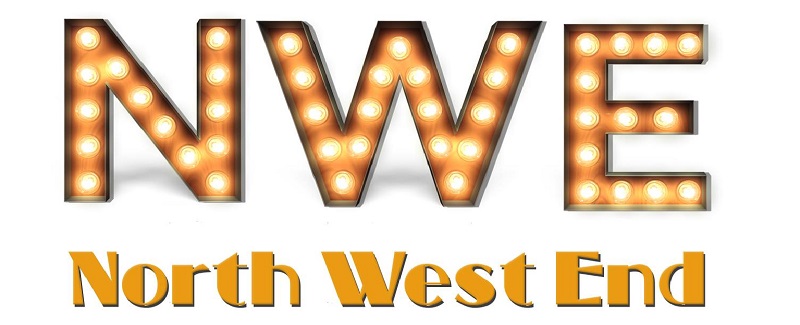 The fact that "it is inspiring to have so many talented young people in the region" may seem a cliche but when you have the pleasure to know lots of them and get the chance to see a collection of them, from different groups, in the same show, it makes for a real honour and night of true pride.
Riding high off the success of their recent production of Godspell, UMMTS (University of Manchester Musical Theatre Society) have presented us with a very different type of show, with a totally different cast, and still come out of it smiling all the way to the bank!
The first thing to impress me this evening was the band, or should I actually call them an orchestra (?) It was an 18 strong 'ensemble' - a lot for such a small space - but they were utterly superb. Every nuance of this score was brought out in detail, and the balance of sounds created was exactly right every time. Here is a conductor and Musical Director who obviously knows his onions, and therefore he gets top billing in my review - Joe Hearson.
On the last day of November and just before every theatre in the country is taken over by pantomime, Sale's Waterside Arts Theatre played host to Junior Stage 80's production of Lionel Bart's musical adaptation of the Dickens classic, Oliver Twist.
The longevity of this Musical is really quite phenomenal, and I am sure Bart himself never thought that it would still be going strong now when it was premiered in 1960. And yet, it is still a perennial favourite for societies up and down the country, despite it requiring some very talented character actors both juvenile and adult to carry it off properly.
MUGSS is the abbreviation for Manchester University Gilbert And Sullivan Society, and are a bunch of merry folk who are all students of the university, and come together every now and then to perform English culture and musical heritage in the form of England's foremost Musical satirists, Gilbert and Sullivan. This production of Zanna, Don't! then, was a rather big departure from their staple.
One of the joys of reviewing is that I get to visit new venues I have never been to before. Tonight, was one of those occasions as I had the pleasure of visiting the Rossendale Players at their delightful New Millennium Theatre. The venue is superbly set out on two levels with a small bar which is incredibly well priced. Couple this with tonight's performance of The Rise and Fall of Little Voice by Jim Cartwright and you have a recipe for a truly great night out.
Entertaining Adaptation of a Theatrical Classic
In a year that was defined by Shakespeare it is refreshing to see the focus on one of his contemporaries if not somewhat ironic that Christopher Marlowe has finally received public accreditation for co-writing several Shakespeare plays. The Faustian myth itself has survived countless adaptations over the years and in both of its original forms it is considered somewhat wordy. Equally the question at the heart of the play – what price the human soul? – is rooted in theology and faith, both areas somewhat lacking nowadays, and so whilst director Rowan Dyer has cut the text to suit he remains true to the original language whilst trying to re-imagine a more contemporary Faustus who in this narcissistic age of navel-gazing and selfies has turned in on his own inner demons with one further question remaining: who is in control?
Faced with howling winds on a cold, wet, wintry night in November, curling up in front of the fire with a cup of hot chocolate might seem the best way to spend the evening, but you would be wrong....The Players Theatre in Cheadle Hulme is the place to be! Currently being performed at this little gem of a theatre is Bill MacIlwraith's 'The Anniversary' which will certainly chase away those winter blues and leave you wiping tears of laughter away instead. Henry, Terry and Tom are three strapping lads employed in the family's (cowboy) building business, with a mum who controls every aspect of their life, is it too late for them to cut those apron strings or will she continue to wrap them around her little finger?
Perhaps somewhat wrongly advertised as the University Of Manchester Drama Society's Autumn Showcase, this was a one act play lasting just shy of 50 minutes, by student Marina Jenkins, who also directed.
Van tells the story of an aging couple selling burgers from a 'van' on a lay-by on a main road (the A63 actually). What starts out as a gentle comedy in the TV sit-com vein, soon starts to turn quite dark, as one 'customer' to the van turns out to be a lady claiming to have had a sexual relationship with the man when she was only 15 and now blackmails him into paying her money for essential medical treatment for her 4 year old son. This scenario raises more questions than it answers, and indeed, the question marks are still there at the end when we see his wife sitting alone drinking wine with a confused and worried expression on her face.
Enchanting Evening of Action, Dance, Laughter and Song
With a woodland backdrop and to the sound of the Big Fish Theme, our Narrator (Amy Balfour) danced her way through the audience to the stage, in the first of her many routines of the evening, as we learnt how the cruel Prince Adam had been punished many years earlier so he would learn that true beauty comes from within, before a whole cast rendition of 'Uptown Funk' led by Belle (Katie Reeves) got the audience well and truly tapping. Bully boy Gaston (Mikey Rowan) arrives on the scene with the intention of securing Belle's hand by fair means or foul and with his trusty sidekick Lefou (Lilljana Spencer) in tow, they launched in to a truly good rendition of 'Bad' with Balfour leading the dance routine of the supporting chorus (Millie Riley; Jessica McDevitt; Grace Spencer-Storey; Isabella Parsonage-Howard; Olivia Parsonage-Howard; Holly Spencer-Storey).
Many would comment that November is too early to be engaging with Christmas festivities but I believe it is never too early to get yourself into the Christmas mood and White Christmas, performed by BOST Musicals, is certainly a good way to begin. This production stars several cast members who are very experienced in working with BOST and this showed as they took to the stage with confidence and enthusiasm.
Godspell, as you might expect, is a Musical about the spell of God... in fact, it is based around the parables found in The Gospel According To St. Matthew, with particular reference to Jesus's last days on earth and his crucifixion. However, if Andrew Lloyd-Webber can do it and get away with it, then why shouldn't Stephen Schwartz.
You are here:  

Amateur Reviews