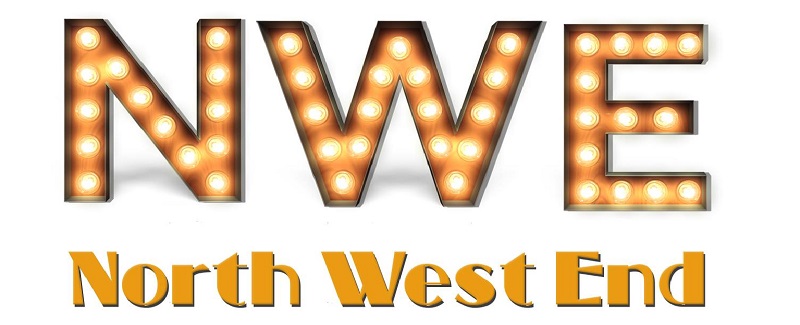 They say that 'train'ing is key to success but that isn't always the case. Mossley AODS' show tonight, at the George Lawton Hall, is just that - a success. They also say that the best actors are those who engage with the audience and act even before walking on stage. This bunch clearly are as each member seen by the audience before the show created director Michael Jones-McCaw's cleverly desired effect of us being in a real train station.
I suppose that one must come to accept that modern adaptations, reworkings and updatings of Shakespeare are not only acceptable but preferable to both modern actors and audiences. My personal feeling towards this is that if the work is to be changed to bring it more 'up-to-date', then don't just change the setting and the costumes, but the language also needs to change too... in other words, do as Shakespeare himself did with most of his plays... find a good story already in existence, and then write your own version. West Side Story is a classic example. A contemporary Musical set in New York using original dialogue and song. All too often do I see a modern interpretation of a Shakespeare play to find that the spoken word is at odds with action and costume. And so whilst the themes of Shakespeare's plays way well be timeless, the setting and language certainly are not.
This was the yearly showcase from students of the rather misleadingly named The Cheshire Theatre School. Having never heard anything about this school before, I assumed, quite wrongly two things. First, the school was in Cheshire, and second, that it was a Theatre School.
Broadway came to the stage last night with a fabulous production of Guys and Dolls, performed by members of the Preston Musical Comedy Society. Directed by Neil Townsend this popular musical which has been delighting audiences for over 60 years was full of energy and vibrancy. With fabulous dance routines, a lot of hard work has gone into the show by all of the performers and credit is to be given to Lorna Cookson the choreographer. Unfortunately Cookson was unable to be at the performance as she has taken a position abroad for a couple of years, but I am sure she would have been proud of everyone.
Having lived and worked in mainland Europe for many years, the so-called European style of theatre has always held a fascination for me, and never really understood why the UK has been and still is really quite resistant to it. Perhaps we think our theatre superior, and who knows, maybe it is, but there is certainly room for both to co-exist and as we see more and more mainland Europeans come to live here (putting the politics aside for once) surely we should also be embracing these countries' artistic cultures too.
Nostalgic Affection Played For Laughs
The action opens with a full cast Latin Mass led by Father Mullarkey (Joe Clarke) and the scene is well and truly set for Mary O'Malley's play set in London and based on the old saying 'Once a Catholic, always a Catholic,' and which sets out to mock the Catholicism inflicted on convent-school girls in the 1950's as they deal with their eccentric teachers, untrustworthy boys and each other.
John Godber was born in Upton, West Yorkshire, and was the son of a miner. He trained as a teacher of Drama at Bretton Hall College. Whilst he was Head of Drama at Minsthorpe High School, the same school he had been a pupil at himself as a student, he won every major award at the National Student Drama Festival between 1981 and 1983. John's plays are performed across the world. He has the distinction of being one of the most performed writers in the English language. He has won numerous awards for his plays, including a Laurence Olivier Award and seven Los Angeles Drama Critics Circle Awards. His plays include; Bouncers, Up 'n' Under, Gym and Tonic, It Started With a Kiss and Big Trouble in the Little Bedroom.
Alan Ayckbourn is one of Britain's best known playwrights. If I Were You is one of his most recent works, published in 2006, following the story of a married couple who one morning wake up to discover they have swapped bodies. Believe it or not, this is actually Ayckbourn's 70th play.
York Stage Musicals present their latest production, 9 to 5: The Musical, at York's Grand Opera House. It is a musical comedy based on the 1980 film of the same name. The book is written by Patricia Resnick and the music and lyrics by Dolly Parton. The story goes back to the 1970s when Violet (Julie Anne Smith), Doralee (Alicia Roberts) and Judy (Jo Theaker), three office workers, have had enough of Hart (Darren Roberts), their sexist boss, and are determined to do something about it. This is all set to Parton's award nominated hits and musically directed by Sam Johnson.
Wonderful Performance of a Timeless Classic
I was greeted by the butler, Lane (George Trier) at the entrance to The Black-E and shown to a table which was set out, as they all were, with cucumber sandwiches and cream & jam scones. I knew then that the promised twist from Director Rowan Dyer wasn't going to be restricted to a slice of lemon or lime in the gin on offer at the bar. The use of a low level stage served to bring the full-house audience into the piece and the black & white art deco set, complete with chaise longue and arches, was set off perfectly throughout with the use of black and white period costumes which added a touch of real class to this production.
The Garrick's season kicks off to a comedic start with the classic farce, Charley's Aunt. Written by Brandon Thomas, a contemporary of Oscar Wilde, Thomas was an actor and playwright of some distinction, and wrote many 'comedies of manners' which proved exceedingly popular at the time. Sadly, none have survived save their titles, excepting Charley's Aunt; which tells the story of three young men studying at university, all desperately in love and somehow manage to convince one of the men to dress up as another's millionairess widowed aunt from Brazil (where the nuts come from!) in order that they might use her as a chaperone in order to get closer to the girls and tell them how they feel. And of course, as everyone knows, in farce, nothing ever goes according to plan but of course, again, according to the rules of farce, everything works out fine in the end!
You are here:  

Amateur Reviews