In February of 1964, Johnny Cash stepped onto a stage inside San Quentin Prison to face a gathered crowd of expectant inmates. Under this roof and among this potent atmosphere he recorded his iconic live album, At San Quentin. It's this juncture in Cash's career that Clive John and his band have used as the springboard for their Johnny Cash Roadshow, which passed through the Floral Pavilion Theatre last night.
However, as the audience settles into their role as prison inmates (there's a joke about locking the doors for authenticity), the band acknowledge that sticking primarily to that track list would have us out of the theatre within the hour, instead they embellish the show with a variety of Cash's hits. Subsequently, it kicks off with one of his earlier smashes Big River, which immediately has the audience beguiled and clapping along. There is no denying the musical skill on display here, each member of this group is obviously well versed in country music and their passion for it is palpable. The band is thoroughly enjoying performing these songs and that makes it all the more entertaining for the audience.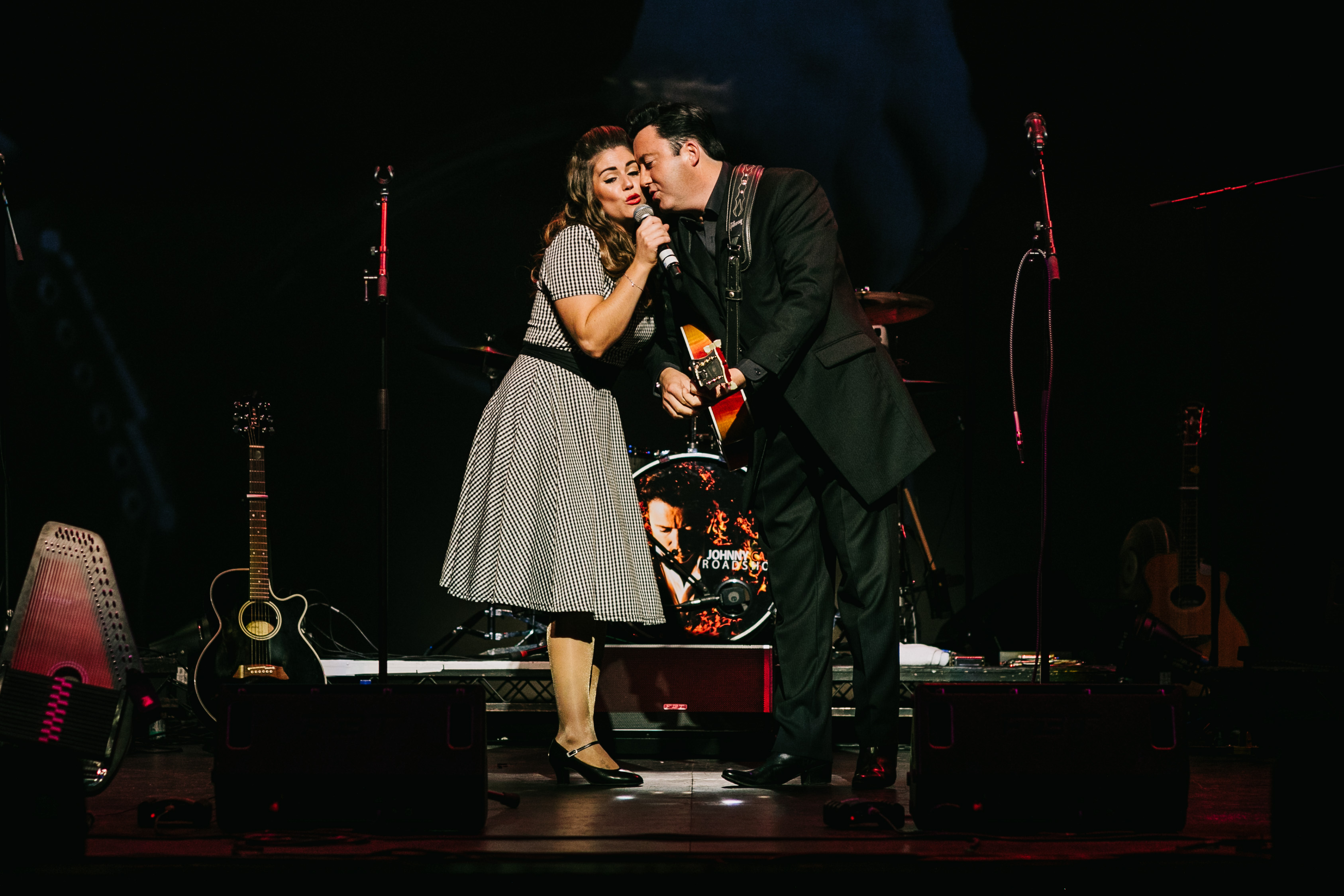 Before each performance John gives insight into the song's history, so that even big Cash fans can learn a bit more about the man and his music. One memorable example was with I Don't Know Where I'm Bound, a song written by an inmate in the prison and sent to Johnny Cash the day before his performance. Ultimately, the set list is very well thought out and while the more popular songs are interspersed it avoids a heavy reliance on obvious crowd pleasers, instead successfully creating a comprehensive and balanced representation of Cash's music.
One of the ways the show manages to do this is through its deployment of the band. They are not there simply to support Clive John; rather they represent an important aspect of Johnny Cash's life as a musician. Though most of the show focuses on his work from the 50's 60's there is also an exploration of his later work in The Highwaymen, whereupon the band stand in for Kris Kristofferson, Willie Nelson, and Waylon Jennings. They also perform together as the Statler Brothers, a country group that performed with Cash throughout the 60's. This, along with the incorporation of Cash's wife June Carter, played by the charming and affable Emily Heighway demonstrates the collaborative nature of Cash's career. Heighway is fantastic as June, her mannerisms and voice are pitch perfect as she embodies Carter's spirit in a delightful celebration of the singer. The band and Heighway feature heavily and their chemistry make it a joy to watch them interact. Thus, the show recognises Cash's propensity for elevating musicians he admired and how he would often bring attention to music beyond his own. By sharing the spotlight among the whole group, the show stays true to Johnny Cash's career, making it much more enjoyable.
That said, Clive John's performance is obviously vital to the success of this production and he doesn't disappoint. A country singer in his own right John has spent nearly 15 years perfecting his renditions, and his bass voice has him sounding eerily similar to the man himself. Throw in some of the singer's famous mannerisms, like the high guitar hold and you've got a compelling rendition of the country star. Imitations can often be hard to watch as performers strive to be exact replicas but that's not what is attempted here. John himself says that he's not trying to imitate, after all there will only ever be one Johnny Cash, and instead he works to embody what made him so compelling.
The Johnny Cash Roadshow is a riot, audience participation is encouraged throughout and especially during the second act, which helps build towards a fun final rendition of Ring of Fire in which the entire audience is on their feet clapping and singing along. It is definitely a must see for any Johnny Cash fan, old and new.
Reviewer: Maria Cochrane.
Reviewed: 25th July 2019
North West End Rating: ★★★★