Knutsford Musical Theatre Company return to the Memorial Court in Northwich to present their latest musical production Our House from the 26th – 28th May. Our House is a musical with music and lyrics by Madness and a book by playwright Tim Firth. The show features songs from the ska/pop band Madness, and was named after one of their popular hit singles, "Our House". Premiering at The Cambridge Theatre in 2002, Our House was the winner of the 2003 Olivier award for Best New Musical and has since gone on to tour both nationally and internationally to great acclaim. Through the music of Madness, writer Tim Firth explores the themes of love, family values, growing up, responsibility and dealing with losing the people that shape us.
The story follows Camden lad Joe Casey (Oliver Hale) who, on the night of his 16th birthday, makes a decision that will change his life. Trying to impress Sarah (Victoria Harrison), the girl of his dreams, Joe breaks into a building development overlooking his home on Casey Street. But things take a turn for the worse as the police turn up. Joe's life splits into two; the Good Joe who stays and gives himself up and Bad Joe who flees and leaves Sarah to run from the police.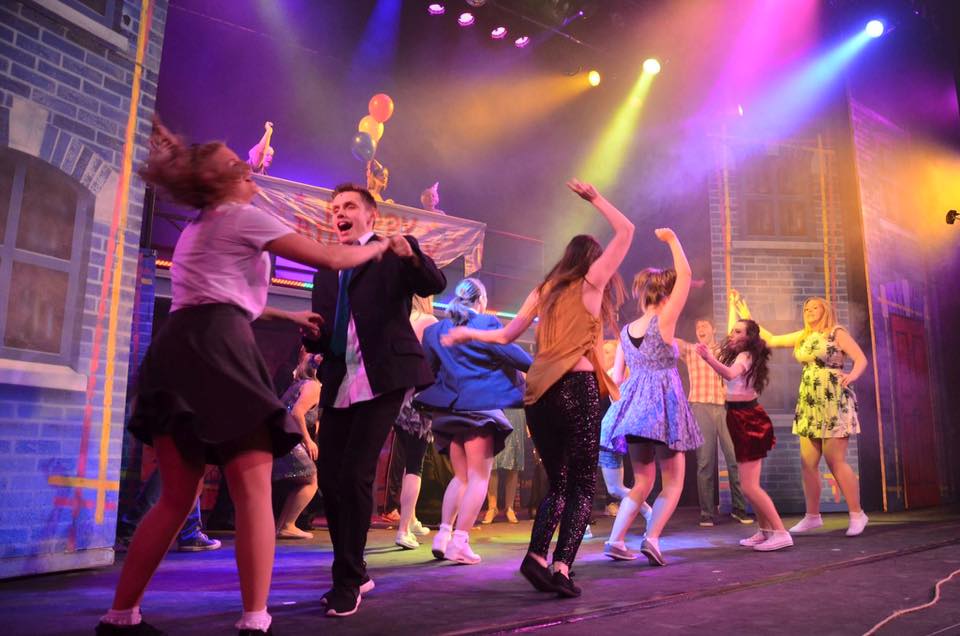 Our House follows the two paths that Joe's life could take after that fateful night; one path means a criminal record and social exclusion, while the other will lose him the girl that he loves. Over a period of seven years and two alternative lives Joe deals with the consequences of that night. Whilst one Joe fights to keep Sarah, the other is marrying her in a glitzy Vegas wedding and, ultimately, while Good Joe fights to save his house on Casey Street, Bad Joe is determined to demolish it with tragic consequences. All this is watched over by Joe's deceased father, who pulls the two stories together.
It should come as no surprise that the two stars of this show are Hale and Harrison. Due to the story being split into two separate stories that play side by side there are an enormous amount of costume changes for this duo. It is mind-blowing the speed in which Hale in particular changes from good to bad Joe and vice versa, even the smallest detail like different shoes is not overlooked. I can only imagine an army of dressers positioned at various points backstage to assist but it works, and it works very well.
Vocally both are very good with Harrison just having the edge for me. With both having backgrounds in musical theatre it is almost expected that their acting is also up to a high standard, and it is. I could quite happily have watched this pair on stage together all night in their different guises, however there was a strong supporting cast as well.
Gabriel Walker as Joe's best mate Emmo. His likeable character is instantly on show and has some superb one liners during the show. Krysy Hood as Joe's mum also stands out. Jonathan Hall as bad boy Reecey has trouble maker nailed causing trouble throughout the show popping up at various points. Property tycoon Mr Pressman (Stuart Dutton) is as driven as you'd expect with an evil side to his character. But stand out supporting performer is Dave Mallen as Dad. His narration is heartfelt and you can sense the connection between himself and Joe.
Choreography plays a big part in this production and the entire cast dance all the way through this show. Credit to Emma Swain for some fantastic sequences. I do have to mention Leah Dovey-Evans however who shone in every number. It wasn't until I returned home and after reading the programme realised that she was in fact dance captain, and what a superb job she did of it.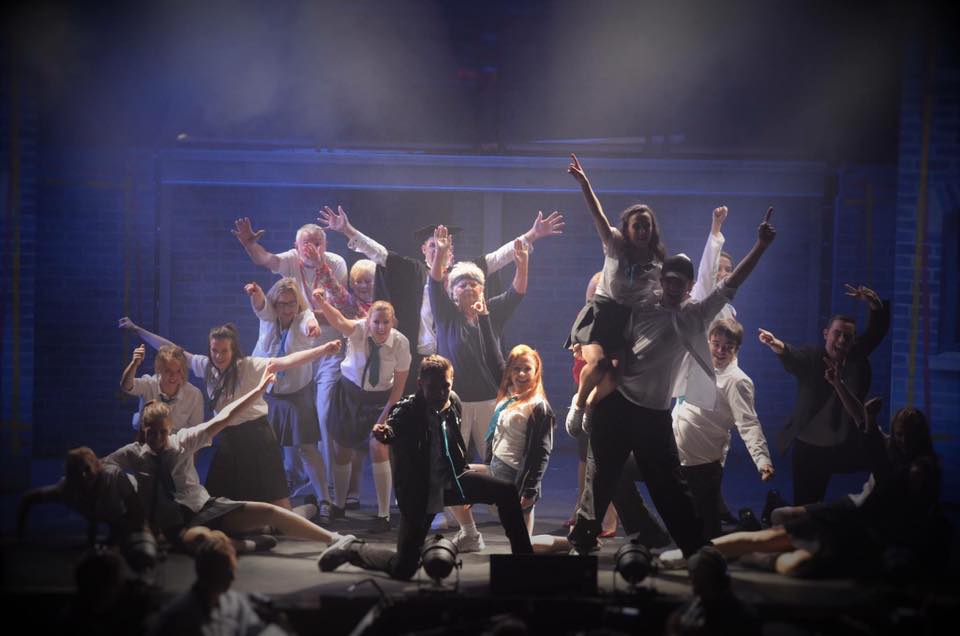 I also need to mention the programme for this show. Without going into detail and spoiling it for those who are yet to see this show, let me just say it is one of my favourite programmes of the year so far. So many of these publications are mundane and boring these days and seem to be there just because they have to be. Not this one, and a free gifts as well, who can argue with that?
The set for this production was well thought out and functional, however this brings me onto a couple of gripes I had. Small things that could so easily have been avoided and made this show truly superb. First up was the car sequence. Very clever in its concept and execution with the projected image being very clear to the eye, however I felt it was somewhat under rehearsed as the occupants of the car didn't seem to be aware of which way the car was supposed to be turning. Also if the glass had been taken out of the windscreen it would have provided a clearer view of the cast inside instead of the intermittent glare I experienced due to the lights.
On the subject of lighting, for me this let the show down in the biggest way. Almost every time the cast came to the very front of the stage they were in almost complete darkness despite a full bar of lights front of house which only seemed to get used during the larger ensemble numbers. There were a few missed spotlight cues I would assume also tonight which again cast a veil of darkness across the stage.
Sound wise the balance between the band and the cast was as good as I have heard in a long time which deserves credit, but somehow I expected it to be louder. The songs of Madness are all time classics yet tonight they seemed a little bland due to the decreased volume.
These are picky points in what was a good show from start to finish and as I mentioned earlier fixing these for the remaining nights will make it superb.
I for one am looking forward to returning to Memorial Court later this year to see the company's next production, The Wizard Of Oz. In the meantime get yourself down to Northwich and watch this superb company bring a little madness into your weekend.
Reviewer: Paul Downham
Reviewed: 26th May 2016