This was only the third time I have seen a production of this, one of Brecht's more well-known plays; and each time it has been a student production. It seems that this play is studied and performed at in-training level and then neglected once out in the big wide world. That's such a shame, as it really is such a good play, and, as this production so rightly intimated, just as relevant today as ever.
The play was written in 1944 whilst Brecht was living in The United States. He had left Germany in 1933 when Hitler had gained power, but before moving to America had lived in various other places around Europe including an island off the coast of Denmark where he lived the for the longest and happiest in Europe outside his homeland. He didn't stay in America very long; 1941 - 1947, but it was a very fertile writing period for him, and away from the main circus of war, he was able to write plays which were political satires and allegories of much of what he had run away from.
The Caucasian Chalk Circle is a classical example of how Brecht uses an ancient parable (in this case Chinese) to clearly show his communist [the idea that those who prove to be worthy shall prosper; whoever can make the best use of resources in order to provide for others, deserves to get those resources] and anti-fascist [the Ironshirts are quite clearly modelled on the Nazis] leanings. Unlike most of Brecht's works though, this parable has a happy end.
In this production, by The Actor's Wheel - the touring theatre company of The University of St. Mark and St. John, Plymouth - sees final year students of their BA (Hons) Acting Course tackle this difficult play.
Yes, it is a very difficult play. True Epic Theatre, and really a play-within-a-play. This was cleverly done by starting the play as Syrian refugees, and as the Singer (storyteller) starts the refugees then 'become' the characters of the story.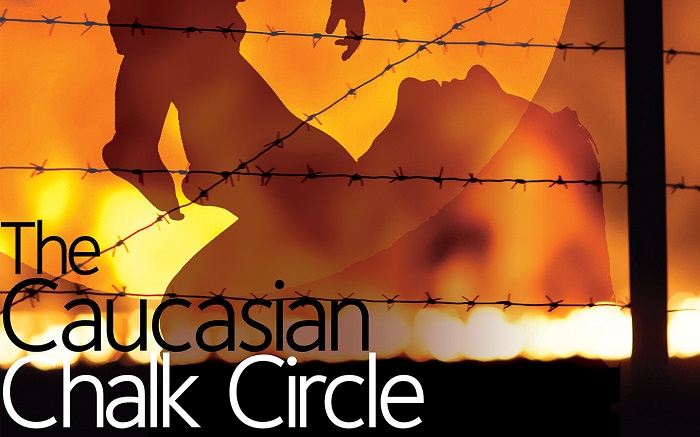 The set (Fiona Chivers) was very good indeed. Perhaps just a little too busy to be truly Brechtian, but the minimalist and multi-purpose approach worked excellently, and the physicality of the actors and interesting uses of set combined to make some stunning images. I loved the inventive uses of the metal railings, the large bobbin, but I suspect not just my favourite, but everyone else's too, was the bridge sequence.
It was a large cast, with all actors taking on more than the one role, but credit to director Kevin Johnson, this was never a problem and the storyline and characters were clear throughout. It was very solidly directed, and a lovely balance between what we would find acceptable and the Brechtian Verfremdungseffekt was cleverly struck. It was always there but never fully manifested itself.
My only criticisms would be that sometimes the actors were in danger of being just a little too naturalistic, and also, especially during the singing a little too quiet. The large drum drowned out anything either spoken or sang whilst it was being beaten. Second, there was a distinct lack of speed. Dynamically the play needed to have more tension; more moments where the action on stage would quicken and allow the audience to experience that urgency. This happened too seldom. Third and finally, sometimes the diction was a little muffled and perhaps some more lessons in articulation and projection wouldn't go amiss.
All the actors worked extremely well together in this hugely ensemble and co-operative piece. I will give a named mention though to both John James-McColl who played The Fat Prince, Kazbeki, and Nathan Benjamin who played both Corporal and Azdak. Both actors really nailed their characters and their characters' intents with absolute Brechtian ease.
Lisa Wordsworth gave a real and sympathetic portrayal of Grusha. And thereby lies the rub. Under normal circumstances that would be a huge compliment; but this is Brecht and directed very traditionally, and therefore we felt no alienation from you at all, we were with you all the way. I would have liked to have left the theatre still wondering about your motives and your actions, but all I could do was empathise.
There is also a lot of singing in this play, and although Brecht wrote the lyrics, no official tunes exist, and if I am to understand correctly then the ensemble wrote and musically directed their own songs. Extra credits all round methinks. I enjoyed the songs very much and they were both sung well and integrated superbly. As already intimated though, the drum did bang too loudly occasionally and some of you needed to project more.
In conclusion then, I found the play very enjoyable and stayed true to the author's intents. There was a lack of pace and urgency throughout, and sound levels should have been higher. Visually exciting and excellent use of set. The linking to present day struggles was subtle but excellently placed. Definitely worth seeing, and so the lack of audience tonight was disappointing.
Reviewer: Mark Dee
Reviewed: 9th June 2016