Buxton Opera House and Pavilion Arts Centre Young Company have chosen The Addams Family as their first ever full scale production and judging by the audience numbers tonight this seems like a choice well made. The show however suffered a huge challenge during production as director Craig Sanders as called away towards the end of rehearsals due to a family bereavement. So in stepped Adrienne Posta and Emma Furness to complete the process, and a fine job they did as well. On behalf of all at North West End we send our condolences to Craig and his family.
Onto the show. For those who do not know the story of The Addams Family; It's a dismal day at the Addams family's manse, with the ever-approaching storm clouds reflecting the gloomy atmosphere that has beset the household. Daughter Wednesday, now eighteen years old, has found herself experiencing a surprising new sensation, one that frightens both her and her family: she has fallen in love. Lucas Beineke, the object of her affections, comes from a seemingly normal family, and he and his parents Mal and Alice are on their way to the Addams' estate to become better acquainted with the family over dinner. Brother Pugsley, who has been largely ignored since Wednesday's involvement with Lucas, begins to miss the attention his sister previously paid to him and pleads with her to torture him once more. Meanwhile, mother Morticia finds herself conflicted over her ever-maturing daughter's newfound feelings, while oblivious father Gomez simply wishes things would remain the way they were. As they learn to relate to the Beinekes and cope with Wednesday's romance, one thing is certain: the Addams family will never be the same.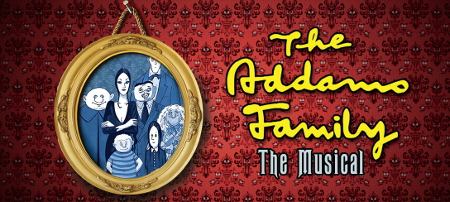 In the programme for this evening's performance some of the roles had two actors' names next to them, I suspect this is due to the fact during the second performance a different actor will play these roles to give everyone a chance to be in the spotlight. For the review I am going to assume (I hope correctly) the first names listed were those performing this evening.
The pairing of James Lee (Gomez) and Isabel Wedgewood (Morticia) was very well cast and they bounced off each other well all through the performance with Lee displaying an authentic Spanish accent. Vocally they were both strong.
Tamzin Jackson (Grandma) is a convincing 102 year old complete with walking stick and shaky voice and her scene with Pugsley (Natalie Hodgson) was beautifully played out.
Rosie Lower as Lurch, the butler to the Addams family looked a little nervous for me when she first took to the stage, however these nerves ebbed away as the show progressed. Lurch is a strange part in this show with little to do until the end of the piece, but her opening lines consisting of just "grnh" over and over again got a good laugh from the audience. Her movement could have been a little slower also but this is down to the direction, not the actor.
Matilda Holden as Uncle Fester played the role well, although like Lower seemed nervous at the beginning. The love affair with the moon was told well and the sight of the moon moving onto the stage was well done.
Paul Kerry (Mal) and Minnie Hibbert (Alice) were another couple well cast as the parents of Lucas The look of uncomfortableness as they entered the Addams home was well played and Hibbert's part in "Waiting" was so good and saw her end up slumped on the huge family dining table.
For me the two stars of the show were Lucy Gilmore as Wednesday Addams and Lucas Parker as Lucas. Both were strong confident performers with Parker showing his softer side as his love for Wednesday was rebuffed. Gilmore's performance of "Pulled" was one of the stand out moments of the night.
Staging this was a very simple show, but that is all that is needed. It was never unclear as to where the action was being played out, however I must make comment about the lighting. I cannot work out what they were thinking when they designed it. From a promising light show during the overture it just continued to be too much. Nearly every song had some sort of distracting flashing lights to accompany it. I am not sure if this was flagged up at the interval but it did seem to calm down somewhat in the second half.
For a first full production with a young cast each and every one of them can be very proud of what they achieved on stage tonight. A supporting cast playing a multitude of different roles helped complete the company performing some nice choreography and I am very much looking forward to seeing their next production.
Reviewer: Paul Downham
Reviewed: 10th June 2016