Salford Musical Theatre Company have once again taken over the Quays Theatre at The Lowry in Salford for their annual musical production, this year it is the Broadway and West End hit Rock of Ages.
Rock of Ages takes you back to the times of big bands, big egos, big guitar solos and even bigger hair! This multi Tony Award - nominated Broadway musical features the hits of bands including Night Ranger, REO Speedwagon, Pat Benatar, Twisted Sister, Starship and many others…
It's the tail end of the big, bad 1980's in Hollywood, and the party has been raging hard. Aqua Net, Lycra, lace and liquor flow freely at one of the Sunset Strips last legendary venues, a place where rock god sex machine Stacee Jaxx (Tony Finbarr-Smith) takes the stage and scantily clad groupies line up to turn their fantasies into reality.
Amidst the madness, aspiring rock star (and resident toilet cleaner) Drew (Jordan William Smart) longs to take the stage as the next big thing (and longs for small-town girl Sherrie (Catherine Tait), fresh off the bus from Kansas with stars in her eyes). But the rock and roll fairy-tale is about to end when German developers sweep into town with plans to turn the fabled Strip into just another capitalist strip mall.
Can Drew, Sherri and the gang save the strip–and themselves–before it's too late? Only the music of hit rock bands Styx, Whitesnake, Foreigner, Poison, and more hold the answer.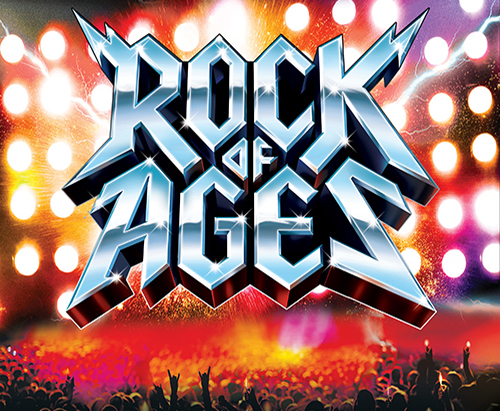 I have to say from the beginning 'Jukebox Musicals' are not my favourite genre of theatre. I think they are lazy and at times tiresome. Putting this to the back of my mind, as ever I went into the theatre with an open mind, but sadly almost as soon as the show started my worst fears came to reality. This is a poor show with song after song shoe-horned into the plot making the story stutter and feel over long. The narrator of the piece, Lonny (Peter Norris) did a good job taking us through the story even though his dialogue at times seemed a little like pantomime. It is crass when it should be comic, this I will add is the fault of the book and not the cast, who on the whole were superb tonight.
So less about the book and onto the talents on stage. Smart and Tait as wannabe lovers Drew and Sherrie are a well matched couple both displaying powerful vocals. I particularly liked their picnic scene in the car, which was very reminiscent of Grease where awkwardness was played superbly. Tait in her first leading role on the stage sings and dances well throughout although first night nerves did display one or two tuning issues. Smart put in a solid performance with some lovely solo numbers.
German developers Hertz (David Lawrence) and Franz (Josh Hankey) both again put in solid performances with Hankey stealing the show somewhat with his flamboyant nature and over the top mannerisms. The narrator's translation of some of the German phrases spoken however did not match what was actually said. A small detail that most will not notice, but again I fear this is an error within the script.
Tony Finbarr-Smith as rock star Jaxx performs with confidence and has a great voice and Bourbon Room owner Dennis (Howard G Raw) comes into his own somewhat during the second act when he has more dialogue and songs.
For me the two strongest performances of the evening come from Louise Shufflebotham (Regina) and Sue Derrig (Justice Charlier). Both have a great stage presence and very strong vocals. I found myself looking forward to the next time they took to the stage and was never disappointed by either of these ladies performances.
A sizeable ensemble played numerous small roles throughout the evening and of course sang their hearts out. Mike Clarke and Gemma Singleton both caught the eye for the very same reason, I will let you see that for yourselves, but I have to congratulate Clarke, very brave!
The 5 piece band provided all the famous rock music under the direction of Ed Nurse and I have to say they sounded superb all night. A basic set was used well with additional parts brought on via trucks. I didn't see the need for vocalists to go to the top platform to perform time and time again in the club scenes, this wouldn't normally happen as they would perform in front of the band surely?
The lighting was very well done, some first night glitches aside you got the feel of a real rock venue during the large ensemble numbers. Sound was also very good after the over amplified opening monologue from Lonny was rectified.
My final grumble was the start time of the show. An 8pm start meant that the show came down at 10:35pm which is exceptionally late, and later than any West End show I have ever seen. Perhaps as an amateur production appealing to families (strong language aside) an earlier start time may be considered next year?
For me Rock of Ages was a poor show performed by a talented cast. I firmly believe Salford Musical Theatre Company are so much better than this and material they were working with was below average. I look forward to hearing, and indeed seeing what they decide to perform next year, as the words of the final song say "don't stop believin'."
Reviewer: Paul Downham
Reviewed: 14th June 2016