Starlight Express is not one of the easiest shows to stage and roller skating is not usually high up on the skills list of your average actor so it makes it a joy to watch when this show is done well. What is more of a joy is that when it is performed by an amateur company as I saw tonight at the Civic Theatre in Rotherham from Gillian Banks Theatre School.
Talking to Gillian Banks before the show this evening I was astounded to learn that virtually none of tonight's cast could skate prior to the commencement of rehearsals in January. The 6 month rehearsal period, 3 times a week has certainly paid off with not one of the cast showing any nerves or apprehension in taking to the stage on wheels! For commitment alone this cast deserves the highest of praise.
Following on from last year's exceptional production of Ghost The Musical there are one or two familiar faces on stage, however a large amount of new faces are also on show. Director and choreographer Gary Jackman assisted by Laura Smith have got this show just right. Featuring more choreography than other amateur productions of this show I have seen before the feeling of quality and confidence oozed through the theatre.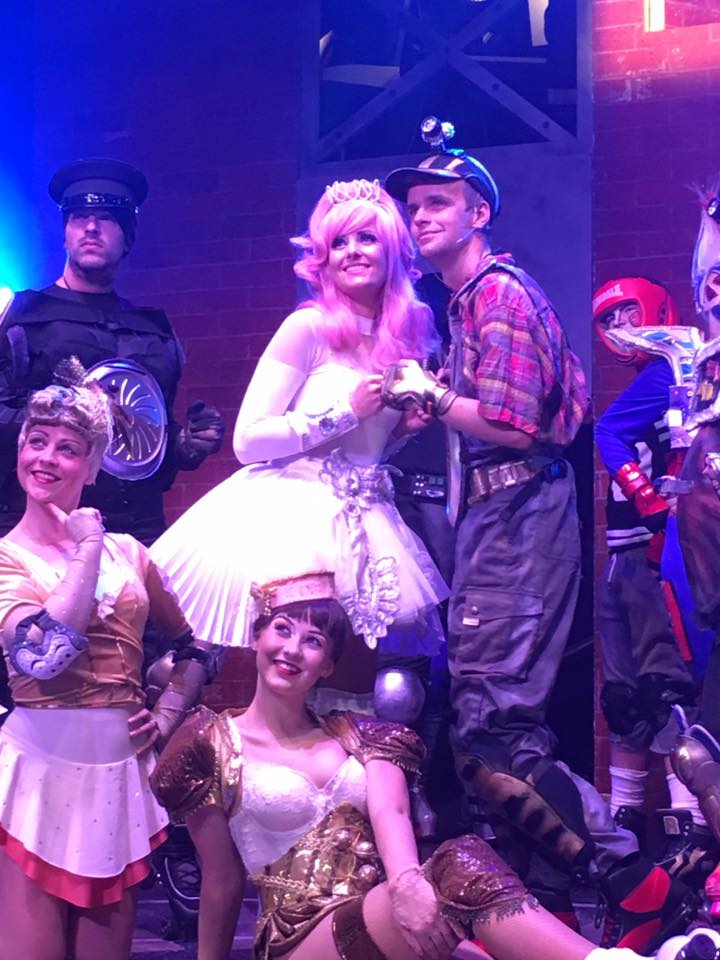 Voice of Control Katie Wright opens the show and acts as narrator throughout the evening perched high above the stage along with the band. Wright was word perfect for the whole performance and credit should go to her for that as it is not a small part, and one of the wordiest in the show.
All the leads in this production were strong from the three main trains competing for glory Electra (Laura Smith), Greaseball (Daniel Schofield) and Rusty (Adam Wrigglesworth) to the older and wiser Poppa (Richard Morgan). They were supported by the four main carriages, Pearl (Liana Underwood), Duvay (Ciera Greensill), Buffy (Beth Vernon) and Diah (Tanya Tuby). Other notable performances came from Hollie Riley as Caboose and Joanne Limb as Dustin.
Returning to the leads for a moment, Morgan as Poppa was almost statesman like as he guided Rusty in bringing him the confidence to race despite his fears of being too slow. Morgan's songs were extremely well performed and became a real audience favourite. Underwood as Pearl was delightful with a stunning voice she owned the stage whenever she was on it. But the star of the show for me was Wigglesworth as Rusty. His transition from start to finish was a joy to watch as were his vocal numbers. My only critic of him was that at times he appeared a little too confident in his skating ability which nearly led to a few stumbles.
The supporting cast also were absolutely faultless and I loved the fact the Hip Hoppers all wore Heeley's which somehow added to their charm.
The costumes for this production were as good as I have ever seen in a production of this show. Credited to GB Creative Productions in the programme they were perfect down to the smallest detail. Little things like Electra's skates lighting up as they moved seems a small thing but it is these details that make a production special.
The 9 strong band under the direction of David Burgess sounded sublime throughout although at time they slightly over powered the vocals on stage, a first night issue I am sure and one that will be rectified for the rest of the run.
If you are in or around Rotherham this week make a bee line for the Civic Theatre to see Starlight Express. It is one of the best productions I have seen of this show to date and you can't afford to miss it.
Reviewer: Paul Downham
Reviewed: 28th June 2016