In a theatre, not school,
Is the Jungle Of Nool,
Where Seuss's characters play.
You must go there by train,
Or even by plane
To watch Horton saving the day!
As you may have gathered Seussical is a Musical based on the poetic writings of Dr. Seuss, and one of epic proportions. I got dizzy just reading the cast list! What a good job the Forum Theatre in Romiley is built like an aeroplane hangar. Even with such a huge stage (on three levels) once all the cast were on it still seemed a bit of a squash!
This was a production by NK Theatre Arts and joining them on stage for this Musical were The Studio 2 Dancers, and pupils from two local Primary Schools; (Woodley and Romiley).
The storyline, as one may well expect when it is conceived by the great Eric Idle from the just as chaotic and bizarre mind of Seuss, is somewhat convoluted, improbable and fantastical. The problem with the Musical for me though is that there are too many characters that are completely unnecessary in terms of narrative or plot development, which diffuses a first-timer's understanding of the plot considerably! What I did manage to understand though was that The Cat In The Hat is the narrator and manipulator of the story, whilst a young boy - no idea where he came from in the first place - is suddenly sent to live in Who as the Mayor's son, Jojo; whilst a civil war is raging in the Kingdom of Who and so they need help from the outside. Who however is the smallest planet in the universe and is nothing more than a speck of dust on a clover. The only character able to hear Jojo calling for help is a large elephant called Horton who lives in the Jungle Of Nool. He promises to help them, but is thwarted in this by a group of monkeys and a sassy bird called Mayzie. He ends up having to hold on to Mayzie's egg and incubate it for her whilst performing in a circus unable to help the people of Who, who are by now lost in a huge field of clover and impossible to locate. Enter Gertrude, another bird who is in love with Horton. She has had a very long tail surgically implanted to try and impress Horton but he doesn't notice, and she now can't fly either; and so, in order to win his affection, she has the tail removed and spends her time diligently going through the clover field to find the people of Who, which she does. Horton is put on trail (not sure why) by a pair of kangaroos, but when Jojo shouts from Who, everyone believes him, and the Sour Kangaroo then promises to look after the people of Who whilst the egg hatches and out pops a baby elephant-bird, which Horton and Gertrude then bring up together. Or at least I THINK that was the gist of it all!! (Wipes sweat from brow!)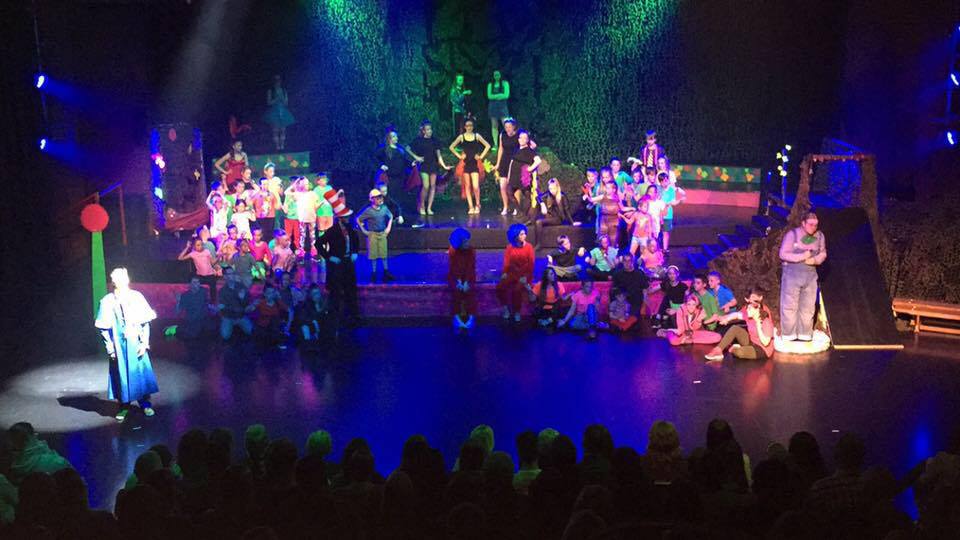 The cast ranged in age from 5 - 17, with majority of the leads being in their teens. This was a joyous, sometimes quite hilarious, Musical 'romp' and extremely well produced. Good use was made of this large space with clearly defined areas to aid our understanding. All the cast were extremely well chosen and I was able to identify with their characters and understand their relationships with each other very easily. Jack Townson was The Cat In The Hat, and moved and manipulated the story with just the right amount of authority and impishness. Obviously enjoying getting the characters into difficulties and danger, since he knew the outcome would be fine. Tall and slender with a lovely voice, he embodied The Cat. The young boy Jojo, Jake Oliver, was I believe only 10 years old, and he did remarkably well. It is a rather large role and is on stage for a lot of the time with solo and group songs as well as dialogue. A daunting undertaking which was met by a dauntless young actor; well done!
Jake Martin played Horton with accomplished ease. Very easy to watch and listen to and a lovely voice too. Jay Dodd's pent-up and humourful Mayor of Who was a delight, and the sassy wordly-wise Mayzie, played by Lara Lamont, proved she was not just a good actress but had a lovely jazz voice too.
Other cast worthy of credit and praise were Ashleigh Saxon as Gertrude, Alex Faulkner as The Sour Kangaroo and Hannah Walker as the Baby Kangaroo. A role which had absolutely no purpose other than to be the shadow of the Sour Kangaroo. I would have liked to have seen the Baby kangaroo do more and have more of a part to play in the story; Walker certainly had the talent to be able to carry a larger role. Of all the cameos though the stand-out one for me was Ben Leonard as The General of Who. A comedy acting star in the making I feel.
Two other cast members also deserve a mention here. I have left them until last because once again, they really don't belong in the story at all. In fact I have absolutely no idea why they were there. In The Cat In The Hat books they are the peevish, childish and naughty things which are released by The Cat and run amok in the house causing damage and chaos, which, just before the parents arrive home, The Cat swiftly controls them, they replace everything and depart. In this Musical they were a couple of acrobats who sometimes appeared with The Who and sometimes were with The Jungle folk, but had no real role and no purpose. However, I mention them simply because every time they did a cartwheel or acrobatic movement they were both absolutely in sync and it was all so effortless and fun for them. Thing 1 and Thing 2; Amy Earlth and Sian Hamman Smith.
The biggest disappointment of the evening was the sound. The levels were too high. We were not in a nightclub, but a theatre, and the auditorium wasn't so vast that it needed to be set so loud. Also, a couple of youngsters who had one or two lines to sing in some of the songs were not mic'd and therefore I simply didn't hear them.
I would also have preferred a live band. This way the cast and conductor can work together and there are no long pauses waiting for the overlong song intro to finish before they started singing, or no 'eggy' moments where the music didn't actually quite fit the mood or action. However, the cast coped with these things extremely well. Full credit to all of them.
This was my first visit to Romiley. I don't even think I have ever driven through the town before; and so obviously my first visit too, to The Forum Theatre. It is a very large stage and auditorium, and once I had found out how to enter the building and got over my initial shock at how still very much stuck in 1970 the decor is, I actually enjoyed my visit immensely, as all the staff were very friendly and helpful. It was also the first time I have seen NK Theatre Arts in action. They are a lovely, energetic, enthusiastic, creative and yes talented group of youths and young people; and so I really hope it won't be my last.
Reviewer: Mark Dee
Reviewed: 13th July 2016