Cutting and Funny with a Resonance to the Modern Day
The scene is set for Liverpool Network Theatre's latest production as the backdrop of a circus tent provides director Lauren Steele's vision of the greatest show on earth - The Merchant of Venice with its very own ringmaster in businessman Shylock. Whether you buy into that or not, what most definitely follows is a glorious evening of entertainment as we leap from the business legalities of Venice to the feminine guile of Belmont as two worlds compare and contrast before they ultimately collide in Shakespeare's infamous tragi-comedy.
The play opens in Venice as merchant Antonio (Andy Kerr) is gently teased by Solanio (Martin Dimitrov) and Salarino (Angela Millett).The likely reason for Kerr's perfectly intense and moody character appears as we meet his friend Bassanio (the ever laid back Toby Everett) with associates Gratiano (Peter Harris) and Lorenzo (Leah Wallace). Bassanio is keen to court Portia but does not have the funds available; Antonio's assets are all tied up but his love for his friend means he is willing to borrow against soon to be realised investments.
With the first of many suitably musical twists, provided by Rowan Dyer, and the turning of a sign, we are transferred to Belmont where the immature and vain Portia (Faye Caddick) resides with her earthy and worldly-wise lady-in-waiting Nerissa (Susan Reeve). Portia is bound to marry whichever prospective suitor can unravel the moral riddle of the three caskets in front of her and we learn through Reeve's bawdiness of Portia's liking for a young Venetian by the name of Bassanio, though the arrival of servant Balthazar (Rory McKeown) indicates that others are first in line.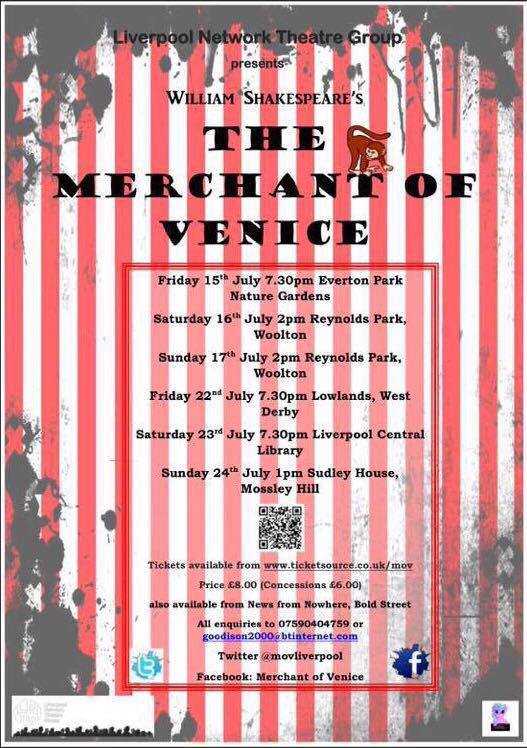 Cue more music and we return to Venice, this time to meet the 'Joker-esque' Shylock (Sandra Tschackert), a disliked and despised money-lender, who rightfully resents the ostracising from the Venetians, and who is keen to make this point through the forfeiture of the loan to Antonio, much to the latter and Bassanio's amusement.
Another musical break accompanies our return to Belmont to see first the Prince of Morocco (Martin Dimitrov) and then the Duke of Arragon (Angela Millett) attempt, in perfect accents and played for full comedic effect, to solve the riddle and capture the hand, if not the heart, of Portia. Credit to both for some very quick costume changes as they instantly switched from their alter-Venetian roles in preceding scenes.
A typical Shakespearean thrown-in comic scene between Lancelot Gobbo (PJ Murray) and Old Gobbo (Frank Kennedy), introduces a further aspect to the story as we discover Wallace's Lorenzo's love for Jessica (Amy King), Shylock's sister for the purposes of this production, and our earlier sympathies for Shylock are slowly called into question as we begin to understand his misplaced values between money and family through his discussions with friend Tubal (Frank Kennedy). We are subsequently treated to a wonderfully romantic, as well as comic, window scene, played out superbly by Wallace and King, as their tryst unfolds.
Shakespeare drops in little updates so we don't lose sight of the main plot as it unravels: Antonio's investments may not be realised as he had hoped; Shylock, as is the legal right, will seek the proverbial pound of flesh. Cue an appeal to Bassanio, who is by now in Belmont seeking the fair hand of young Portia. Does he choose wisely? Does he fully appreciate the exchanging of rings as tokens of love? Could the arriving messenger Salerio (Ellie Groves) be anymore suitably indifferent to the message she carries that he now has a friend in need? Does Portia mind that he is not as wealthy as he may have appeared? Has Gratiano really been well and truly out-'bawdy-ed' by Nerissa? The musical interlude that took us into the interval could so easily have been that of a soap opera. Fortunately we didn't have to wait another day to find out what happened next.
An interval can be a blight to a complex play so it was great to hear the audience immediately booing the returning Shylock, as justice was sought under the law, and their laughter as we follow the 'disguised' newly-wise Portia and still ever so earthy Nerissa demonstrating, in the court of the Duke of Venice (Frank Kennedy), with Jailer (Rory Mcegan) looking on, that whilst men might write the laws, it is women who know exactly how to interpret them. Oh, and just in case their respective husbands are getting any fancy ideas, a little trick or two to keep them on their toes - Girl Power indeed! I'm not one for plot spoilers but justice of sorts is done, true love allowed and whilst there are happy endings, we also get to see the shallowness of characters more akin to modern day British politics and all its accompanying business sleaze. Philip Green anyone?
All of the cast were outstanding, in what is a challenging play to deliver, but with due reverence to the leading actors, and I thought Tschackert's Shylock was carried off superbly in a novel take on the role, the standout performances came from the supporting cast and in particular Susan Reeve's Nerissa; Peter Harris' Gratiano and Leah Wallace's Lorenzo. Special mention to Martin Dimitrov and Angela Millett for doubling up the laughs as Solanio/Prince of Morocco and Salarino/Prince of Aragon respectively; and of course to Frank Kennedy for his masterclass performances as Old Gobbo, Tubal and The Duke (of Venice - not John Wayne.)
This is the second and final weekend of performances at different venues around Liverpool - sadly circumstances prevented me from reviewing over the first weekend and kindly the director was keen to accommodate me. Tonight's venue at Lowlands in West Derby was intended to be outside but the great British summer intervened with its usual downpour. Fortunately this Grade II listed building, dating from 1846, was able to accommodate cast and audience within to little detriment. I would highly recommend a visit to this delightful building which is now the home of the West Derby Community Association. www.lowlands.org.uk/
The final performances are scheduled as follows:
Saturday 23rd July at 7.30pm Liverpool Central Library
Sunday 24th July at 1pm Sudley House, Mossley Hill
Tickets are priced at £8 (Concessions £6.00) and are available from www.ticketsource.co.uk/mov
They are also available from News From Nowhere, Bold Street, Liverpool.
Any enquiries: mobile 07590 404 759.
Liverpool Network Theatre Group was set up in 1984, born out of the idea of theatre as a political force, with the power to change society for the better. Currently, the group stages three productions per year. Further details on the group including upcoming productions, rehearsals and workshops can be found on their website www.liverpoolnetworktheatre.org.uk
Reviewer: Mark Davoren
Reviewed: 22nd July 2016